Over the second half of this year, BBC Sport have been testing designs and functionality as part of a move towards a fully responsive website. Senior Product Manager James Manning explains the next stage in this development, with the launch of new beta homepages.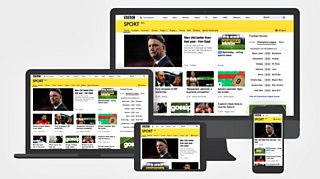 Today, we're inviting you to view new versions of the BBC Sport homepage, Football homepage and the sport homepages for England, Northern Ireland, Scotland and Wales. I want to share some information about why and how we're introducing new versions of these pages.
Why?
We want to give you the best possible experience - no matter where you are or which devices you're using. That means building a BBC Sport website that offers the same high quality of service on all of the devices you use to go online today, and that doesn't offer a reduced service just because your screen of choice is smaller.
We've seen that you are using mobile and tablet devices to access our website more and more - on average people are now accessing the BBC Sport website on two or three different devices each week.
Traffic on mobiles and tablets has increased massively over the last two years. Mobiles and tablets now consistently make up the majority of devices used to access BBC Sport throughout the week. At weekends, these devices make up three quarters of traffic to BBC Sport.
As well as the increase in mobiles and tablets, we've also noticed that those of you who use desktop and laptop devices to visit BBC Sport are doing so on wider screens than ever before.
These are some of the reasons why we've been running betas of new responsive versions of the BBC Sport website and rolling these out since the summer based on your feedback.
The new responsive site also means that when we bring new features and functionality to you in the future, we can do this across all parts of BBC Sport online in a quick, cost-effective way.
To make the changes to these pages as easy as we can for you, we've been introducing our new website gradually over the last few months and asking for your feedback along the way.
Close to two thirds of you gave the final beta versions of our Cricket and Rugby Union pages 7, 8, 9 or 10 out of 10 in terms of overall quality. We saw similar scores for the betas of Formula 1, Rugby League, Tennis and Golf. These pages are now fully available in the new design.
Next – what's happening to the Sport homepage, Football page and national sport pages?
We've taken all of the feedback we've received since the summer and used it to create new versions of the Sport homepage, Football homepage and sport homepages for England, Northern Ireland, Scotland and Wales for you try over the next few weeks.
On the new versions you'll still get all the stories, features, live coverage, video, scores and tables you're used to from the old site. All of this popular content is available with a new look and feel.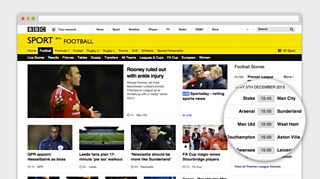 The new version provides easier access to football tables and scores
We know that football scores and tables are important to you, so we've included these with a new design that works on all devices, making football scores easier to find on mobile. These features have been designed and built in a way that means we can adapt them for other sports in future too - something that many of you often ask us about.
New wider layout on the Sport homepage beta and Football beta
For the first time on BBC Sport, we're trying a new layout that takes advantage of the space available on the wider desktop and laptop screens that we've noticed you're using. The new wider layout is available initially on the Sport homepage beta and Football beta.
On our previous beta surveys and blogs, some of you asked us when we would start to design our pages to take advantage of the space available on these wider screens, so we'd love to hear what you think of the new wider layout. If it proves popular, it will be introduced across the rest of the sport website gradually during 2016.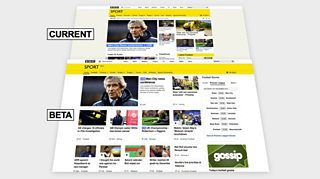 Beta versions of the site aim to take advantage of wider screen sizes