Where do I begin!
Having had so much exposure to a wide range of work and opportunities, it's difficult to pinpoint my proudest moment or achievement on my scheme as there have been so many! For example, in BBC Employment, I attended a tribunal hearing for a case I assisted on and in BBC Studios (formerly BBC Worldwide); I drafted the paperwork for a title which I saw on TV this year. These were early on in my career as an apprentice and moments I was proud of as it enabled me to see my work in action and it demonstrated that the work I do, matters!
In terms of my studies, I was proud of achieving distinctions in all of my CILEx Law Exams and qualifying as a Paralegal. I was also successful in persuading the BBC to initiate its first ever Level 7 Solicitor Apprenticeship (which I will soon commence in January 2019), which I was proud of as this route will enable me to acquire a law degree and qualify as a solicitor within 5 -6 years.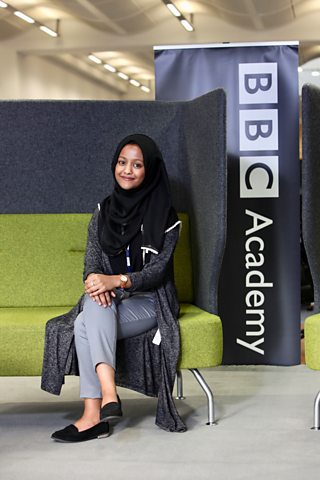 However, 2018 was pretty life changing. On November 29th, I was awarded Apprentice of the Year for the Finance, Legal and Professional Services category at the 2018 Asian Apprenticeship Awards and remember when I said that it is difficult to pinpoint my proudest moment? Consider those words as retracted as this moment was definitely my proudest!
Although working on tribunal matters and commissions carried a great deal of accomplishment and reward, winning Apprentice of the Year topped this as it is something close to my heart. I am incredibly passionate about defying social expectations of South-Asian and Muslim women and this is something I have been campaigning through sixth form up until now. Becoming an apprentice also developed an additional passion for promoting apprenticeships as an alternative route to university. Therefore winning the award was affirmation that my hard work had been recognised and I hope my success continues to inspire young people.
It still feels so surreal winning the award. I came into work on Monday to find emails from colleagues in publishing and recruitment and Tim Davies (CEO of BBC Studios) and it was a moment of me thinking which email shall I reply to first! I also had a meeting with the General Counsel in the afternoon where I met Anne Bulford and Tony Hall himself; both of whom congratulated me. At this point, I tried incredibly hard not to fan-girl as I felt like a genuine celebrity.
It just goes to show how supportive everyone is at the BBC regardless of seniority and that's one of the many reasons why I am glad I work here, alongside the culture and diversity. I can't think of anywhere else I would rather be!