SCHEME NAME
Engineering Trainee Scheme
UNIVERSITY, DATES AND SUBJECT
Undergraduate:
University of Salford
2012-2015
BSc (Hons) Media Technology
Masters (achieved as part of the BBC Broadcast Engineering Trainee Scheme):
Birmingham City University
2017-2019
MSc Broadcast Engineering
WHERE DO YOU WORK NOW?
BBC North Video and Live as a Junior Systems Engineer
WHAT WAS YOUR EXPERIENCE OF THE SCHEME? INCLUDING THE ENVIRONMENT, LEARNING, TECHNOLOGIES YOU HAVE WORKED ON?
The Broadcast Engineering Trainee Scheme provides a great first step on a career with the BBC. Over the two years, I experienced placements with BBC R&D working on Artificial Intelligence software engineering, North Engineering Operations providing support to the MediaCity site, and North Engineering Projects who design and implement systems to support and improve the output of the BBC North production teams. Simultaneously, through the scheme I achieved my masters degree in Broadcast Engineering.
Learning and training throughout the scheme came from immersion within the BBC environment as well as structured courses taken at BBC Wood Norton and university sessions at Birmingham City University. In every location, other members of staff took great care to guide trainees, and the scheme was ultimately a thoroughly worthwhile and fun period of my life.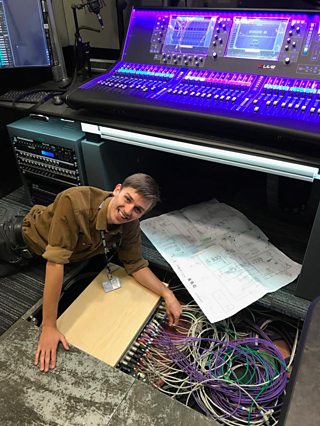 WHAT'S YOUR BEST PIECE OF ADVICE FOR NEW GRADS?
There really are no stupid questions. Ask as many as you can. Be curious about the technology around you and draw on the expertise of any team you are placed with to really make the most out of it.
WHAT'S THE MOST INNOVATIVE/EXCITING THING YOU HAVE DONE/WORKED ON SO FAR?
Since leaving the scheme and achieving a role with the Video and Live project team, I've been involved with the design and install of new radio studios at MediaCity that are based on Audio-Over-IP technologies. The systems required me to learn a great deal around IP and audio, and it's been a great opportunity to work on the future live radio studio environments for presenters and live music.
HAVE YOU BEEN INVOLVED IN ANY TEAM EVENTS OR EXTRA SCHEME/BBC RELATED ACTIVITIES WHILST ON THE SCHEME?
As part of the scheme, we got to visit IBC2018 which is a major broadcast industry conference held in Amsterdam every year. As delegates, we were able to see some of the very fringes of broadcast technology and discuss them with the exhibitors, as well as see some intriguing and exciting talks from industry leaders.