Our Interview with Rabbia Tul-Zohra, Software Engineering Graduate
SCHEME
Software Engineering Graduate Scheme
WHAT HAS IT BEEN LIKE ON YOUR ROTATIONS SO FAR?
I am in the Sounds mobile team. It's been great! I have enjoyed the last 5 months in this team and am pretty sad to be leaving (our next rotations start on 2nd Sept 2019). I have learned lots and contributed even more. I have worked on 5 different features in app and on lots of improvements.
WHAT'S YOUR BEST PIECE OF ADVICE FOR NEW GRADS?
My advice is to keep your options and mind open and say yes to as many opportunities that come your way as possible - whether that's to present a demo on behalf of your team or to go out for a pint after work with the team. And most importantly - ask questions, LOTS of questions, as that's the only way you'll get the most out of your rotation.
WHAT'S THE MOST INNOVATIVE AND EXCITING THING THAT YOU HAVE DONE OR WORKED ON SO FAR?
I have worked on many exciting features in this team but one that stood out is Chromecast. So basically - making the Sounds app cast on TV. It is the nature of this feature that trying to make it work with TV and different devices like Google home and headphones that made it challenging and interesting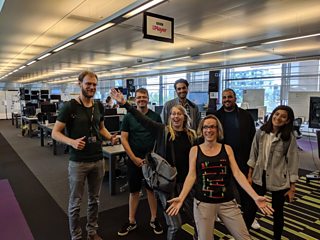 HAVE YOU BEEN INVOLVED IN ANY TEAM EVENTS OR EXTRA SCHEME/ BBC RELATED ACTIVITIES WHILST ON THE SCHEME?
I have done a couple of STEM events where I carried out practice interviews with Year 10 students in different schools. I am also going to be attending the IBC conference in Amsterdam. Also I have been a part of a sports day that was organised for our team in July.
CAN YOU PROVIDE ANY EXAMPLES OF PROJECTS THAT YOU HAVE WORKED ON?
https://github.com/rabbiatul-zohra/comments-module
This was something I built in my first rotation during our 10% (innovation) time.