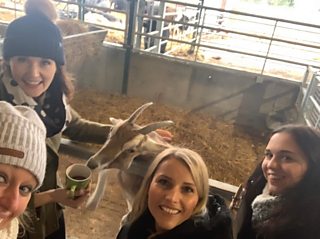 Firstly, the things that attracted me to apply were that I have always had a passion for the television industry and wanted to pursue it as a career as I found it exciting and interesting, working for the BBC is a fantastic opportunity to study and work and be part of a national institution.
The scheme started with an initial few weeks of training where I got to meet my fellow apprentices from around the country and we all bonded well and are in constant touch with each other sharing our experiences. Training at Wood Norton was fun, fascinating and the trainers were amazing. I am learning constantly and even assisted with editing a package on my very first day. My colleagues are always challenging me to take on tasks which are beyond my experience but they help me to learn quickly and support me in all that I do.
So far on the scheme I have been involved in quite a few outside broadcasts, the highlights of which were going on to the set of Doctors and going to a farm where I got to stroke loads of animals. The work is very varied and always interesting, my colleagues are very supportive and have made me feel very welcome. I have worked on Children In Need and edited a piece about one of my favourite singers, Robbie Williams.
One of the best things about my role is the people I work with. They are constantly supportive and they take great care to ensure I am ok and that I am enjoying the work. They are fun to be with and every day brings new experiences and a variety of work. It is still very early days on the scheme but I can honestly say that I have enjoyed every minute and am very grateful for the opportunities I am being given to learn and expand my knowledge. They are helping me to grow in confidence and feel able to ask any questions without fear of being judged.
After I complete the scheme I would like to work on longer features and programmes, I may also look at re-locating to one of the other centres where there is a greater variety of programming.
What would I say to those who are looking to apply, be yourself, just go for it and show the passion that you have, enjoy the experience and get excited.