Sunday Post: The Car's the Star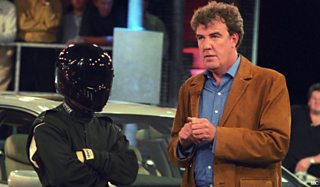 On discovering that the Stig has been painted black, Top Gear's presenter doesn't look happy...
With the imminent reboot of Top Gear under the guiding hand of Chris Evans, Genome takes a look at all things automotive.
It can be a pleasure or a curse, but driving is a subject covered by programmes going back almost to the start of the BBC.
One of the very earliest series about driving was the plainly titled Motoring Series in 1924. In six daily episodes, various speakers talked about subjects including the art of driving, the associated costs, and a look back at the early years, cars having been around in one form or another for nearly 40 years by then.
Most early broadcasts about motoring were talks, but there was also a play, An Old-Fashioned Girl, first transmitted in February 1925, in which the plot hinged around a car breaking down on a country road at night.
Cars have of course been an incidental part in many dramas since, but some have been centred around them. Series such as Z Cars (the clue's in the name) have featured them heavily, and the 1963 Sid James comedy drama Taxi! was unsurprisingly noted for featuring that form of motor transport . There was a radio drama series of the same name during the war, starring Jerry Verno.
1984's Driving Ambition was about a middle-aged housewife whose ambition was to become a racing driver. As series became less studio-bound and more action-packed over the years, the scope for cars to appear increased exponentially.
Cars can be an identifying quirk of lead characters in dramas, like Bergerac's 1947 Triumph Roadster. In early 1970s Doctor Who, Jon Pertwee drove a souped-up kit car styled as an Edwardian roadster, nicknamed Bessie, and in some episodes the gadget-mad actor drove a futuristic custom car he had helped design, known as the Whomobile.
Period dramas often have a slew of vintage vehicles to add to the atmosphere, from Dr Finlay's Casebook to All Creatures Great and Small to Life on Mars and Call the Midwife. 1993's Clarkson's Star Cars and the 1996 follow-up The Car's the Star looked at the phenomenon of vehicles that gained their own fan following.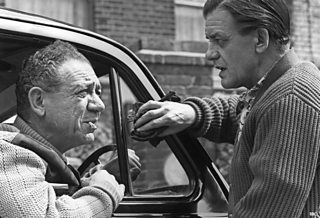 Taxi!'s star Sid James suggests Bill Owen invest in a bath-tub on wheels as a mode of transport.
There have also been a few drama series about the 'glamorous' world of road haulage, principally early 70s series The Brothers, though that was more about boardroom battles, and in an odd coincidence, there were two unrelated drama serials in 1987 and 2013, both called Truckers.
Comedy has also made good mileage out of the car. Iconic characters like Del Boy in Only Fools and Horses had his Reliant Regal van symbolising his dodgy and unsuccessful image, while Peter Kay's recent Car Share was almost entirely set within the confines of a motor vehicle.
Classic comic scenes have involved cars, from Frank Spencer dangling over a cliff from his Morris Minor in Some Mothers Do 'Ave 'Em, to Basil Fawlty thrashing his misbehaving motor in Fawlty Towers, and Victor Meldrew being stuck for hours in a traffic jam in One Foot in the Grave. Many comic scenes have revolved around driving lessons and tests, and one whole series – the 80s sitcom L for Lester.
Learning to drive is not something that can be taught over the air, though the subject has been featured in series such as long-running radio programme Motoring and the Motorist. The educational series L-Driver, presented by Peter Davison, tackled the added complication of driving lessons when English is not your first language.
One of the most celebrated docu-soaps of the 1990s was Driving School, which briefly made a star of hapless learner Maureen Rees - she was later the subject of a one-off programme The Making of Maureen that reflected on her fame.
For more advanced drivers, there have been series including 1965's Master Driving, to encourage people to improve their skills. The occasional TV strand So You Think… (which also had programmes on topics like safety at home and the EEC) covered the subject in So You Think You Can Drive, with versions shown in 1965, 1970 and 1981. In these, a panel of celebrities and professionals would be asked questions about driving and their replies analysed in a light-hearted manner – but always with a serious purpose. Viewers were encouraged to join in at home.
Car maintenance too has been tackled – KYC 64 (the cryptic title was short for Know Your Car, and it went out in 1964), in which the working of the internal combustion engine was explained, and Car-wise, a more hands-on series in which Barry Bucknell brought his DIY expertise to bear.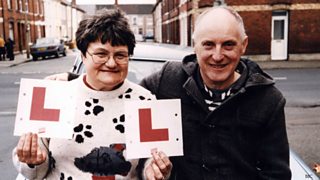 Maureen Rees and husband Dave prepare for another eventful lesson in Driving School.
Driving in all its aspects has been the subject of a great number of documentaries, and of course many of them have looked at the negative impact of the automobile, such as pollution and road accidents. The driving experience itself was featured for example in From A to B: Tales of Modern Motoring.
Television made its first attempt at a motoring magazine in 1954 with Driving Club, where editions went out every two months from 1954 to 1956. A more substantial contribution was Wheelbase, which began life in the first weeks of BBC2, initially as part of the leisure-time strand Time Out, and was a popular and long-running series on BBC2 until its demise in 1974.
To bring things up to date, Top Gear started in 1977, at first as a regional opt-out in the Midlands. Presented by Tom Coyne and Angela Rippon, the first edition featured an item on Toddington Service Station. Transferring to BBC2 in 1978, the series was for many years a sober enough programme, reviewing new cars, advising on car maintenance and issues such as safety, new legislation and trends in motoring. Later series gradually changed the presenting team, with Noel Edmonds joining in 1979. By 1981 William Woollard from Tomorrow's World was the lead presenter (he lasted 10 years in the role). Motor sport was also covered in the spin-off Top Gear Rally Report.
In 1988 motoring journalist Tiff Needell joined the team, and soon after he was joined by one Jeremy Clarkson, though neither appeared in every edition, being part of a large team of occasional reporters.
In 1994 Top Gear acquired a sister show on Radio 5, hosted by one of the TV team, Steve Berry. Jeremy Clarkson and Quentin Willson were now the established presenting team on the TV version – by 1995 it was billed as starring Clarkson 'and the team'. Motor sports were covered by a renamed Top Gear Motorsport. In 1996 Clarkson got another series of his own, Jeremy Clarkson's Motorworld which looked at how other countries experienced driving.
By the late 90s Top Gear was evolving into something more familiar to modern viewers, with a more 'laddish' approach befitting the times, in a world increasingly dominated by supercars and dismissive of old-fashioned values - and caravans. However with his career taking off, Clarkson took a break from the series in 1999 to front his own chat show. His replacement, who had previously worked on Channel 4's Driven and Channel 5's The Car Show, was James May – though he was not to stay for long.
Clarkson returned in December 1999, alongside other past presenters to celebrate Top Gear's 21st anniversary as a networked show. The show rattled on, introducing new presenter Jason Barlow in 2000, but it was starting to lose its audience and in 2001 the BBC decided to call it a day. Most of the current team of presenters jumped ship to Channel 5's Fifth Gear.
In 2002 however, Top Gear returned with a new format. Jeremy Clarkson was back, as the main presenter, and the show now came from a converted hangar at Dunsfold Aerodrome in Surrey. Clarkson's co-presenters were new faces Richard Hammond and Jason Dawe, but when Dawe left after the first revamped series, he was replaced by James May.
And on that bombshell…
What are your memories of motoring programmes on the BBC? Is everything overshadowed by the behemoth that is Top Gear? And what famous television vehicle was your favourite? Let us know below…