Genome hits another important milestone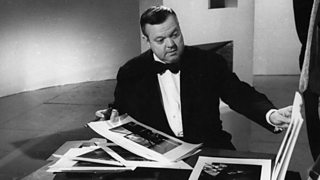 Orson Welles' Sketchbook is available from BBC Arts via Genome (photo from Monitor, 1962)
Last year, BBC Genome began to link listings to programmes which are available on the BBC website.
On the BBC iPlayer you can watch or listen to some programmes during a 30-day catch-up period, but you may not be aware that the BBC website carries special collections and single programmes that are permanently available online. Our aim is to identify all of these and make them easy to find, through the simple and intuitive search function on the BBC Genome website.
The result of our initial efforts last summer was to provide links to around 8,500 permanent programmes - the large majority of them radio, but there are also hundreds of TV programmes - all searchable through Genome, by clicking "Advanced" in the search box, then selecting "Programme available".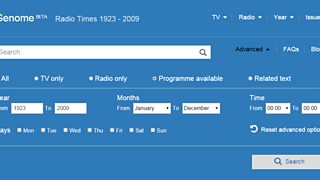 Since then, the project has continued, with help from within the BBC and also public-spirited members of the audience, who have helped us to track down other interesting programmes online that we had not yet spotted.
Today, therefore, we'd like to say thank you for helping us to reach another milestone, and hitting the 10,000 programme mark.
We've been having a look back at what has been made available over the last few months, and here are some of our favourites:
Some valuable television archive has been added from the BBC Arts site, including these charming vignettes by the great Orson Welles on his life on the stage, and as a director, writer and producer, in the series Orson Welles's Sketch Book. (Thank you very much for the suggestion, Stuart Ian Burns)
"Something for me to turn to, when I lose the thread of what I'm talking about…", says Welles as he brandishes the pad in question, and begins a narrative that includes an anecdote about being saved (by a sudden earthquake) from the embarrassment of forgetting the punch-line of a joke during an after-dinner speech.
We have also managed to finish listing programmes carried by bbc.co.uk/archive, which contains a wealth of voices from the arts and literature, including Doris Lessing, JG Ballard, and JRR Tolkien. But perhaps this programme is the most apt for us here at Genome, a fascinating historical insight into the birth of the BBC's sound archive, thanks to the efforts of BBC producer Marie Slocombe (1912-1995).
(As an aside, we'd like to mention that we will be working on the /archive site in 2016 to breathe new life into it and bring together as many archive collections as we can. About time we hear you say!)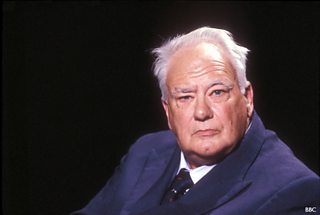 Sir Patrick Moore, presenter of The Sky at Night for more than fifty years.
There is also much in the archive for those interested in science and exploration, with a wonderful collection of The Sky at Night, presented by the inimitable Sir Patrick Moore.
Many more archive programmes have been dusted off and uploaded to the BBC website by the excellent BBC Four team, who have made a selection of the best full-length BBC TV programmes available. If you're a fan of Sherlock, you may enjoy some real-life mysteries, or for techy nostalgia, a series of programmes on home computing, mainly from the 1980s.
Added to the many programmes from our domestic channels, we have also started including BBC World Service programmes, thousands of which are now permanently available – particularly those broadcast in the last twenty years - including news and current affairs as well as documentaries and the arts.
We hope you'll get plenty of enjoyment searching through the programmes. Perhaps you'll find a favourite, or a long-forgotten memory. Genome listings finish at the end of 2009, but you can also dip into the BBC's programmes pages to see what you can find from 2010 onwards.