The Sunday Post: Abicair Bassey & Cogan
This week we profile a trio of musical stars who came to prominence in the 1950s, appearing frequently on BBC radio and television as well as making records and performing live.
They are contrasting figures who belong more to the pre-rock music era. It's not an entirely random selection – their names are linked by beginning with A,B and C…
A is for ABICAIR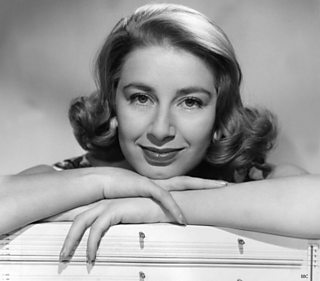 A glamorous Shirley Abicair leans on her zither in this 1959 still.
Shirley Abicair was born in Melbourne, Australia in October 1928. She was a singer and self-taught zither player – an instrument which was well known at the time from the soundtrack of the film The Third Man. After performing at parties while at university, she started to land professional engagements.
As with many Australian performers at the time, she moved to London, where she was swiftly hired to appear in TV programme The Centre Show on 20 January 1953. Within a few weeks she had her own series of short programmes on television, as well as a string of radio appearances.
Her career throughout the 1950s continued with successive series on BBC Television, as often as not in Children's Television, with some forays into the evening schedules. Her act was quite simple, singing and accompanying herself on the zither, though she also branched out into storytelling with her tales of Tumbarumba, an Aboriginal boy, later published in book form.
She had a residency in the Monday afternoon children's series Studio E, broadcast from the eponymous studio at Lime Grove. On television she made guest appearances on the likes of Crackerjack, Six-Five Special and Alan Melville's anthology A-Z (under Z for Zither). She also had her own radio series and appeared on Friday Night is Music Night and Workers' Playtime.
Being Australian was always an important part of her persona and appeal, unlike some performers who tended to play it down, or conversely exaggerate it for comic effect. Shirley returned to Australia from time to time, but always came back to the UK and continued making appearances on the BBC.
As the 1960s dawned, although she had her own TV series, did guest spots, and was a regular on Eamonn Andrews' quiz show Top Score, Shirley's appearances gradually started to become thinner on the ground. She travelled extensively, meeting cosmonaut Yuri Gagarin in Moscow, appearing on US game show To Tell the Truth, and entertained British troops in Malaysia in a tour headed by Frankie Howerd.
Back in Britain, she provided the music for early BBC2 series The Second Sex, contributed to folk music series Tonight in Person, and guested on Radio 1's Night Ride. In 1971 she disappeared to America, and little has been seen of her on the BBC since apart from items like the 1977 Woman's Hour feature Ladies in Retirement, but she is remembered as a performer of charm and elegance.
B is for BASSEY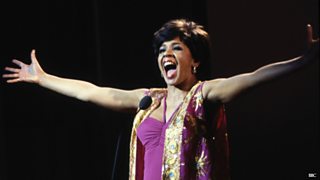 Dame Shirley Bassey belts out another number in her 1979 BBC1 series
Dame Shirley Bassey is the epitome of a showbusiness icon, but came up the hard way before achieving her international success. Born in Tiger Bay in Cardiff in 1937, she graduated from singing in pubs and clubs to a professional theatre show Memories of Jolson in 1953. After a rocky start and the birth of her first child, her career gradually took off, with an early appearance on television leading to a record contract.
Shirley Bassey's first BBC credits are in the series By and Large, a radio comedy with Peter Jones in 1956, and her first television credit is Let's Make a Date, a showbusiness miscellany presented by Brian Reece. She never had a regular series on the BBC at this time, but made guest appearances on Six-Five Special and Jack Payne's television series Off the Record, which showcased new pop songs.
The extent of her international career can be judged from the programme Shirley Comes Home in 1957, which showed her back in Cardiff from the bright lights of London and Las Vegas. Through the 60s, as her career continued to blossom with hits like the theme from the Bond film Goldfinger, Bassey was more often featured on record than in person, though there was the occasional one-off special or guest appearance when they could be fitted in to her busy schedule. One of her best remembered appearances was sending herself up in The Morecambe and Wise Christmas Show in 1971.
Finally in 1976 she was able to make her series debut in a six-part run for BBC1, and there was a follow-up three years later. By and large though, Dame Shirley, as she became in 1999, has concentrated more on records and live performances. But certainly her early appearances on radio and television in the 1950s made a great contribution to her subsequent rise to worldwide fame.
C is for COGAN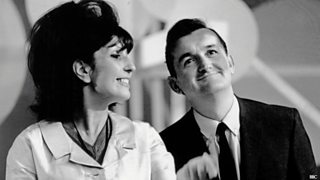 The legendary Alma Cogan appears on the Graham Stark Show in 1964
Alma Cogan, alone among our three ladies of song, is no longer with us, having died at the age of only 34 in 1966. Born Alma Angela Cohen into a Jewish émigré family in London's East End, she first came to public attention as a recording artist, having worked her way up from charity and competition turns as a child, to professional stage performances by the age of 14.
Despite being warned she was too young to start in showbusiness, she continued performing until she was spotted by an A&R man from the HMV record label. She became known as 'The Girl with the Giggle in her Voice' due to her unique vocal style, and had a string of hits throughout the 1950s.
Her first radio appearance was in Variety Matinee in 1952, quickly followed by a residency in Gently Bentley, a vehicle for Australian comedian Dick Bentley. Bentley also starred in the popular Take It from Here with Joy Nichols and Jimmy Edwards, and when Nichols left in 1953, Alma was recruited to sing and play small parts in sketches (with larger roles going to June Whitfield).
She stayed with the programme until 1956, while continuing to make appearances on other shows such as Workers' Playtime, Variety Ahoy! and Midday Music Hall. She also appeared in the ill-fated Running Wild, supposed to be Morecambe and Wise's big break in television, but which turned out to be a disaster as the scripts did not suit their comic style. Other television work included And So to Bentley with Dick Bentley, and shows with comedians like Benny Hill, Bob Monkhouse, Harry Secombe and Ted Ray.
She regularly took part in Off the Record, and in 1956 and 1957 had her own music series on TV. In the second series she chatted to fellow entertainers about the 'old times' – despite the fact she was then only in her mid-20s.
Later radio series in the 50s included Sunday Best, which had a similar premise, and she gained a reputation as a personality as well as a singer. In 1959 she was one of the artists in contention to represent the UK in the Eurovision Song Contest, but lost out to Pearl Carr and Teddy Johnson with Sing Little Birdie.
As the sixties dawned Alma was to find her style of music becoming gradually out-of-date, despite attempts to modernise her repertoire. But she continued to appear in the likes of The Billy Cotton Band Show, radio pop show Easy Beat, and Brian Mathew's Saturday Club.
In late 1964 she was one of the stars selected to perform in the BBC Light Entertainment tribute to Sir Winston Churchill, Ninety Years On. The idea was to recreate music and other entertainment from Sir Winston's lifetime, and Alma performed Down at the Old Bull and Bush, in the guise of music-hall star Florrie Ford.
One of the things our three subjects have in common, was they all featured on Desert Island Discs, and on Juke Box Jury – Alma was one of the panellists on the first edition on 1 June 1959, as well as the following two editions. She would go on to appear in 11 editions of the show, but for her last billed appearance on 24 September 1966 she was too ill to take part and was replaced by Millie Small.
Alma died from cancer a month later on 26 October, and was buried the following day, following Jewish tradition, in Bushey, Hertfordshire.
Alma Cogan had a wide circle of showbusiness and society friends, from Noël Coward and Princess Margaret to rising stars like Michael Caine and the Beatles, as well as an adoring fanbase. The Light Programme broadcast a tribute programme, I Love to Sing, on 17 December 1966 in which many of her colleagues remembered a much missed entertainer, whose life was cut cruelly short.
Share your memories of these three icons of the Fifties. Are there other singers of that era, or any other time, that you particularly remember and love? Let us know below.