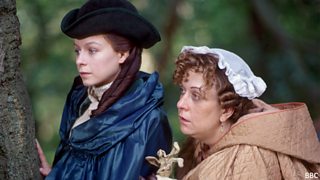 Samantha Morton as Sophia Western and Kathy Burke as Honour in Tom Jones
Twenty years ago Labour won the election after 18 years in opposition, Princess Diana died in a car crash in Paris and Arsene Wenger was confirmed as Arsenal's new manager. In 1997 I was doing my GCSE's, so it won't surprise you to learn that I remember a lot about what was on TV…
Drama got off to a grand start on BBC2, with an epic adaptation of Joseph Conrad's Nostromo running throughout February. Just over a year after he appeared in Pride and Prejudice, Colin Firth played Englishman Charles Gould, who returns to his South American birthplace to reopen an old mine (sound familiar?) The adaptation of this tale of social and political corruption was a huge undertaking. It was filmed in Colombia, and involved no fewer than 15,000 extras. The Radio Times reported that the actors, who included Albert Finney, Serena Scott-Thomas and Claudio Amendola, had to perform in 95% humidity.
Meanwhile, there was mystery afoot on home-turf; mystery of an unusual and somewhat spooky kind… Enter magician Jonathan Creek (played by comedian and actor Alan Davies). Helped by journalist Madeline Magellan (Caroline Quentin), he set to work solving crime, with an approach that could only be described as inimitable. Episode titles such as The Reconstituted Corpse gave some augury of the macabre crime-solving missions that were to follow. The programme has run on-and-off for the last 20 years and has clocked up 32 episodes, notably all written by the same man – David Renwick.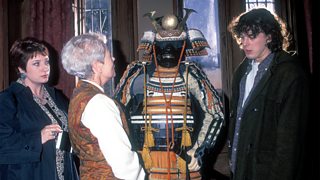 Caroline Quentin, Annette Crosbie and Alan Davies in Jonathan Creek
Psychological thriller Bright Hair hit our screens later in the year, starring another former Pride and Prejudice star, Emilia Fox. The then-23 year old was a convincing teenage schoolgirl, haunted after witnessing the aftermath of a murder. And on the subject of crime - although this blog focuses on BBC programmes - it would be an oversight not to mention that Midsomer Murders also debuted on ITV in 1997. The series, which launched with John Nettles starring as DCI Barnaby, is now in its 21st season and has probably solved more TV murder cases than all other crime series put together.
Later in the year on the BBC, Max Beesley smouldered in period drama The History of Tom Jones, a Foundling. Billed as a "rollicking" tale, this five-parter also starred Samantha Morton, Frances de la Tour and Kathy Burke. It was racier than the recent Pride and Prejudice and Middlemarch adaptations, and Radio Times even flagged up some of the more controversial content. I certainly had to resort to some subterfuge to watch the third episode.
Back to pre-watershed, the "will-he-won't-he?" plotline continued in the Irish town of Ballykissangel, as the nation's prime-time audience willed Father Peter (Stephen Tompkinson) to do something un-priestlike and elope with love interest Dervla Kirwan.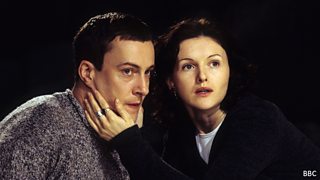 Just kiss her! Stephen Tompkinson and Dervla Kirwan in Ballykissangel
Soap fans were treated to two exciting plotlines in Eastenders, as Bianca and Ricky tied the knot (for the first time) and the tempestuous relationship between Grant (Ross Kemp) and Tiffany (Martine McCutcheon) culminated in a paternity row over baby Courtenay.
Now for something a bit more serious…
On factual TV, psychologist Oliver James put some of the famous faces of the day on the couch in The Chair, showing that psychotherapy really had gone mainstream in the UK. And there were plenty of white knuckles over on BBC Two, with fly-on-the-wall docu-drama Driving School, which followed the experiences of learner drivers. The programme is best remembered for bringing cleaning lady Maureen Rees to fame as an early "reality TV star" (and for helping her to pass her driving test on the 7th attempt).
Meanwhile in my household, as Radio 4 celebrated 12,000 episodes of The Archers, an obligatory silence was imposed in the kitchen each evening so that my mum could tune into the latest from Ambridge. And comedy To The Manor Born had an outing on BBC Radio 2, with Penelope Keith reprising her role as Audrey fforbes-Hamilton.
Say Hello!
It was also an important year for children's TV, with the launch of Teletubbies on BBC2. Within months, that theme tune had become every parent's earworm, and a debate was set off about whether the Teletubbies' gibberish would harm children's speech development (shades of Bill and Ben the Flowerpot Men in the 1950s). There was also an important moment for children's news programme Newsround, which celebrated its 25th anniversary. In its honour, BBC1 hosted a nostalgic retrospective, Newsround's Rock 'n' Roll Years.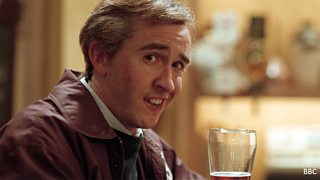 Alan Partridge first appeared on the radio, in BBC Radio 4's On The Hour in 1991
A-haaa!
We all had a bit of a laugh when Steve Coogan reprised his role as an inept presenter in I'm Alan Partridge. The 1997 series saw Partridge demoted to a role in local radio ("Good morning, Norwich"), but still dreaming of the "glory" days. Could he get his television show re-commissioned? His frantic attempts to pitch new formats to a BBC commissioning editor are classic moments of television comedy.
And after a three-year absence, fans were thrilled when Red Dwarf reappeared for its seventh series. Episode 6, written by Kryten actor Robert Llewellyn, saw the crew being transported back to a virtual reality land - based on Pride and Prejudice. And what happened when Red Dwarf met period drama? Answer, Kryten's head exploded…
Over to you chaps… did you enjoy the programmes mentioned above? Or have we missed one that you liked? Let us know in the space below:
The following programmes are available to purchase from BBC Store and other providers: Jonathan Creek, Red Dwarf, I'm Alan Partridge, The History of Tom Jones, a Foundling and Teletubbies.