The much-loved Christmas edition of the Radio Times made its first appearance in 1923.
It was all very different to today's multi-channel, on-demand world. There was only radio, and London station 2LO had a meagre five-and-a-half hours of programmes on Christmas Day.
But to some extent, the first Christmas issue set many traditions which have prevailed for decades in various guises. The cover was a warm splash of colour and very festive in tone, while the publication's austere masthead was festooned with snow and holly.
John Reith, who went on to become the BBC's first director general, was given the first page to deliver a message to listeners, in which he deliberated the meaning of Christmas and then inevitably talked about the joy of broadcasting and the "first Wireless Christmas".
"The loud speaker is such a convenient entertainer," he wrote. "He doesn't feel hurt if a cracker is pulled in the middle of a song, or offended if the fun grows riotous during his performance".
While Reith was keen to talk up the virtues of broadcasting, the magazine was packed with adverts for radio sets and cartoons about the joys of consuming radio programmes.
But Christmas is all about giving, and we'd like to offer you the chance to download the first Christmas issue. It's a fascinating document and we hope you will enjoy it. Happy Christmas from BBC Genome!
Download a PDF version of the 1923 Christmas Radio Times by clicking on this link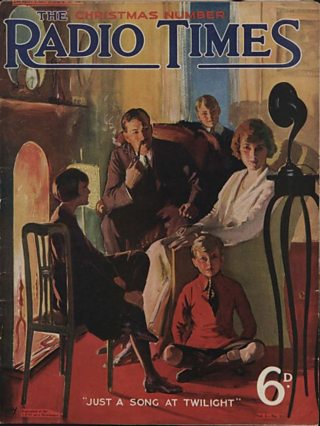 Warm seasonal colour made the first Christmas issue stand out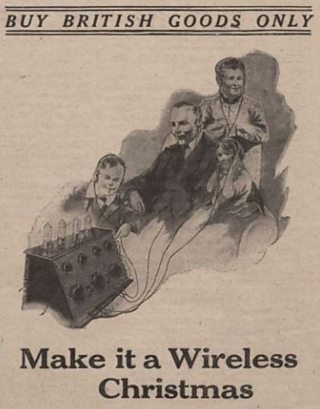 Radio sets were the must-have Christmas present in 1923