The Sunday Post: Wendy Craig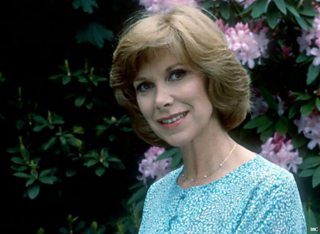 The actor Wendy Craig, star of Not in Front of the Children, Butterflies, Nanny, and many other plays and series in a 60 year (and counting) career
One of the most popular stars of comedy series in the 1960s and 1970s was the actor Wendy Craig. She is still working, and is a good example of the kind of neglected star whose career has been little considered by television historians.
When people talk about sitcom they generally concentrate on the ground-breaking and well-respected shows, the ones that changed the style of television. These are the ones that have been frequently repeated and were the earliest to be issued on home video, like Steptoe and Son, Dad's Army and Fawlty Towers.
But alongside these there were a swathe of domestic comedies which also garnered large viewing figures from a loyal audience – without setting the world alight. Shows like Hugh and I, Meet the Wife (immortalised in the Beatles song Day in the Life), the programmes written by Carla Lane such as The Liver Birds and Bread, or Richard Waring's The Marriage Lines. Wendy Craig spent much of her career starring in this kind of programme, an interesting part of television history that does not get as much coverage as its edgier counterparts.
Wendy Craig was born in 1934 in County Durham, and after grammar school trained as an actress at the Central School of Speech and Drama in London, graduating in the mid-50s. For decades after she was one of the busiest actors on British television, often specialising in harassed housewives in an era thick with them, but she also wrote scripts and devised and starred in the drama series Nanny.
She first appeared on the BBC in televised excerpts from a couple of stage productions, The Scandalous Affair of Mr Kettle and Mrs Moon, and Man Alive (not to be confused with the documentary strand), in 1955 and 1956. She did not appear again until 1958, when she was cast in Big Guns, the second of several series based around Berkely Mather's character Superintendent Charlesworth, played by Wensley Pithey. Wendy only appeared in one episode, and it would be another two years before she returned to the BBC, this time on radio.
In Isaac Asimov's Satisfaction Guaranteed, a 1966 edition of Out of the Unknown, Tony (left) is a robot and Claire (Wendy Craig) has just got the electric bill for recharging him...
Lunch Hour, on the Third Programme, was written by John Mortimer, who had come to prominence with the play The Dock Brief on the same network in 1957. Mortimer was a barrister, who in 1975 brought to the TV screen the character of Rumpole of the Bailey in a Play for Today of the same title, which was developed into a long-running series by ITV. Craig was one of only three people in the cast of Lunch Hour, showing how she was now getting more prominent roles, and she followed this with a number of other radio parts over the next few years, though most of her work was still in the theatre.
1961 saw Wendy win her first lead role in television, with the BBC production of Bernard Shaw's play Candida, in which she starred alongside Patrick Allen and Peter McEnery. BBC television was still replete with this kind of play, theatrical and backward-looking. But things were soon to change: the very next week would see the debut of both Z Cars, which brought a new kitchen-sink realism to TV drama, and Steptoe and Son.
However, alongside the ground-breaking and challenging material like this, there were also many comedies which were gentler in subject matter and treatment, and it was in these that Wendy Craig would rise to fame. Steptoe and Son had originated as one episode of the series Comedy Playhouse, in which Ray Galton and Alan Simpson had been allowed to create a string of individual comedy playlets. After two series, other writers were allowed to contribute, and over the rest of the 1960s a number of other series began life from Comedy Playhouse pilots.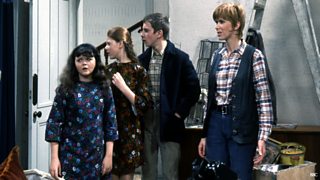 Jennifer Corner and her children Amanda (Jill Riddick), Trudi (Verina Greenlaw) and Robin (Hugo Keith-Johnston) in search of husband Henry - who is definitely Not in Front of the Children
In 1967, one of these was House in a Tree, written by Richard Waring, who had had a big hit with the Richard Briers/Prunella Scales domestic comedy The Marriage Lines in 1963. Wendy starred in the pilot alongside Paul Daneman as her husband, Henry. The setting was cosy and domestic, with the couple's three children the source of many comic situations, as was Wendy's character Jennifer Corner, whose wide-eyed scattiness was somewhat in debt to the great Lucille Ball, without the slapstick the latter had brought to her American series like I Love Lucy and The Lucy Show.
Wendy Craig's career had been making steady progression since the early 60s, with a succession of major roles in television and radio plays, and being cast in feature films including Joseph Losey's The Servant, and The Nanny, in which she starred alongside Bette Davis. Wendy also read stories for Woman's Hour, and appeared in scientific thriller R.3, the science fiction anthology series Out of the Unknown, and popular oil industry drama The Troubleshooters, as well as various ITV programmes.
She had not however done much comedy, apart from the short lived ITV series Room at the Bottom, so House in a Tree was something of a departure, but Wendy's light comic delivery and enthusiastic approach was well suited to the character. Although the character's scattiness probably infuriated some, she was definitely the lead in the series, with her long-suffering husband a less strongly defined role. The pilot was deemed enough of a success that a series was quickly commissioned, under the title Not in Front of the Children, beginning only a few months later.
Not in Front of the Children was a big success and made Wendy Craig a household name. Following its success she was asked to read stories on Jackanory and appeared on the word game Call My Bluff. Not in Front… ran for several series, with Ronald Hines replacing Paul Daneman after the first series, and middle child Trudi recast towards the end of the run. It ended just at the start of 1970, having managed to enter the colour television era for its last few episodes. The series was also remade for radio, a common occurrence in those days, with Francis Matthews taking over the role of Henry. The success of the show saw Wendy win the BBC Personality of the Year award in the 1969 Variety Club Awards (in the days when there were separate awards for BBC and ITV programmes).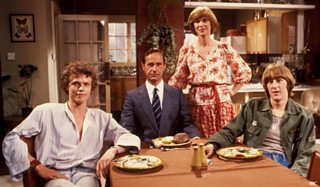 Russell (Andrew Hall), Ben (Geoffrey Palmer), Ria and Adam (Nicholas Lyndhurst), the Parkinson family at the heart of Carla Lane's Butterflies. As usual, no-one is eating Ria's food...
With Not in Front of the Children coming to an end, the early 1970s saw Wendy tempted over to ITV by Thames television for the sitcom …And Mother Makes Three. In this she was a fairly similar character to Not in Front…, but was now a widowed mother of two sons – though later she met and married a widower with a daughter and the series became …And Mother Makes Five. Altogether eight series were made from 1971 to 1976.
One of the team of writers contributing to the series was Carla Lane, who with The Liver Birds ending in the late 70s, came up with a new series about a seemingly happily married woman with two sons, who was becoming dissatisfied with her apparent domestic contentment – Butterflies. Wendy was offered the role of Ria Parkinson, who has a romantic but platonic relationship with a businessman called Leonard, feeling neglected by her husband Ben, whose hobby is collecting butterflies.
Ria is torn between the new man in her life, whose own life was only held together by his faithful chauffeur, and her solid, reliable husband, and her two mildly rebellious teenage sons. The series was thoughtful, sad, but also had sublime comedy, due to Ria's disastrous cooking, the tension between Ben and his trendy 70s sons, and the pretension-puncturing asides of her cleaner, Ruby. It was shown on BBC2 and so did not have the broader approach of other series, but had a wistful quality. Its success meant it was repeated quickly on BBC1, and it was to run for four series between 1978 and 1982.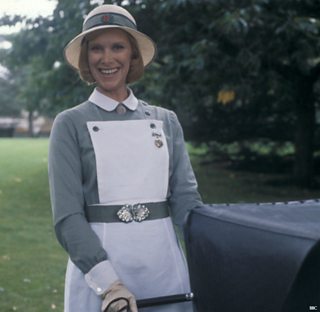 Nanny Barbara Gray looking cheerful as she wheels a pram in the park - luckily this episode was not directed by Eisenstein or it could have all got a bit nasty...
Wendy had already contributed some scripts to …And Mother Makes Five, using the pseudonym Jonathan Marr, and now she decided to work up an idea she had had for a drama series about a nanny, set in the 1930s. Lasting for three series, Nanny was Wendy's first long run in a television drama. She played Barbara Gray, who, following her divorce, in which she was the innocent party, has trained to be a nanny. She has a succession of children to look after before settling down with one family. In the second series she eventually finds a new husband, while in the third, set during the Second World War, she returned to her old job for the duration, and had the additional problem of evacuees to cope with.
When Nanny ended in 1983, Wendy would not have another regular BBC series until she returned in 1989 with sitcom, Laura and Disorder. This time Wendy wrote the scripts, under her pseudonym Jonathan Marr, with her son Ross Bentley, but unfortunately the series was not a success and was not renewed. A few years later she appeared in ITV's Brighton Belles, a British attempt to remake the US series The Golden Girls, but this again flopped.
Wendy's broadcasting career was quiet for some time after this, although Butterflies did get a repeat showing in the 1990s. Her religious faith resulted in broadcasts in Pause for Thought on Radio 2; she had earlier appeared in Home on Sunday and other religious series, and there were readings and other occasional appearances on television and radio.
In the early 2000s she was cast in The Royal, an ITV period hospital drama spun off from the long-running Heartbeat, and in 2006 she made another medical appearance in the daytime drama Doctors (and has played two further roles in it in the last few years). In 2009 she returned to BBC comedy as Martin Clunes's mother in Reggie Perrin, the remake of 1970s series The Fall and Rise of Reginald Perrin, and her work has continued steadily since, including Death in Paradise earlier this year.
May she continue for many years to come - but she will always be remembered for her string of sitcom roles in the 1960s and 70s, from scatty Jennifer Corner to the poignant Ria Parkinson. Sitcom acting is sometimes denigrated as a broad brush approach, but Wendy Craig has always brought a winning fragility, likeability and warmth to her portrayals of ordinary but believable women – and that is perhaps the secret of her success.
Share your memories of Wendy Craig and domestic comedies of the past in the space below. We'd love to hear from you, especially if you're adorably scatty...