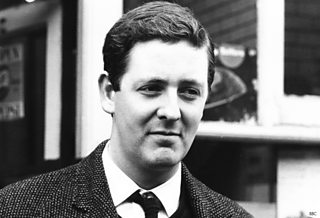 Dick Clement, pictured in 1965 - when BBC producers still wore ties
Dick Clement, OBE, co-writer of Porridge and The Likely Lads, is 80 today. Clement wrote the original sketch on which The Likely Lads was based - Double Date - for a BBC director's course exercise in the early 60s, with his long-term collaborator Ian La Frenais.
The sketch was so well received that the pair were commissioned to write a whole series based on its main characters, Terry Collier and Bob Ferris, which first went out on the new channel BBC Two in 1964. An expanded version of Double Date became the series' second episode.
The Likely Lads was highly popular and ran to three series, which were all repeated on BBC One, and were adapted for radio. Clement also produced the TV series, and other programmes, including series two of Not Only... But Also.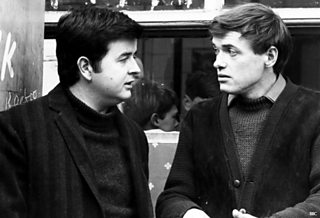 Bob and Terry, the Likely Lads (played by Rodney Bewes and James Bolam)
Clement and La Frenais wrote a number of television and film scripts during the late 1960s, but returned to their Likely Lads characters for a sequel, Whatever Happened to the Likely Lads? in 1973. The same year, they contributed two scripts to the Ronnie Barker series Seven of One, one of which was the pilot episode of Porridge.
The writers were later responsible for the scripts of the hit ITV series Auf Wiedersehen, Pet, which launched many actors' careers including Jimmy Nail, Kevin Whately and Timothy Spall. It had two series in the 80s and was resurrected in 2002.
Dick Clement and Ian La Frenais were also behind a number of other TV series, and have had a successful careers as writers of many Hollywood films. Both were awarded the OBE in the 2007 Birthday Honours list.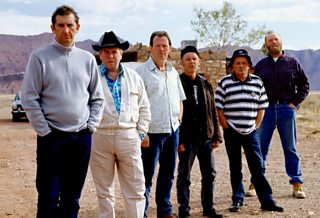 Oz, Barry, Nev, Moxey, Dennis and Bomber - returning for more adventures in Auf Wiedersehen, Pet in 2002 (a series written by Clement and La Frenais, but devised by Franc Roddam who also invented MasterChef)