On Your Own - One-person dramas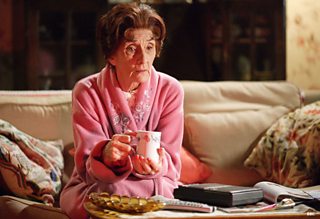 Dot Branning (June Brown) records a message to husband Jim in her 2008 EastEnders solo performance
The number of performers in a drama can vary from the cast-of-thousands to the two-hander, but one of the less frequently used forms is the solo drama or monologue, where only a single actor is present.
Perhaps the best known example of single character plays is the Talking Heads series by Alan Bennett, itself inspired by his 1982 play A Woman of No Importance. The two series of Talking Heads, six episodes each, were broadcast in 1988 and 1998, and the first series especially was celebrated, with particular praise going to the episode A Cream Cracker Under the Settee. Looking back on the series Bennett said "In television terms a monologue is something of a departure, but it is also the oldest form in the world: one person telling a tale."
The success of Talking Heads inspired the Single Voices strand, which followed in 1990. In that, six different authors contributed monologues, for example Roy Clarke's opener The Chemist, performed by David Jason, Carla Lane's The Last Supper, with Michael Angelis, and Barry Humphries' self-penned Sandy Comes Home.
The solo piece is a sub-genre that has also been done in soap opera, with the 2008 episode of EastEnders in which Dot Branning (June Brown) records a message to her husband Jim while he is in hospital after a stroke. Previously there had been a number of two-hander episodes of EastEnders, but this was the first and only time to date when a single actor has performed a whole episode of any soap.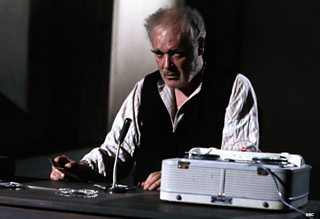 Patrick Magee, a frequent interpreter of Samuel Beckett's works, created the title role in Krapp's Last Tape on stage in 1958, and in this 1972 Thirty-Minute Theatre production
In contrast, Samuel Beckett's Krapp's Last Tape might be said to belong to a more highbrow iteration of the solo drama. Like Dot's monologue, it uses a tape recorder as a dramatic device to allow one actor to convey the action (and the EastEnders episode's writer, Tony Jordan, cited the play as his inspiration). Krapp's Last Tape has been produced by the BBC several times – Cyril Cusack took the role in a 1963 television production, Patrick Magee performed the role in a BBC Two Thirty-Minute Theatre in 1972, and Corin Redgrave played Krapp on Radio 3 in 2006. Only a year later Harold Pinter gave his interpretation in a television relay of the Royal Court Theatre production.
Pinter had written his own contribution to the genre in the early 70s, and his play Monologue was performed by Henry Woolf in a 1973 BBC television version, the year after its stage debut. Pinter returned to the form in his 2008 radio play The Examination, in which Michael Gambon starred, based on Pinter's own short story.
A tape recorder was also an essential part of the 1980 play The Lad Himself. Star and writer Peter Corey did a convincing impersonation of Tony Hancock, in a downbeat play set in Hancock's dressing room in 1961 as he prepares to perform the famous episode The Blood Donor. Corey, who had been obsessed with Hancock since he was a child, had also performed a one-man stage tribute to the comedian, Heads Down for a Full House. He told Radio Times that The Lad Himself was recorded in the same BBC studio as The Blood Donor, and he was even given the same dressing room as Hancock had nineteen years earlier.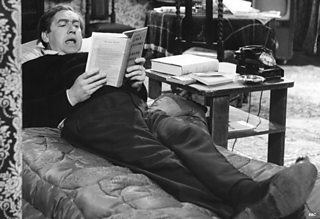 Tony Hancock relaxes with some light reading in The Bedsitter, the first episode of his 1961 series Hancock
Hancock himself performed alone in the first episode of his eponymous series in that year: The Bedsitter, aka Hancock Alone. He had stopped working with comedy partner Sidney James, and his desire to be seen as a solo performer was taken literally by writers Alan Simpson and Ray Galton. It wasn't quite a solo performance, as Michael Aspel appeared on a television set during the episode. There was also another performer during rehearsals - Hancock's Half-Hour regular Mario Fabrizi came in to help block the camera movements, to give Hancock some respite and to help him visualise his performance.
While a prop, such as a tape recorder, might allow a solo performance to seem naturalistic, at other times no such tactic is used. Some monologues are addressed to the audience, breaking the fourth wall – although perhaps they can be seen as the character talking to themselves. However, another recurring device in one-handed drama is the telephone. This was indeed used in the above Hancock episode. In Sammy, a 1958 play by Ken Hughes billed as "a television play for one character" Anthony Newley plays the title character, who, alone in his room, desperately attempts to raise £200. Hughes reworked the play five years later as the feature film The Small World of Sammy Lee, which he also directed. Newley reprised the title role, but the story was opened out and featured a conventional-sized cast.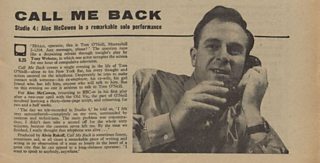 Tony Webster, who wrote the Studio 4 episode Call Me Back, was mainly a contributor to US productions - this seems to be his only UK credit...
Another solo drama using the telephone was Call Me Back, in which Alec McCowen gave a "remarkable performance", according to Radio Times, in an hour-long piece by Tony Webster. He plays a man in a New York apartment trying to make contact with someone – anyone… The play was broadcast in the series Studio 4 – so called because it was made in Television Centre's Studio 4, and involved McCowen learning more than 30 pages of script, rehearsing over 2½ weeks, and then carrying the whole hour – outnumbered massively by the production crew! "The main problem was concentration" he recounted to Radio Times, "I didn't dare take a second off for the whole sixty minutes, because the cameras never left me."
One actor surrounded by cameras and production crew may be a dramatic contrivance of solitude, but as a convention it is perfectly naturalistic: after all, there can be few people who have not found themselves alone – with or without a telephone or a tape recorder to act as interlocutor – mulling over their lives…
What are your memories of these one-person dramas? Do you have any favourites we haven't mentioned? Leave your comments below: