Advent Calendar Day 11: Tinsel-Free and not-so Joyous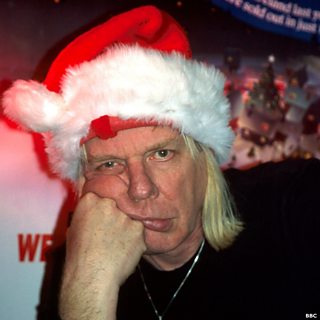 Rick Wakeman on Grumpy Old Men At Christmas, 2003
"The children get tired and fractious, Grandpa goes to sleep, Auntie gets indigestion, Dad complains about the expense and I do the washing-up!" - things aren't always joyful, joyful in the holiday season and BBC Genome listings reflect this.
Apart from the usual tragic EastEnders Christmas plots - which should by now be considered traditional, the reports about those having to work over the holidays, and the special programmes for the lonely, there's also the desire for a somewhat alternative celebration, either by slightly changing the menu or rethinking the decorations...
Radio DJs are also known to rebel against the festive overload. John Peel felt the need to declare his Home Truths programme a "tinsel-free zone": "no mistletoe, no fairy lights, just good wholesome fair". Tom Watts opted for an alternative collection of Christmas record that didn't include "Wizzard and Wham!, Slade and Spector", and Chris Moyles and his team offered seven hours of "their own sideways look at the world" on Christmas Day.
Grumpy famous men have also been offered the chance to vent against "pantos, nativity plays, false bonhomie and novelty socks", while grumpy women bemoaned "supermarket shopping" and "multi-tasking". Our favourite, though, is this Woman's Hour listing/song... no bitterness here...

Woman's Hour, Woman's Hour Women all the way.
Have a merry Christmas,
Don't work too hard today. Let him stuff the turkey, Let him fill your sack,
Stay in bed all morning, Let him break his back
With brussels sprouts and holly And artificial snow.
Let him change the fairy lights And buy the mistletoe.
So why not have a change of plan?
We've got the best solution,
Listen each day to Woman's Hour For your New Year's resolution.