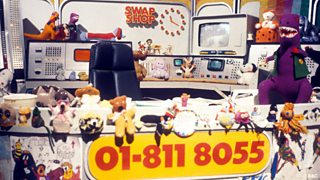 This famous phone number was kids' hotline to the stars for many years
Steve Williams is an Editorial Curator for BBC iPlayer and writes about television for TV Cream.
For many years, millions of kids celebrated their freedom after a week of school by staying in their pyjamas, closing the curtains so there'd be no light on the screen and watching telly until lunchtime. Forty years ago, Noel Edmonds and Multi-Coloured Swap Shop changed Saturday mornings forever.
There had been childrens' programmes on Saturday mornings before – occasional series such as ZOKKO!, which promised "Noise! Adventure! Glitter!" and was linked by a talking pinball machine had run around lunchtime since 1968.

On the other side, too, LWT's Saturday Scene transformed from brief links around cartoons into a fully-fledged show in its own right, while on ATV, Tiswas began in 1974 and broadcast a hundred episodes before anyone outside the Midlands had seen it.
Swap Shop, however, was still a major step forward – it was shown across the UK, it was completely live and ran for three hours.

The first show, on 2nd October 1976, was billed in Radio Times as the first of 12 programmes, and promised, alongside the Radio 1 breakfast DJ as host, an appearance from Tom Baker (or Dr Who, as he was billed), music from Harpo and Flintlock, a junior light bulb collector, the cartoon Valley of the Dinosaurs and Keith Chegwin, "the Roving Swapman", out and about somewhere in the UK. It was a mix that proved the cornerstone of Saturday morning TV for 25 years. Apart from the light bulb collecting.
Swap Shop's success was almost instant – the series was extended to run right through until the following February. In August, as part of the BBC's Festival 77 season which broadcast a programme from each of the previous 25 years, Swap Shop was selected as 1976's most significant show and a "condensed" episode was screened on primetime BBC Two. And when the series returned in October, it received the honour of a Radio Times cover.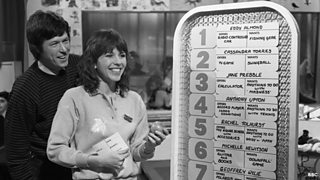 John Craven and Maggie Philbin oversee another morning of swapping
As Tiswas began to spread its wings across Britain, the battle to attract the attention of the nation's kids began in earnest, although many happily watched both and flicked between the two whenever one went into a boring bit. Tiswas was certainly considered the more anarchic, but Swap Shop was pretty daring in its own way – members of the production team actually appeared on camera (unheard of at the time) and a regular highlight came when Noel casually strolled out of the studio to see what else was happening at Television Centre.
One thing that fast became clear was that Swap Shop wasn't just popular with the kids it was aimed at – it quickly gained a huge adult audience as well. Partly this was thanks to the other options – BBC Two would be screening the Open University, or even nothing at all, so Noel and the team were the only option if you didn't fancy Calculus over the Corn Flakes. Swap Shop dominated the Saturday schedules (except the week in November when the Lord Mayor's Show was on).
Indeed, in 1980, actor Peter Barkworth wrote in Radio Times' Preview column about its appeal to the wider audience – and paid tribute to its host. "He is the presenter (both on television and radio) sans pareil: funny yet sincere, fast yet relaxed, professional yet friendly, discreet yet naughty, bland yet astringent, articulate yet unpretentious; a thoroughly nice, likeable fellow who can talk and laugh and smile without in any way playing down. There cannot be a single viewer who does not feel present at the programme."
This adult appeal meant that Swap Shop could attract huge celebrity guests – Christopher Reeve, Terry Wogan, Dame Edna Everage and many more all made an appearance, with eager viewers getting the once in a lifetime opportunity to speak to a star.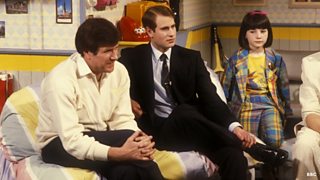 Everyone was welcome on Saturday SuperStore, from football stars to royal visitors
When Noel moved on in 1982, and the Swap Shop closed, Saturday SuperStore opened in its place.
Yet despite the arrival of Mike Read as "General Manager", things seemed pretty similar – John Craven, Keith Chegwin and Maggie Philbin were all still taking part, and the same mix of pop, cartoons and star guests remained intact. If anything, things got even starrier – David Steel, Neil Kinnock and Margaret Thatcher all appeared in quick succession, the Prime Minister famously confronted with some tough questions from the audience, while Prince Edward also popped in.
This illustrates how Saturday morning TV's influence spread far and wide – and how they became far more than just another kid's show. It certainly seemed the place to be on Saturday mornings – hence in 1984, alongside appearances from Spandau Ballet and Simon Groom, Saturday SuperStore also included live action from the Winter Olympics and coverage of the return of the space shuttle.
In 1986, the Store opened early to take in pictures from the Queen's Visit to China. If it was happening on Saturday morning, it was on Saturday morning TV.
1987 saw Going Live! take over Saturday mornings. The show had two main presenters rather than one, in the shape of Sarah Greene and Phillip Schofield, and there were other changes – out went the outside broadcasts from windswept playing fields, in came comedy sketches from Trevor and Simon. But the classic Saturday morning mix remained intact, including some fabulous combinations of guests – like Reeves and Mortimer and Kiri Te Kanawa, Terry Waite and Take That, and Judi Dench and Bros. If the guest lists looked odd on paper, they always worked on screen. Talking to Radio Times in 1993, Sarah Greene said the guests appeared "because their children tell them to - that it's cool... and it's quite funny seeing someone like Sting getting all nervous because he's going to be on with Trevor and Simon."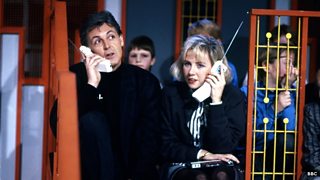 For 25 years, shows like Going Live! welcomed huge star names
Live & Kicking replaced Going Live! in 1993 and was on air when Saturday morning telly celebrated its twentieth anniversary – and not much had changed. Twenty years to the week of the first Swap Shop, Live & Kicking offered up virtually the same mix of pop, cartoons, star guests and games.
The Swap Shop Star Awards, where young viewers could vote for their favourite stars, were still taking place under the banner of the Red Nose Awards, the programme was still ending early one week in November for The Lord Mayor's Show and, from 1997, the show was being presented by the current Radio 1 breakfast DJ in the shape of Zoe Ball.
But an era ended in 2001 when Live & Kicking came to an end. Saturday morning kids TV lives on to this day, but with a host of other options for grown-up viewers, it can never have the impact and influence it used to. But for generations of kids (and adults), Saturday mornings were extra special.