Only Fools and Horses... From Peckham to Beckham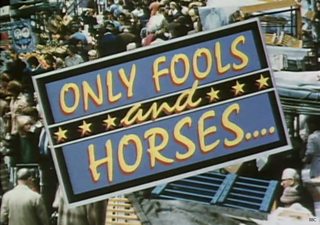 The title caption for Only Fools and Horses.... the graphics were originally designed by Peter Clayton
Only Fools and Horses.... John Sullivan's long-running sitcom, began on 8 September 1981.
Coming from a working class South London background, after discovering he had a talent for writing, Sullivan had begun to submit scripts to the BBC - where he got his first job shifting scenery. He wrote sketches for The Two Ronnies, and managed to get the pilot episode of a half hour sitcom called Citizen Smith accepted for production in the series Comedy Special, successor to Comedy Playhouse.
Following the success of that series, which ran from 1977 to 1980 (and itself had an episode called Only Fools and Horses), Sullivan pitched the idea for a new series, originally called Readies, about two wheeler-dealers from Peckham, Del and Rodney Trotter. Sullivan had decided to make his main characters brothers, with their grandfather as an additional comic foil.
After a lengthy casting process, David Jason was awarded the lead role of Del. Jason was best known as a supporting actor, often alongside his mentor Ronnie Barker, as in Open All Hours. He had however previously starred in The Top Secret Life of Edgar Briggs for ITV in 1974, and was also the lead in A Sharp Intake of Breath for that channel, from 1977.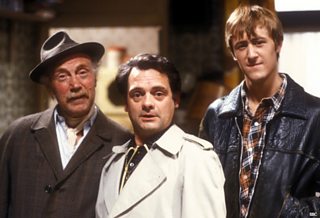 Lennard Pearce as Grandad, David Jason as Derek 'Del Boy' Trotter, and Nicholas Lyndhurst as his brother Rodney
Del Trotter was an ageing ex-mod who lived by his wits, doing vaguely illegal deals and running a market stall or fly-pitching, always on the lookout for a way to become a millionaire - although it never looked as if it was going to happen. Del's younger brother Rodney (Nicholas Lyndhurst) and Grandad (Lennard Pearce) helped - or hindered - Del's schemes, but he was fiercely loyal to them. The Trotters had a complex family background, with Del's father absent (he turned up briefly in the 1983 Christmas special) and his mother long dead. Del had had to bring Rodney up, there being a big age gap between them, and so had never settled down with a partner. Grandad spent a lot of his time in their council flat watching two television sets, and was in charge of cooking.
When Lennard Pearce died during the early stages of production for the fourth series, it was decided to replace Grandad with a similar character, Uncle Albert, played by Buster Merryfield. In 1988 the Christmas episode Dates gave Del a love interest, Racquel, who later became a regular character, and gradually more regular female characters were introduced. Sullivan had written another comedy called Just Good Friends, about an on/off relationship being rekindled after many years, and decided to make Only Fools into a less male-dominated series, revitalising it for its second decade.
The 1989 series of the comedy adopted a longer format with 50-minute episodes instead of the usual sitcom length of half-an-hour. This enabled the scripts to become more complex but also gave time for deeper characterisation. Rodney too acquired a girlfriend, Cassandra, and the series followed their developing relationship which culminated in their marriage, but also ventured into poignant territory with a later storyline about their difficulties having children.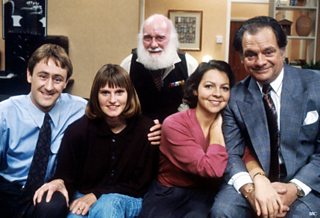 The 1990s cast of Only Fools, including Gwyneth Strong as Cassandra, Buster Merryfield as Uncle Albert, and Tessa Peake-Jones as Racquel
However, the comedy was not neglected in all this. Only Fools and Horses was known throughout its run for numerous hilarious moments, with both verbal and physical comedy, with catchphrases galore ("You plonker", "This time next year we'll be millionaires"), slapstick gags (the chandelier, the exploding coach, Del falling through the bar), and Del's trademark misuse of the French language. It also had a very memorable theme tune - although the first series had a serviceable enough signature tune, it was decided to let Sullivan come up with his own song for later series, and he composed and sang separate opening and closing themes (the latter known as "Hookey Street") which neatly encapsulated the tone and premise of the show.
The series was also known for its expanded cast of memorable characters. Introduced gradually, characters such as dim street-sweeper Trigger (who always called Rodney 'Dave'), used-car dealer Boycie, Boycie's wife Marlene, Denzil, Mike the Barman, and Mickey Pearce all became part of the Only Fools family. There were occasional appearances by Jim Broadbent as Slater, an ex-schoolmate of Del's who had joined the police, and was now willing to do anything to send Del to prison. He met his come-uppance, but turned out to be Racquel's ex-husband, causing further complications. (Broadbent had been one of the actors considered for the lead in the series before Jason was cast.)
Though fewer episodes were made in the late 1980s as both Jason and Lyndhurst were increasingly in demand for other projects, Only Fools and Horses.... went on to run for seven series as well as numerous Christmas specials, including a three-part mini-series in 1996 that originally concluded the show, then three consecutive additional 'final' episodes at Christmas 2001, 2002 and 2003. In 2004, Only Fools came top of a BBC poll to find Britain's favourite sitcom.
Even then there was another special mini-episode in 2014 for Comic Relief with a guest appearance by David Beckham. This was written by Sullivan's sons, Jim and Dan, based on notes for unused material discovered after John Sullivan died in 2011. Even if there are no more episodes of Only Fools in the future, its place in British comedy history is assured.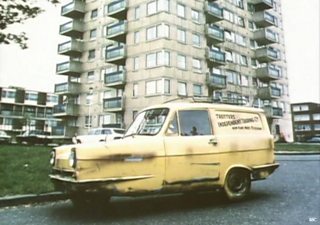 Del's Reliant Regal mini-van, parked (legally we hope) outside Nelson Mandela House, Peckham (actually Harlech Tower, Acton)