Tanner, Tewson and Thorne - Three Ts of Character Acting
This month we profile three character actresses who make frequent appearances in the BBC Genome listings.
They didn't always play lead parts, but they made unique contributions to some of the nation's favourite shows, in programmes that emerged during the "golden age" of British sitcom.
ANGELA THORNE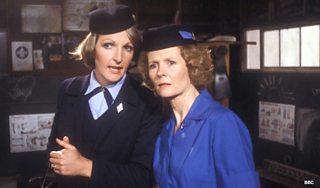 Angela Thorne with Penelope Keith in the first episode of the third series of To the Manor Born
Angela Thorne was born in Karachi in 1939, and celebrates her 80th birthday on 25 January 2019. She began her long career in repertory theatre, and her first BBC credit was appropriately in the 1965 radio series Repertory in Britain, which showcased the work of "rep" companies, in her case the Sheffield Playhouse.
Angela's television debut was in an early episode of ITV spy series The Avengers. She first appeared on BBC TV in the 1966 musical Take a Sapphire, by Caryl Brahms and Ned Sherrin. In 1969 she was chosen to be the top-billed character, Nancy Chuff, in N.F. Simpson's bizarre news spoof World in Ferment, alongside John Bird, Dinsdale Landen, Eleanor Bron and Irene Handl.
Then came a succession of character parts in comedy and drama, including Thomas Hardy's The Woodlanders, Elizabeth R, starring Glenda Jackson, and Sunday afternoon serial Ballet Shoes. In 1977 she was cast in a one-off role as Lady Truscott in the popular sitcom The Good Life, which saw her appear along Penelope Keith for the first time.
Two years later Penelope Keith starred as Audrey fforbes-Hamilton in the hugely successful sitcom To the Manor Born, in which Angela played Marjory Frobisher, Audrey's old schoolfriend. On the back of this Angela progressed to starring parts in sitcom, such as Three Up, Two Down with Michael Elphick, and ITV's Farrington of the F.O. as a stern consul-general.
Thorne also played Margaret Thatcher, opposite John Wells, in Anyone for Denis?, the stage play based on Private Eye's "Dear Bill" column. ITV televised the play in 1982, and there was a one-off BBC comedy, Dunrulin', in 1990, which imagined the Thatchers' life once Margaret Thatcher stopped being prime minister (which actually came to pass between the programme's recording and transmission). Angela's later career included the 1997 remake of To the Manor Born, No Commitments and At Home with the Snails for radio, and on television, dramas like Heartbeat, Midsomer Murders and Foyle's War.
JOSEPHINE TEWSON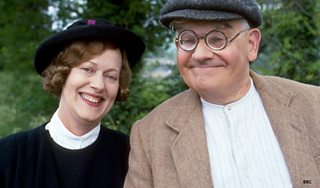 Josephine Tewson appeared in the sitcom Clarence with Ronnie Barker in 1988, the last of many roles alongside him dating back to the 1960s
Josephine Tewson was born in 1931. She made her first BBC TV appearance in November 1957 in the series On Stage – London, which showcased current theatrical productions, as part of the cast of the show Free as Air. Also in the cast was her future first husband, Leonard Rossiter.
In the 1960s Josephine made occasional television appearances in ITV dramas like No Hiding Place, Sergeant Cork and Mrs Thursday, as well as BBC productions like David Turner's play The Initiation, Z Cars, and in numerous radio plays. She soon became better known for her comedy work however, with Charlie Drake, and many episodes of The Dick Emery Show; on radio she was in The Ronnie Corbett Thing and The Secret Life of Kenneth Williams. Her most constant association was with Ronnie Barker, from ITV's Frost on Sunday and Hark at Barker, to the BBC's The Two Ronnies (with Ronnie Corbett again of course), His Lordship Entertains, and Barker's final regular series Clarence, in which she was his co-star.
Josephine continued to appear in sitcoms, with Terry Scott in Son of the Bride, Happy Ever After and Terry and June for the BBC, and for ITV a long-running role in Shelley, with Hywel Bennett. In 1990 she first appeared as Elizabeth, the next door neighbour of Hyacinth Bucket in Keeping Up Appearances. When that ended she joined the cast of Last of the Summer Wine. Josephine has also appeared in numerous dramas in the 21st Century, including Heartbeat, Midsomer Murders, Holby City and Doctors.
STELLA TANNER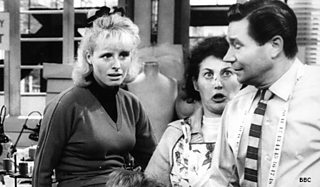 Stella Tanner got her first regular TV comedy role in the sitcom The Rag Trade in 1963 - she seen in the middle here, between Patricia Denys and Reg Varney
Stella Tanner was born on New Year's Day 1925. She studied acting at RADA, but then joined up with her sister Frances as the variety act The Tanner Sisters, sometimes billed as "Those Swing-Song Girls". They made their first known broadcast on 22 June 1947, credited just as Frances and Stella Tanner, but continued to appear on radio and television (as well as making live appearances and records) until 1961, with a spot on Workers' Playtime as their final credit. Stella had by then already begun to strike out on her own, appearing in Sykes and a Movie Camera on 11 August 1960.
Stella became a regular in the sitcom The Rag Trade in 1963 and also appeared frequently in dramas, such as the adaptation of Somerset Maugham's Liza of Lambeth, police series like Dixon of Dock Green, No Hiding Place and Z Cars, and Crown Court, Budgie, The Expert, Take Three Girls and Bleak House. She made a number of appearances in soap opera over her career – Coronation Street, Brookside, and in the 1990s in EastEnders, as Luisa de Marco.
Comedy was arguably Stella's forte. As half of the Tanner Sisters she had worked on Educating Archie, with Tony Hancock in Star Bill, and with Frankie Howerd. She appeared in numerous sitcoms - Hugh and I, Beggar My Neighbour, Bless This House, Citizen Smith, Never the Twain, Fawlty Towers… She also worked with Dick Emery, Harry Worth and Paul Merton, and also extensively with Spike Milligan, as far back as the Max Bygraves series Paradise Street in her Tanner Sisters days. In the 1970s Stella was a comedic foil to the craziness of Spike's shows Milligan in Spring, Q.6, Q.7 and Q.8. She had a unique quality, encompassing both gritty realism and anarchic surrealism. After a showbusiness career lasting over 50 years, she died in 2012 at the age of 87.