The Sunday Post: Bagpuss and Co.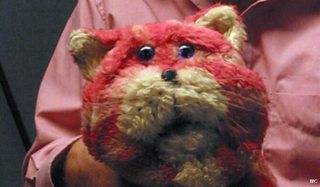 But Emily loved him... Created by Oliver Postgate and Peter Firmin, Bagpuss was first broadcast on 12 February 1974 at 1.45pm, between Pebble Mill at One and schools series Music Time
"Bagpuss, dear Bagpuss
Old Fat Furry Catpuss
Wake up and look at this thing that I bring…"
(Oliver Postgate)
With these words, in each episode of the children's animation series Bagpuss, the titular saggy old cloth cat was magically awakened and another story began.
Bagpuss is one of those series that holds a special place in many people's memories. First transmitted on BBC1 today in 1974, only 13 episodes were made, but the simple and charming tales have lived on - partly thanks to their being regularly repeated on the BBC for many years, then finding new life on other channels, and being released on VHS and DVD. But there is an essential eccentric warmth about the series that accounts for the affection in which it is held.
Filmed during 1973, Bagpuss was one of a string of animated series made by Smallfilms, a company set up by Oliver Postgate and Peter Firmin. The two men met when Postgate was working as a stage manager for the London weekday ITV contractor Associated Rediffusion in the late 50s.
Having been underwhelmed by some of the children's programmes he was working on, Postgate invented his own character, Alexander Mouse, and wrote a series of stories about him. He needed an artist to bring them to life and Firmin, an illustration lecturer, was recommended to him.
One problem Postgate and Firmin faced was the production method favoured by Associated Rediffusion. The live shows used a system of animation employing magnets under a table which moved the paper characters. This had a tendency to go wrong, especially if the polarity of the magnets was confused, and occasionally a hand would have to intrude into shot to sort out the mess.
Alexander Mouse was nonetheless successful, but Postgate decided in future to use traditional stop-motion filming. In this a frame or so of film is shot, then the paper cut-outs or three dimensional figures are moved slightly, more frames are shot, and gradually the action is built up.
As the budgets offered by Rediffusion would not run to filming by established professionals, Postgate and Firmin ended up doing it themselves. Postgate was an experienced photographer with a flair for mechanical invention, so taught himself the necessary techniques. He asked some filmmaker friends for tips, but was told that having a firm idea of what the films would look like was the important thing, everything else would follow naturally.
After one early series intended for deaf children that could be shot with no soundtrack, Postgate taught himself how to record soundtracks and marry the pictures to them.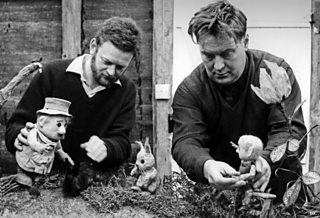 Firmin and Postgate pretending to animate an episode of Pogles' Wood for a photo session outside their Kent workshop c.1966
The next series that Postgate and Firmin devised for ITV was about a little Welsh steam train called Ivor the Engine. Once again Firmin drew the characters and backgrounds following Postgate's ideas. Ivor the Engine was another two-dimensional animation, but after that and a few other films, including his first BBC commissions, Postgate had an idea for a three dimensional stop-motion series, Pingwings, about a family of penguins. Postgate created jointed skeletons for the characters over which a woollen "skin" was fitted.
Postgate and Firmin's company Smallfilms was in due course set up, and was based in a converted farm building. It was always a small affair, hence the name, with Postgate writing the stories, doing any mechanical work, and supervising the production including filming and sound recording. Firmin concentrated on the character and set design, although he also had creative input, helping to devise the next two-dimensional animation, for example Noggin the Nog.
Noggin, who was inspired by the Lewis chessmen displayed at the British Museum, was a sort of Viking prince who went through a number of adventures in successive series. These were made for the BBC, and proved popular enough for colour remakes in later years.
In 1965, Smallfilms produced another three-dimensional animated series, The Pogles. It was transmitted in a BBC strand called Clapperboard, which showcased children's short films (not to be confused with the later ITV children's series of the same name, about the film industry).
The Pogles were little characters who lived in a tree root, and the show saw them protecting the child of the King of the Fairies from a wicked witch – though the latter character was frowned on by the BBC for being too frightening, hence the films were not shown in the usual Watch with Mother slot.
Despite this, the show returned in 1966 as Pogles' Wood, in a slightly altered format, introducing the child character Pippin and a strange squirrel/rabbit creature called Tog. It ran for two series but was repeated regularly until 1973 – despite being made in black and white. This series was shown as part of the Watch with Mother strand, at lunchtimes.
In each episode Pippin and Tog would bring back some artefact to their house, where a large talking plant would explain what it was and tell a story – an element which was also part of the later Bagpuss. The programme also had sequences in which aspects of country life would be described and explained.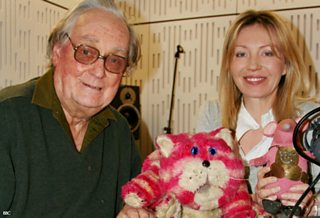 Oliver Postgate and Bagpuss are cast away to Kirsty Young's Desert Island in 2007. Kirsty's trying not to drop a Clanger (groan)
Smallfilms's next programme would be another children's television classic, the adventures of a family of mouse-like creatures living on a cratered planet, not far from Earth – Clangers.
Looking for an appealing subject, Postgate and Firmin decided to reflect the late 1960s space race. Clangers debuted on 16 November 1969, some months after the first moon landing. This was the day after colour broadcasting officially began on BBC1 (and ITV), so making the most of the fact the series was filmed in colour, the BBC having decreed in 1968 that no more black and white animated series would be commissioned.
The Clangers' design was inspired by a space creature that had first appeared in an episode of Noggin the Nog. They were again made as padded, knitted skins over a metal skeleton, which ensured they were easy to animate, as they would keep the position they were posed in.
As well as the two series of Clangers made in the normal way, in 1974 there was a special episode, Vote for Froglet, a gentle satire on the British political system shown on the day of the October general election (the second election that year). Postgate's maternal grandfather was the former Labour Party leader George Lansbury, and he had grown up surrounded by his family's intellectual friends, which gave him a broad interest in politics. By the time this film was shown, Bagpuss had already been transmitted for the first time.
After Clangers came to an end in 1971, Smallfilms next made animations for the schools programme Sam on Boffs' Island, in which Tony Robinson starred, part of the Words and Pictures strand.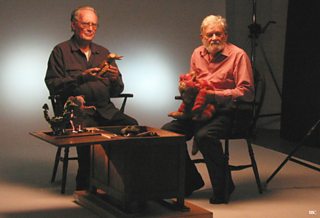 Oliver Postgate and Peter Firmin, with the lovingly preserved characters from Bagpuss. In 1998 Bagpuss hosted an evening of classic children's television on digital channel BBC Choice
Bagpuss followed, and like most successful children's series it contained a mixture of regular elements and novelty. Each episode started with a small girl called Emily (actually Emily Firmin, Peter's daughter) finding a lost object which she placed in the window of her shop, Bagpuss and Co. She would then recite the magic poem quoted at the top, and Bagpuss and his friends would come to life (changing from sepia still images to moving colour pictures).
Bagpuss's friends were Madeline, a rag doll, Gabriel, a banjo-playing toad, Professor Yaffle, a bookend in the shape of a woodpecker (inspired by philosopher Bertrand Russell, who had been a friend of Postgate's family) and a group of mice from a "mouse organ".
The characters would sing songs, comment on the lost object, and with Bagpuss's help tell a story about it. The mice would try to clean and repair the object, so it would be ready for its owner to collect it in due course. Finally Bagpuss went back to sleep, and as he did so all the other characters reverted back to their original state, until the next episode.
There was a colour remake of Ivor the Engine for the BBC in 1976, shown in the slot preceding the early evening news bulletin on BBC1, and Smallfilms made a number of other series into the 1980s. But fashions in children's television were changing, and there were to be fewer and fewer commissions. Bagpuss, however, perhaps because he was such an individual character, continued to generate affectionate nostalgia through the years.
When Postgate and Firmin were awarded honorary doctorates in 1987 by the University of Kent at Canterbury, Bagpuss came along too, and often accompanied Postgate when he made personal appearances. The series was voted the nation's favourite children's series in a BBC poll in 1999, and came fourth in a similar Channel 4 poll in 2001.
Oliver Postgate died in 2008, but there is still a great deal of affection for the productions of Smallfilms, as shown by the new series of Clangers – which, pleasingly, was still made using stop-motion filming rather than computer animation.
There have been rumours of a remake of Bagpuss, but so far nothing has come of them. Perhaps it is one series where the original is so well done that trying to match its unworldly charm would be impossible?