Advent Calendar Day 21: Alternative Christmas Day viewing, 1969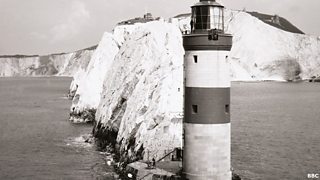 It's Christmas Day evening, 1969, presents unwrapped, turkey devoured, and family around the television. BBC One offers the staple festive offerings of Christmas Night with the Stars, hosted by Val Doonican, and The Morecambe and Wise Christmas Show.
BBC Two, as usual, offered some alternative viewing. At a quarter past eight, you could take an aerial tour above the British seaside while listening to the rhyming narration of John Betjeman. Even better, you can still do so from your 2016 armchair by clicking here. You might still enjoy his depiction of that unavoidable element of the British seaside holiday...
"...All put your Macs on
Run for shelter fast
Crouch where you like until it's fine again
Holiday cheerfulness is unsurpassed
Why be put out by healthy English rain
Are we down-hearted? No, we're happy still.
We came here to enjoy ourselves
And we will..."

Don't forget you can find more BBC archive content by running a search on Genome and filtering the results by Programme Available. If you're feeling adventurous, just run an empty search and click on Programme Available, or click here. There are more than 11,000 programmes you can watch or listen to on those dark December nights...