It's... Genome's Monty Python 50th Anniversary Quiz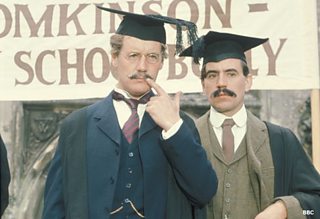 Picture quiz question: Palin and Jones's 1976 pilot show Tomkinson's Schooldays led to which series?
To celebrate half a century of Monty Python's Flying Circus, Genome indulges in a little light quizzing - how well do you know your Pythons?
1. Which Python presented a Radio 1 series called Radio 5?
2. Which Python wrote linking material for the 1967 series This is Petula Clark?
3. Which Python co-founded the training film company Video Arts with Yes Minister's co-writer Anthony Jay?
4. Which Python was married to BBC make-up artist Maggie Weston, who worked on the series?
5. Which Python was the first to appear in the series?
6. Which Python presented the April Fool's Day 1986 edition of Woman's Hour – retitled Man's Hour?
Answers below...
Picture quiz answer: Ripping Yarns
1. Eric Idle – assisted by Lyn Ashley, aka Mrs. Idle. Fun fact – she was a regular in BBC soap opera Compact and appeared in the 1965 Doctor Who story "Galaxy 4" as a Drahvin.
2. Graham Chapman – working with Robert Gray. Most of the Pythons did bread-and-butter writing of linking material for assorted light entertainment shows. Among John Cleese's first professional writing was material for Yule Be Surprised, a 1963 Christmas special starring Brian Rix and Terry Scott.
3. John Cleese – Cleese and Jay first worked together on The Frost Report (1966-7), to which Chapman, Palin, Jones and Idle also contributed scripts.
4. Terry Gilliam – they've been married since 1973. "Mrs. Idle" (see above - but she's actually credited as that) and Connie Booth, then married to John Cleese, both appeared in Python episodes.
5. Michael Palin – playing the "It's…" Man.
6. Terry Jones – one of a smattering of episodes broadcast over the years under that title. Jones also hosted programmes such as Paperbacks, Friday Night... Saturday Morning, and documentaries about the weather and the Crusades.