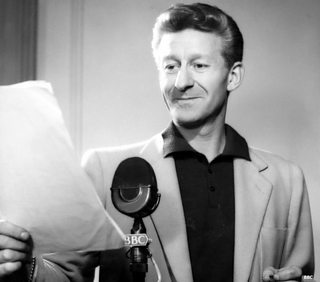 Jon Pertwee (1919-1996) was an actor and entertainer known mostly for work on radio - until 1970 when he was cast as the third Doctor in Doctor Who - he's pictured here in 1960
John Devon Roland Pertwee was born 100 years ago, on 7 July 1919. He was part of a dynasty who all made their mark on the British stage, screen and radio: his father Roland, his brother Michael, his cousin Bill, and his children Dariel and Sean all feature in the pages of Genome. Jon has the largest number of credits however, due to his roles in The Navy Lark and Doctor Who, as well as a host of other radio and television appearances – dating back to 1938, when he was briefly billed as John Pertwee in a handful of radio performances.
Pertwee's first Genome credit was for a feature programme about the history of flight, Voyage to the Sun. While serving in Royal Naval Intelligence during World War Two, he was assigned to keep an eye on the Navy version of the series Merry-Go-Round. This was a variety show, originally named Mediterranean Merry-Go-Round, which alternated Army, Air Force and Navy editions. Pertwee began to contribute to the show, which starred Eric Barker, and which was sub-titled, and later known solely as, Waterlogged Spa. He was able to create eccentric comic characters, such as an incompetent postman and the naval officer Commander High-Price, and this ability would become one of his stock-in-trades.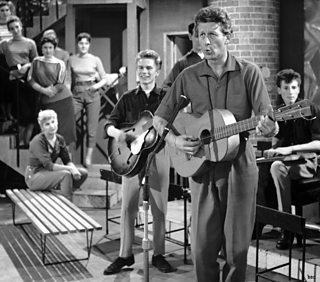 Jon Pertwee was adept as a comedian, singer and cabaret artiste - here in 1957 he is appearing on the BBC youth programme Six Five Special
Pertwee's success in Merry-Go-Round led to roles in numerous radio comedies in the 40s and 50s, such as Up the Pole, and a starring part in the comedy Puffney Post Office – which took the unusual step of having no studio audience. There were other attempts to build a series around his talents, such as 1955's Pertwee's Progress.
Pertwee also made a few television appearances, his first being in the series Little Show on 1 November 1946. His monthly variety series Round the Bend began in autumn 1955, though there were only five editions, but Pertwee continued to crop up in other people's shows. He began a new role as a television presenter in the daytime series Mainly for Women: Twice Twenty, while his skills as a singer and guitarist, which he used in cabaret appearances, were also seen in two episodes of Six-Five Special. Another odd appearance was as "ring-master of ceremonies" in a Billy Smart's Circus show on Christmas day 1957, a role he reprised the following Christmas.
In 1959 Pertwee was cast in a new radio comedy, The Navy Lark – returning him to a maritime setting familiar from his wartime days. He played Chief Petty Officer Pertwee – like many series of the time the main cast were named after the actors playing them – alongside Dennis Price (later replaced by Stephen Murray), Leslie Phillips and Richard Caldicot, in the comic misadventures of the Navy's most mis-managed ship, HMS Troutbridge.
The Navy Lark turned out to be, if not the show for which Jon Pertwee is most remembered, certainly his longest lasting part. It continued until 1976, with a special episode for the Queen's Silver Jubilee in 1977. There was also a short-lived spin-off called The TV Lark, in which the crew of HMS Troutbridge became the staff of Troutbridge TV, an independent broadcasting venture, in 1963. Although the Navy Lark dominates Jon Pertwee's Genome entries during the 1960s, he still made occasional appearances elsewhere – including the ubiquitous Workers' Playtime. He also found time to appear in a few films, most notably three Carry On features – Cleo, Cowboy and Screaming.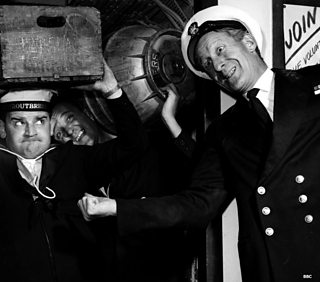 Jon Pertwee (right) played Chief Petty Officer Pertwee in the Navy Lark from 1959-1977 - he's pictured with co-stars Ronnie Barker and Tenniel Evans - the latter suggested Pertwee could play the Doctor, and appeared with him in the 1973 story Carnival of Monsters
Pertwee continued to appear as himself, as a presenter of Housewives' Choice, the castaway on Desert Island Discs, as a storyteller on Jackanory (once, co-incidentally, between William Hartnell and Patrick Troughton's tenures in Doctor Who, telling scary stories in the week beginning with Hallowe'en 1966), and as a panellist on Call My Bluff. He still had not had a really successful television role, being confined to cameo appearances in dramas like The Avengers, guest roles in two David Croft sitcoms, A Slight Case of… (1965) and Beggar My Neighbour (1967), and versions of his cabaret act.
However all this was to change in 1969. Pertwee's accession to the lead role in Doctor Who is a well-known story among fans of the programme. He was encouraged by Navy Lark colleague Tenniel Evans to put his name forward when it was announced that Patrick Troughton was leaving the programme in 1969. Pertwee was astonished to find that the Doctor Who production team already had him on their shortlist.
Unlike Troughton and William Hartnell, Pertwee was not primarily known as a dramatic actor, but this proved to be a fresh start for both him and for Doctor Who, as it moved into colour with its new series in January 1970. Since it began in November 1963 the series had run most of the year, with a only few weeks' break in summer, but it would now only be transmitted for six months of the year, allowing Pertwee to continue with The Navy Lark and his stage work, as well as to have more leisure time than his predecessors.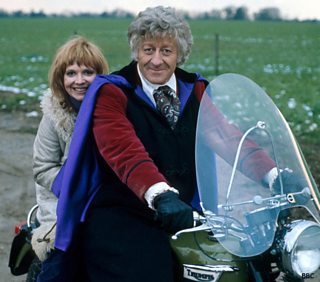 The Pertwee era of Doctor Who lasted five seasons between 1970 and 1974 - Katy Manning played his assistant, Jo Grant, in the middle three of those
Doctor Who made Pertwee far more famous than he had been before, and he became a hero to children. He played the role for five years, in a reimagining of the programme which involved the Doctor being exiled to Earth by the Time Lords, and working with UNIT (the United Nations Intelligence Taskforce), led by Brigadier Lethbridge Stewart (Nicholas Courtney) to repel alien invasions and home-grown menaces. Pertwee's tenure was noted for a greater degree of action than before, with stunts galore. There was also a regular nemesis for the Doctor, renegade Time Lord, The Master. He was played by Roger Delgado, who became a great friend of Pertwee's, but was tragically killed in a car accident in 1973. This, and the departure of Katy Manning, who played long-serving assistant Jo Grant, were among the factors that led to Pertwee leaving the show in 1974.
Following Doctor Who there were more film parts, more radio, and television projects like the ITV panel game Whodunnit?, guest appearances like his 1975 part in The Goodies, and more Jackanory. In 1979 he starred in the ITV series of Worzel Gummidge, which again brought him a large family audience, but the series ended when the ITV contractor who made it, Southern Television, lost its franchise in 1981. After years of effort Pertwee managed to get a revival made in Australia, titled Worzel Down Under.
Jon Pertwee never quite left Doctor Who behind – he appeared in the show's 20th anniversary celebration The Five Doctors in 1983, and ten years later in Dimensions in Time, a Children in Need special which merged Doctor Who with EastEnders. There were also two radio Doctor Who adventures, and even a stage musical. Pertwee died of a heart attack in the US in 1996, days after the TV movie revival of Doctor Who starring Paul McGann had aired there. When the episode was shown in the UK a week later, it was dedicated to his memory.
Despite his passing, the Pertwee dynasty continues. Jon Pertwee's children Dariel and Sean have both followed in their father's footsteps with acting careers. His long career embraced many eras and many genres, and his is a remarkably varied legacy of entertainment.