The Sunday Post: David Rose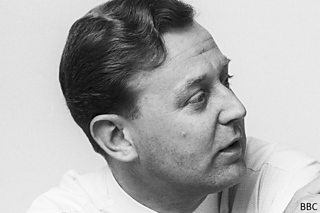 David Rose (1924-2017) was the first producer of Z Cars, the first head of BBC English Regions drama, and first Commissioning Editor for Fiction at Channel 4
Three years ago, I had the pleasure of a long talk with the pioneering television producer David Rose, who died at the end of January, aged 92. During his long career he launched the iconic police series Z Cars, headed BBC English Regions Drama, and was the first head of drama for Channel 4.
One of Rose's earliest productions was 1959 drama documentary Medico, about doctors on call for medical emergencies at sea. It was thought to be lost, but a copy was retained by the RNLI, who had provided technical advice to the programme. Classic television organisation Kaleidoscope arranged a screening in the West Midlands and invited Rose to introduce it. I had the opportunity of meeting him there and talking to him on the car journey home.
After wartime service in the RAF, Rose had worked in theatre, before joining BBC television. In the mid-50s the BBC was recruiting new staff to cope with gradually increasing broadcasting hours, and to counter the exodus of personnel prior to the launch of ITV. Rose was promoted to director, then producer, working mostly on drama documentaries.
Technical hazards
Making documentary programmes at this time had its difficulties. The modern option of filming on location was problematic, as the standard 35mm film cameras of the time were unwieldy, with film reels lasting only 10 minutes. The cameras were also noisy, making sound recording difficult. As documentaries tended to have a lot of dialogue, it was often considered easier to make them in the studio, albeit with sequences filmed on location to add atmosphere.
Drama documentaries were made by the drama department, whose other output consisted of single plays, or serial adaptations of novels and original thrillers. Drama documentary pioneered the making of series, with discrete episodes centred round one or more regular characters. One early example was Pilgrim Street, about the work of a London police station, which pre-dated Dixon of Dock Green, the long-running police drama (1955-1976).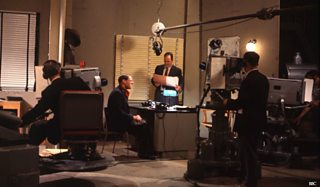 During camera rehearsals for an episode of Z Cars, Chief Inspector Barlow (standing at back) interrogates a suspect - we think this episode might be On Watch Newtown from September 1962...
David Rose joined producers like Robert Barr, Elwyn Jones, Colin Morris and Gilchrist Calder, making such single drama documentaries as Black Furrow, Crime Report, and of course Medico. In 1960 he produced a 13-part series Scotland Yard, written by Robert Barr. Its style now seems dry and old-fashioned – but most depictions of the police at that time were fairly respectful.
A real stylistic breakthrough had already been made with the documentary play Who Me?, written by Colin Morris and produced by Gilchrist Calder in 1959. It was based on the techniques of Detective Sergeant William Prendergast, who used his native Liverpool wit to break down intransigent criminals. Who Me? was more convincing than other police dramas, and led to a short series, Jacks and Knaves, in 1961.
Enter Z Cars
Rose and his team began developing Z Cars, which adopted the emerging, more dramatic style. It would be set in the newly fashionable North of England, setting for many of the new wave of British films. Writer Troy Kennedy Martin developed the idea, inspired by the US series Highway Patrol, and by listening to police radio messages, to get a real flavour of police work. He researched the characters and situations, and with colleagues such as Robert Barr and Allan Prior, rode with the police in the fast, radio-equipped crime cars then being trialled by Lancashire Constabulary.
However, when the first episode was transmitted on 2 January 1962, Lancashire's chief constable was said to have been unhappy at the portrayal of the police, and the on-screen credit for co-operation from the Lancashire Constabulary never appeared again.
Z Cars was an immediate hit, with credible characters, fast-paced stories and no overt moral being hammered home, as always happened with Dixon of Dock Green. However, Troy Kennedy Martin soon felt that the essential truthfulness of Z Cars was being diluted – the police could not be made to appear too scallywaggish if so many people were watching – and left the series.
New talents such as writer Alan Plater were brought in to take up the slack, with script editor John Hopkins helping to make Z Cars one of the most successful series of the 1960s.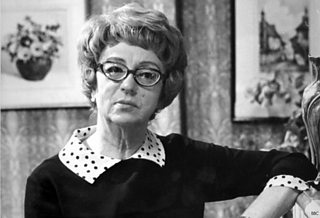 Thora Hird as Councillor Sarah Danby in drama series The First Lady, produced by David Rose in 1968-9. It was devised by Alan Plater from an idea by himself and Philip Levene
The programme was almost always broadcast live, though this could cause problems if an actor dried, a prop failed to work, or just because of the cumulative effect on people from the sheer stress of it. But Rose felt it gave Z Cars a raw quality unmatched by recorded dramas.
The live production was balanced, and enhanced, by generous location filming, showing the eponymous cars in action, and the mean street of the series' fictional location, Newtown, an overspill from Liverpool (though much of the location filming was actually in West London).
The series made household names of many of its lead actors, such as the Z Car crews James Ellis, Brian Blessed, Jeremy Kemp and Colin Welland, and their bosses Frank Windsor (Sergeant Watt) and Stratford Johns (Chief Inspector Barlow). Watt and Barlow graduated to the spin-off Softly Softly in 1966, which Rose produced for a couple of seasons. He then moved on to produce The First Lady, starring Thora Hird as a local councillor.
English Regions Drama
In the early 1970s, the BBC addressed criticisms that it was too London-centric by founding an English Regions drama unit in Birmingham. As the man behind many regionally-set series, though they were usually produced in London, Rose seemed a natural fit. (At this time he stopped using the middle initial, E., which he had adopted in the 50s to differentiate him from the actor David Rose.)
BBC Birmingham was given new life in 1971 with the opening of Pebble Mill studios, replacing the dilapidated Gosta Green premises occupied since 1955. Birmingham had previously only made occasional small-scale plays, and networked soap operas like United! It now contributed a swathe of drama to be seen nationwide, including episodes of Thirty-Minute Theatre, whose successor, Second City Firsts nurtured new talents like Mike Leigh, Alan Bleasdale and Willy Russell.
Other English Regions drama highlights that Rose produced were Alan Plater's Trinity Tales, a comic parody of Chaucer's Canterbury Tales where the pilgrims became Rugby League fans going to Wembley, and Philip Martin's hard-hitting Gangsters, set in Birmingham's underworld, showing the violence, racism and drug addiction among the strip clubs and criminal empires.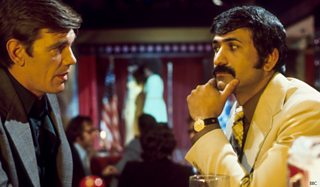 David Rose's production of Gangsters starred Maurice Colbourne as Kline and Ahmed Khalil as Khan
Towards the end of the 1970s there was much talk of a fourth television channel, mooted since BBC2 began in 1964. The mid-decade Annan Committee looked at several options, and it was finally decided that Channel Four should be a publisher-broadcaster of alternative programming. Content would be mainly provided by independent producers (though it also relied on material from established ITV contractors, archive repeats and imports).
Rose was appointed Channel Four's Commissioning Editor for Fiction before its November 1982 launch. He was pitched the idea of Brookside by Grange Hill creator Phil Redmond, so Channel Four would have a soap opera as ITV did, but with more realistic language and themes, and using real houses as the set.
Legacy
One lasting innovation at the channel, however, was Film4. With the trend since the 1960s to make single dramas on film, it was decided to go further and try to get cinema releases for them. By the late 1980s Channel Four was investing in half the feature films made in the UK, and when Rose left his role in 1990, half of the films he had overseen had achieved a cinema release. The BBC followed Film4's example with its own BBC Films releases, starting with Truly, Madly, Deeply in 1990.
With pioneering work from Z Cars, to English Regions Drama, to Film Four, David Rose's long career in television and film is almost a potted history of innovation in British television of the last 60 years.
That he came across, on my one meeting with him, as so easy to talk to, and happy to discuss his career, is for me just another reason why his passing is to be mourned. I already appreciated his work, but will never forget my encounter with David Rose, the man.