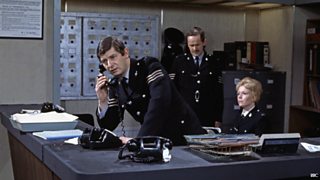 James Ellis as Sergeant Bert Lynch in the first colour Z Cars story "Lost", 2nd February 1970.
To mark Ireland's national day, what better time to look at some of the great Irish stars who have graced BBC channels over the years.
Our thoughts would have turned anyway to the legend that was Terry Wogan, but much more so in the wake of his sad death earlier in the year.
Terry's career spanned more than 50 years, starting with Irish broadcaster RTE in the 60s, before moving to Radio 1 and 2 at the end of the decade (after a brief stint on the Light Programme), and he soon began to appear on television as well.
While his 1970s Radio 2 morning programme became a fixture of the schedule, his legendary appearances on Blankety Blank, his eponymous chat show, and as host of the annual Children in Need appeal ensured his place in the history of British broadcasting.
He made appearances on many other shows, presenting Come Dancing and the pop music quiz Disco, even making guest appearances on Sykes, The Basil Brush Show and Blue Peter. He was most at home of course on radio, where his unique relaxed style of broadcasting will be missed the most.
Another Irish star we sadly lost in recent years was actor James Ellis. He spent 16 years as one of the stars of Z Cars, starting as a constable manning the cars from the first episode, and ending up, as the inspector in charge of Newtown station. His character, Bert Lynch, became one of the most familiar faces of 60s/70s television.
Ellis's career began in Belfast in 1950s as a risk-taking actor and director, but he first came to viewers' attention in Stewart Love's 1961 drama The Randy Dandy, in the role of a discontented Belfast shipyard worker. Later, he had memorable roles in One by One, Graham Reid's 'Billy' plays, and a cameo in the Yosser's Story episode of Boys from the Blackstuff.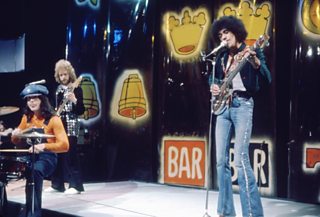 Phil Lynott and Thin Lizzy on the early 70s 'fruit machine' set of Top of the Pops.
No mention of Ireland would of course be complete without mention of its immense musical heritage, over many different genres. From rock and roll greats like Thin Lizzy and U2, punk rockers Stiff Little Fingers and the Undertones, through music from the likes of Val Doonican and Mary O'Hara to the astonishing success of Ireland in the Eurovision Song Contest – not to mention the phenomenon that is Riverdance, born of the interval act in the 1994 contest. Solo singers include the likes of Sinead O'Connor, Van Morrison and Christy Moore, while musicians like James Galway have had long and successful careers with many BBC appearances.
Irish comedy is also a rich seam of the country's heritage and influence. It's hard to remember now the ubiquity of Irish jokes a generation or more ago, and that legacy has now thankfully been overwritten by the appreciation of comics from Dave Allen to Dara Ó Briain amongst many others.
One of the earliest Irish television performers was Maureen Potter, a comedy legend in Ireland in later years, though less known in the UK. She started professionally with the Jack Hylton band as a singer, where some of her pre-war appearances on BBC TV were alongside the young Ernie Wise.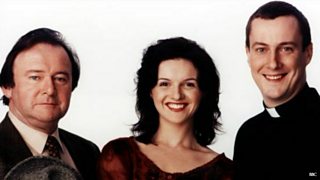 Tony Doyle, Dervla Kirwan and Stephen Tompkinson in Ballykissangel.
The subject of Irish comedy also covers sitcoms like Me Mammy with Milo O'Shea and Yootha Joyce, and the almost forgotten gem Foreign Bodies, about two Protestant Northern Irish car mechanics and their relationship with two Catholic nurses from Dublin. In the unscreened pilot one of the former was played by Kenneth Branagh). BBC comedy dramas set in Ireland include the hugely popular Ballykissangel, a Sunday-night regular from 1996 to 2001, which made a star of Dervla Kirwan.
The list of Irish acting talent would be a long one, and it would almost be invidious to single out some names over others. But names such as Brenda Fricker, Ray MacAnally, the Cusack family (Cyril and his acting offspring Sinead, Sorcha, Niamh and Catherine), Frances Tomlety, Stephen Rea, Pauline McLynn, Carmel McSharry and David Kelly are just some that spring to mind.
With the troubled history of Ireland, especially in the North through most of the 20th Century, there has naturally been coverage of the issues involved in both documentary and drama from the 1970s onwards. Plays have included Graham Reid's tertralogy of 'Billy' plays starting with Too Late to Talk to Billy in 1982 (starring Kenneth Branagh and James Ellis), Your Man from Six Counties by Colin Welland, and Iris in the Traffic, Ruby in the Rain and Catchpenny Twist by Stewart Parker. In more recent years, plays like A Breed of Heroes have explored territory like the behaviour of British troops, which were harder to tackle in earlier years.
Perhaps the best documentary history of Ireland on television was Robert Kee's landmark series Ireland: A Television History from 1980, though in 1972 there had been a lower key series just called Ireland covering some of the same ground, made by the BBC Further Education department.
The country has also been the subject of many one-off documentaries on subject from its history, to its artistic heritage, its geography and sights, and its customs – such as the 1984 Forty Minutes edition, The Mating Season, about the matchmaking festival in Lisdoonvarna, County Clare.
The shared history of Britain and Ireland, to state the obvious, is a complex one. While there are still areas of great sensitivity involved, it cannot be denied that a great debt is owed in terms of the contribution Ireland has made to broadcasting on this side of the Irish Sea.
Which Irish personalities and programmes on the BBC have made an impression on you over the years? Who are your favourites that we haven't mentioned? Please share your thoughts in the space below.