Stars of Genome: Norman Bailey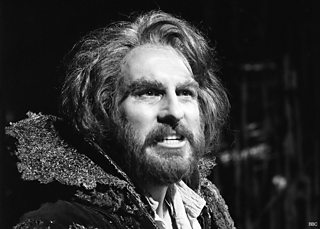 Norman Bailey is a dramatic baritone singer of international renown, who has headlined in the most famous opera houses of the world – including the Metropolitan Opera in New York, La Scala in Milan and Covent Garden in London. In BBC television performances in the 1970s, he brought the magic of opera to living rooms around the UK. He spoke to BBC Genome about his career.
A cursory glance through the BBC Genome listings reveals that Bailey made nearly 100 BBC appearances on radio and TV, in both performances and interviews, from the 1960s onwards. But it was for his dramatic studio performances in the 1970s that he earned a coveted Radio Times cover and reviews in the magazine.
Bailey was born in Birmingham, UK in 1933 but spent much of his early life in South Africa. As a child, he showed an early interest in the dramatic arts, first performing in amateur productions at school and then acting and singing in light musicals. In South Africa, he began to sing more seriously. He took lessons with a famous Viennese singer who asked him, after his second lesson, if he had ever thought of becoming a professional. "I thought – yes – that really fits into my personality," says Bailey.
Bailey studied singing at Rhodes University and then moved to Vienna for further training, where he sang with the popular Vienna Kammeroper and the Vienna State Opera. He went on to Linz and then to Wuppertal and Dusseldorf, where he built his reputation as a powerful bass singer in an array of top-class opera houses.
In 1967, Bailey returned to the UK to take the part of Figaro in Mozart's The Marriage of Figaro in Manchester with Sadler's Wells – which was then the home of the English National Opera (ENO). It was only a matter of time before Bailey was recognised as a versatile vocal talent, and he made his way to BBC TV screens in the early 1970s. He had built a reputation as an interpreter of Wagner's works and he took the title role in Wagner's The Flying Dutchman in 1975.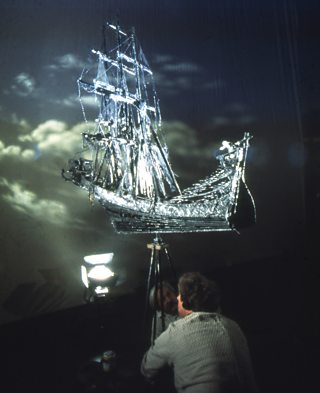 Filming on the set of Wagner's The Flying Dutchman in 1975
The BBC Two recording made television history as the first studio production of an entire Wagner opera. It took nine days to tape and was broadcast in its entirety with no intervals – as the composer had originally intended it. It was also the first time Bailey had performed an opera in a TV studio. The programme was a bold undertaking, presenting both artistic and technical challenges.
The accompanying Radio Times article gives an account of Bailey singing through a 14-minute take atop the Dutchman's ship – in itself, no mean feat. He was dissatisfied with his performance, and repeated it – to the acclaim of the crew. "For the take to be usable," explains the article, "it is not just Norman Bailey's voice which has to be right: it is the costume, the make-up, the lights, the cameras, the sound booms – even the ventilation controls…"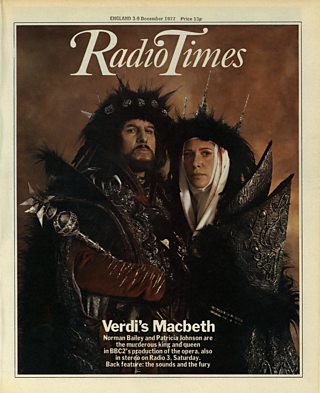 Two years later, Bailey received top billing in Radio Times for his 1977 interpretation of Macbeth in Giuseppe Verdi's tragic opera, and featured on the cover of the magazine with co-star Patricia Johnson.
This dark and brooding image set the scene for two-and-a-half hours of musical drama in another broadcasting first – a simultaneous transmission of a studio opera on radio and TV, recorded in stereo.
The fashion was to record in very long shots, and this wasn't without its pitfalls, as Bailey explains: "In Macbeth there was a panic, because Macbeth is meant to start with his hat on and I forgot to put it on… it broke the continuity – but by then they had recorded the take."
The theatre of opera is known for its grandiloquent gestures – designed to reach the farthest audience members, so how do opera singers translate their technique to the small screen? "With filming, it's a different type of acting," says Bailey. "On the operatic stage, you try and embrace the whole audience at once, but in filming the gestures are cut right down. The grand gestures that read on the operatic stage are not going to read on the small screen."
But TV certainly promised to bring opera to a broader audience than ever before - "We expect to reach, with one transmission, as many people as Covent Garden would play to if it performed Macbeth non-stop, every night of the week with matinees Wednesdays and Saturdays, for four-and-half-years," producer Brian Large explained to Radio Times.
This view was echoed by Bailey in the same article: "The nearest people can usually get to opera in their own home is a gramophone record, and… television is a good way of going one better…"
With his early experience of acting, Bailey enjoyed the challenge of performing to camera. His one regret is that as a student he was unable to accept the part of Shakespeare's Macbeth for stage: "I would like to have been able to say that I had done Shakespeare's Macbeth and Verdi's too!"
Listen to Norman Bailey's 1976 Desert Island Discs.