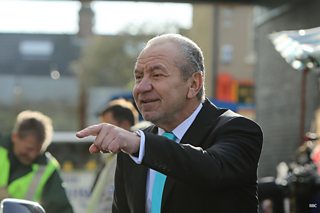 Lord Sugar appeared in an EastEnders sketch for Children in Need 2012
BBC One's The Apprentice is back for its 13th series tonight. We look back at a range of business-focused programmes that have made the schedules on TV and radio.
Broadcasting has long shown an interest in business and entrepreneurship. Early radio listings include titles reflecting concerns that wouldn't sound out of place in today's schedules, such as "Individuality in Business" and "Business Efficiency". In 1969 an episode of Chief Executive explored the world of high finance when broadcaster Chris Basher, (who had a varied career including as a pacemaker when Roger Bannister ran the first 4-minute mile), interviewed financier Jim Slater about his career.
While early listings show a factual and analytical approach to business programming, entertainment value has increasingly played an important role. With The Apprentice and Dragons' Den, the mid-2000's saw the launch of a new brand of business programmes which leant on reality and game show TV formats.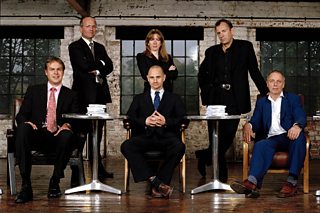 How many of the Dragons from the first series can you remember?
Dragons' Den first appeared on our screens in January 2005. Presented by Evan Davis, the premise for the programme was for budding entrepreneurs to pitch their business plan to a group of multimillionaires (nicknamed The Dragons) in the hope of gaining investment. The show was a big success and was given a glowing preview ahead of a new series in this 2007 listing. The investors have changed in the intervening years and there have now been 17 different dragons - with Peter Jones the only survivor from the starting line-up. Jones' most famous Dragons' Den investment was in Levi Roots, who came singing into the den before winning an investment in his cooking sauces. It was such a popular pitch that it was included in this listing for a 2007 Christmas special looking back at the show's most memorable moments.
The Apprentice was based on a successful US programme starring Donald Trump; the first episode of the UK version broadcast on the 16th February 2005. Described in the listing as "a gruelling 12-week test of stamina, intelligence and ruthlessness", candidates compete in a series of business related tasks to determine a winner. Lord Sugar was cast as the prospective employer (and later, partner) after the BBC beat Channel 4 to the UK rights for the programme. The first series was won by Tim Campbell who won a job working for Alan Sugar, while losing finalist Saira Khan went on to launch a successful media career and has numerous BBC Genome listings.
The first two series of The Apprentice were on BBC Two before moving over to BBC One in 2007 and while early series were broadcast in the spring, in 2010 it had to be delayed as it clashed with that year's general election. Although it subsequently reverted to a spring slot in the schedules, every series since 2014 has been in the autumn.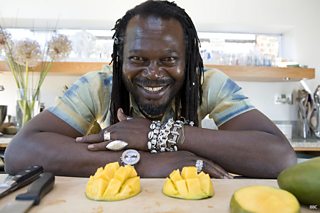 Levi Roots went on to present Caribbean Food Made Easy for the BBC in 2009
The sign of a successful show can often be judged in how many spin-off shows it spawns. There have been three series of Young/Junior Apprentice and also some celebrity versions tied into both Comic Relief and Sports Relief. The 2007 Comic Relief special saw teams of male and female celebrities compete to see who could raise the most money for charity. The female side was led by Baroness Brady, who would later go on to work on the main show as an adviser to Lord Sugar. The losing male side was captained by Alastair Campbell, yet it was Piers Morgan who was sacked in the second episode aired as part of the main Comic Relief show that Friday night. Morgan later went on to to win a US celebrity version.
Sister shows running alongside the main programme became very fashionable during the mid-noughties with Big Brother's Little Brother on Channel 4 and Strictly Come Dancing - It Takes Two on the BBC acting as trailblazers, The Apprentice has The Apprentice – You're Fired. Initially presented by Adrian Chiles, the 2006 series aired on BBC Three before switching to BBC2 from the 2007 series onwards. The show reviews that week's programme and interviews the recently fired candidate.
Prior to hosting You're Fired Chiles had presented lunchtime business magazine programme Working Lunch from its launch in 1994. Working Lunch, which covered financial news and topics, stopped in 2010 but not before introducing future BBC Breakfast host Naga Munchetty to BBC screens.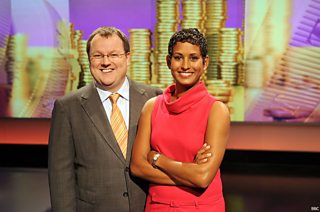 Declan Curry and Naga Munchetty on the set of Working Lunch
Another 90s business programme was Troubleshooter, where successful businessman Sir John Harvey-Jones would visit and advise smaller struggling businesses. Despite winning a Bafta, Troubleshooter only ran for three years before Harvey-Jones stood down from the programme. The listings reflect that the format has been replicated in subsequent programmes. In 2004 Sir Gerry Robinson took on the Harvey-Jones role in I'll Show Them Who's Boss and Mary Portas looked at how to improve fashion boutiques in her Mary, Queen of Shops series which first broadcast in 2007.
Sir John Harvey-Jones in a 1992 episode of Troubleshooter
The Money Programme was a cornerstone of BBC schedules for 44 years. First shown on 5 April 1966 the producer Terry Hughes wrote in that week's Radio Times that The Money Programme "will comment on the issues and broaden the whole field of business and economic life". Initially a magazine programme, the format changed over the years and for the last 10 years it focused on one-off documentaries, such as this 2009 listing for an episode entitled The Rise Of The Superchef.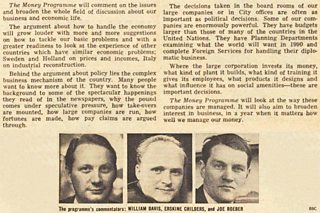 Ahead of the first episode The Money Programme producer Terry Hughes wrote an article in that week's Radio Times
While the earliest business programmes may have focused solely on informing their audiences, nowadays much attention is spent on entertainment value. This 2009 BBC Radio 5 Live listing used the phrase "Irreverent and off-beat" to describe a business programme, while The Apprentice and Dragons' Den go from strength to strength. However, any entrepreneur who enters either the Apprentice boardroom or the Dragons' Den without an accurate analysis of their business plan will almost certainly get their fingers burnt.
Do you have any favourite programmes that we haven't covered? Let us know in the comments form below...