The Sunday Post: Have I Got Comedy Panel Shows for You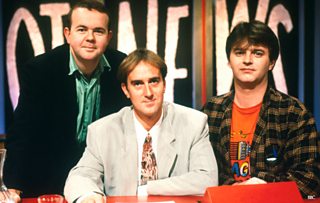 Have I Got News for You - the Early Years.
To some of us the 1990s still seem too recent to be a source of nostalgia. But in broadcasting terms it marked a memorable moment - the rise of the comedy panel show.
Panel shows of one kind or another had been around since the 1930s with Spelling Bee and similar shows, and had a huge upsurge in the 1950s with the like of What's My Line? leading to a horde of similar formats.
However, while these often had witty panellists - even comedy heavyweights like writers Frank Muir and Denis Norden – there was no vehicle designed for laughs. It took the advent of Does the Team Think?, devised by and starring Jimmy Edwards, a kind of comedy Any Questions?, which ran from 1957 to 1976 with a revival in 2007, to plug that gap, but it was hardly cutting edge stuff.
Though panel shows did carry on through the decades as staple radio and television fare, either featuring celebrities, as in Call My Bluff, or the public, like Ask the Family, the nearest thing to a show where the comedy was more than incidental was ITV's Joker's Wild, which involved competitive joke-telling, hosted by Barry Cryer.
Game shows became a dominant television format during the 1980s, but there was also a strong trend towards satirical comedy with programmes such as Not the Nine O'Clock News and Spitting Image. Simultaneously the burgeoning alternative comedy circuit was in full swing, with The Young Ones, Saturday Night Live and the Comic Strip all debuting in that decade.
Elements of these shows combined in the sitcom The Black Adder/Blackadder, which spanned the 80s through its four series and a Christmas special. In charge of Blackadder was John Lloyd, who had started as a BBC radio producer after leaving university in 1974. He also devised the radio series The News Quiz, based on an idea by Nicholas Parsons, and first broadcast on Radio 4 in 1977 – it's still going strong today.
The News Quiz had comedians, humourists and journalists among others answer questions on the week's events in a comic but increasingly satirical way, with additional snippets such as amusing quotes from newspapers. The original host was Barry Norman, though later series have been fronted by Simon Hoggart, Barry Took, Sandi Toksvig, and Miles Jupp.
A television version of this was mooted by independent company Hat Trick, to be hosted by Lloyd, and a pilot was recorded in June 1990, under the title John Lloyd's Newsround. Private Eye editor and comedy writer Ian Hislop and up-and-coming comedian Paul Merton were appointed team captains, each accompanied by a guest. The pilot was felt to work, with reservations – Lloyd felt uncomfortable hosting it, while there were awkward junctures in the show as panellists tried to work out what the questions were about.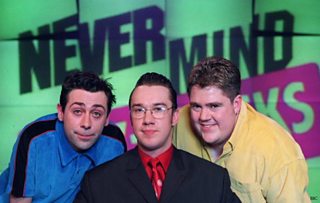 After a while, promotional photos for panel shows all start to look the same: the first Buzzcocks line-up
It was decided that the revised 1990s show – which would be renamed Have I Got News for You – would give the contestants foreknowledge of the questions (but not of course the answers) to speed things up. The other change would be the host, as comic actor Angus Deayton was brought in to replace Lloyd.
First broadcast on BBC2 on 28 September 1990, the show was immediately successful, becoming first a cult, then a mainstream hit. Deayton's sardonic delivery worked well with the surreal comedy of Merton, and Hislop's waspish, journalistic approach.
In more than 50 series in the last 26 years, Have I Got News for You has carved out its own place in television history. While no longer the must-see television of the 90s, perhaps due to the profusion of similar formats, it is still a recognisably unique take on current affairs. It has not been without its controversies, with a taste for pushing the boundaries of what is legally allowable – it does not have the catchphrase 'allegedly', to (hopefully) defer libel suits, for nothing.
The show has become part of the political landscape, taking some credit for the inexorable rise of Boris Johnson. It also demolished any chance of Roy Hattersley being taken seriously again, when it replaced him with a tub of lard, when he pulled out of appearing on the show for the third time in succession. Other celebrities have been able to hang themselves out to dry just by being themselves, though occasionally they have been lambasted by fellow panellists.
Perhaps the most prominent casualty of the show was its own original presenter. After repeated tabloid scandals in the early 2000s, Angus Deayton was sacked, since he had become the kind of person the show would satirise, rather than being able to satirise others. Since then, the show has continued with constantly changing guest hosts, which has refreshed the format, and revived a few careers along the way.
HIGNFY was the standard bearer for a plethora of comedy panel shows emerging in the following decades. One of the first to follow in its wake was They Think It's All Over, originally on Radio 5 from 1992, which migrated to television in 1995.
The radio host of They Think It's All Over was Desmond Lynam, and its team captains were Rory Bremner and Rory McGrath. Only McGrath continued onto television, where he was joined by team captains Gary Lineker and David Gower, comedian Lee Hurst, and two other guests on each show. The new host was comedian Nick Hancock, already known from comedy chat show Room 101.
Far more than HIGNFY, They Think It's All Over was seen to be part of the 'lad culture' of the 1990s, although not the most extreme example by far. It was pitched as a kind of alternative version of the BBC's venerable A Question of Sport, which now seems to have taken on some of the attributes of its more edgy cousin – including sometime regular panellist Phil Tufnell. The regular panellists once or twice during its 10-year run, and the final series was hosted by Lee Mack.
With news and sport catered for, it was time for music to be the subject of a panel show, when Never Mind the Buzzcocks premiered in 1996. Lasting for nearly two decades, it was originally fronted by Mark Lamarr with team captains Phill Jupitus and Sean Hughes, the latter being replaced by Bill Bailey and then Noel Fielding. Simon Amstell eventually took over from Lamarr, then a succession of guest hosts stood in until Rhod Gilbert presided over the final series.
While it was a celebration of musical knowledge (like the 1980s Pop Quiz), Buzzcocks had a more counter-cultural sensibility, influenced by the new waves of comedy emerging at the time, and embraced the ridiculousness of the music scene – to the discomfiture of some of the more sensitive guests, who walked out of the recording session on the odd occasion.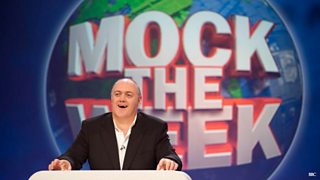 Dara Ó Briain takes it well as no-one else shows up for the comedy panel show promo photo shoot
Another, more obviously comic variation on the panel show was the surreal and anarchic Shooting Stars, which in truth was a comedy show in the guise of a panel show, satirising the genre. Hosted by Vic Reeves and Bob Mortimer, it followed their cult success in Big Night Out on Channel 4, but was originally part of theme night At Home with Vic and Bob.
Mark Lamarr also appeared in the early series as a team captain, with Ulrika Jonnson leading the other team. The show was also responsible for introducing Matt Lucas to a wide audience, in the guise of 'baby' George Daws, who acted as scorer.
The 21st century has seen a plethora of new comedy panel shows spring up, with radio keen to use the genre as television, if not more so. On TV, Mock the Week, which started in 2005, and Would I Lie to You, from 2007 (and originally hosted by Angus Deayton), have become fixtures in the schedules.
Mock the Week more of a showcase for comedians, but has been the target of criticism for its latter day lad culture tropes, with a marked lack of women guests. This recently gave rise to a new BBC policy that there should be no more men-only panel shows, although some comedians have criticised the danger of tokenism this raises.
Another popular show that began in the early 2000s was QI, again created by John Lloyd. It was presented for its first 13 series by Stephen Fry, although he was originally intended to be the regular team captain of one side, with Alan Davies as his opposite number – roughly speaking the 'intellectual' and 'university of life' sides. Michael Palin had been asked to be the host, but pulled out at the last moment, so Fry stepped in, and the format became less structured as a result. Sandi Toksvig is to take over the chair when the show returns.
As with Have I Got News for You, the show began on BBC2 and gained an increasing following, ending up with its transfer to BBC1 – though it has now returned to the calmer waters of BBC2. As with other shows, the success of the comedy panel show has been bolstered by the extended version QI XL, using some of the material created over long recording sessions.
It soon became apparent that the scoring system meant very little on any of these kinds of shows, since all the rounds would not necessarily be televised, and who 'won' was of far less importance than the entertainment value.
It might seem an odd fact that with one or two notable exceptions, such as Channel 4's 8 Out of 10 Cats, it is only the BBC that has really succeeded in nurturing shows in the comedy panel genre, although they are generally productions made by independent companies.
Perhaps the 'cult' nature of many of these shows is the reason for that, though it's notable too that the commercial channel Dave provides an afterlife for many of these series, which has become a regular joke on the programmes in question.
It seems likely that the comedy panel show genre will be with us for some time to come. They are a forum for new and established comics and celebrities to show off their talents. And they're also quite cheap television, which has to be a good thing in the age of austerity.
Share your thoughts on the rise of the comedy panel show with us… What are your favourites, and tell us about some of the shows we haven't mentioned. Or do you feel there are too many and their time is up?