The Sunday Post: You Have Been Watching... Are You Being Served?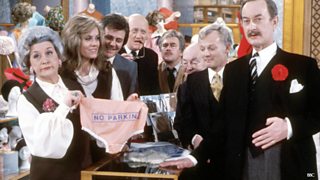 The original cast of Are You Being Served? investigate the Freudian subtext yet again...
The BBC is celebrating 60 years of British television sitcoms with a series of remakes, including Are You Being Served? We take a look back at its creators, the characters, and the brilliant comedy actors who played them.
The show, which ran from 1972 to 1985, is one of the best remembered sitcoms of the era. Like many series produced by David Croft, it was noted for its large ensemble cast and broad comedy that appealed to a family audience - despite its double entendres.
David Croft was unusual for a producer in that he co-wrote many of his shows, usually with Jimmy Perry or Jeremy Lloyd. His hits with Perry included Dad's Army, It Ain't Half Hot Mum and Hi-De-Hi!; while Are You Being Served?, Oh Happy Band! and 'Allo 'Allo were written with Lloyd.
After starting as a producer at Tyne Tees television, Croft moved to the BBC where he was responsible for Eggheads, a short-lived sitcom about student flat-sharers, written by Richard Waring. He had a hit however with his next comedy, Hugh and I, followed by the similarly successful Beggar My Neighbour.
In both these series he cast Jimmy Perry, then a character actor, in one-off roles. One day Perry showed Croft his script The Fighting Tigers, which was to become the pilot episode of Dad's Army. After some development work, Croft and Perry ended up collaborating on the scripts for the series, which gave Croft a taste for co-writing.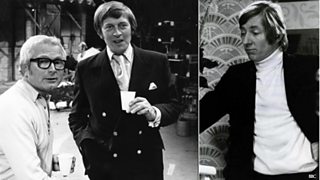 David Croft with Jimmy Perry on the set of It Ain't Half Hot Mum, and Jeremy Lloyd as 'Bob' in the Thirty Minute Theatre satire, Absolute Aggers and Torters
Jeremy Lloyd, meanwhile, had worked as a comic actor in the Billy Cotton Band Show, where his upper-class-twit persona had contrasted with Cotton's down-to-earth character. He later went to America where he added a touch of Swinging London to Rowan and Martin's Laugh-In.
Lloyd was also a writer, contributing scripts to Six-Five Special and Crackerjack, and later collaborating with Jimmy Grafton, Harry Secombe's writer and agent.
Prior to his acting career, Lloyd had worked in a large department store, and it was this experience that inspired Are You Being Served? The pilot was made as part of the long-running strand Comedy Playhouse, but it sat on the shelf at the BBC for some time without being scheduled for transmission.
Sadly, it was a real-life tragedy that was to prove a lucky break for the programme. When the 1972 Olympic Games at Munich were interrupted by the taking of Israeli hostages by Black September terrorists, extra programmes were needed to fill the gaps in the schedule. One of these was the pilot of Are You Being Served?
The programme turned out to be more popular than the BBC had anticipated, and a series of five more episodes were made for transmission the following March, following a repeat of the pilot. The pilot would turn out to be the only episode of the series to have its master videotape wiped, but a black and white film recording survived, which was restored to colour in 2010.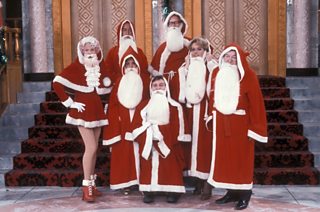 Are You Being Served? was famous for its comedy costumes - as in this Christmas episode from 1976
The show was set in an old-fashioned department store, Grace Brothers, where the menswear and ladies' lingerie departments were obliged to share the same sales floor. As with Dad's Army, there was a good-sized ensemble cast of colourful characters:
Mr Humphreys – John Inman was the outrageously camp second-in-command of the menswear department (catchphrase "I'm free"). Inman, who had been a fairly unknown actor with few television appearances (his first being 1965 BBC2 sitcom A Slight Case of…, starring Roy Kinnear and produced by David Croft), became the biggest star created by the show. Other series were created around him, including an Australian version of Are You Being Served? in which he was the only member of the original cast to appear, but never quite attained the heights of AYBS. He was also a noted pantomime dame.
Mrs Slocombe – Playing the head of the ladies department, Mrs Slocombe, with her extravagantly coloured hair and constant problems with her pet cat Tiddles, Mollie Sugden had previously been cast by David Croft in Hugh and I in the early 60s. She had also appeared in sitcoms The Clitheroe Kid and The Liver Birds, as well as many other shows. In the late 70s Sugden's success led to science fiction sitcom Come Back Mrs Noah, but this only ran for a pilot and a single series (it featured a young Gorden Kaye, later the lead in 'Allo 'Allo).
Captain Peacock – Frank Thornton had spent years as a reliable character actor, appearing as authority figures in comedies from Steptoe and Son to Love Thy Neighbour, but also letting his hair down in the madness that was Michael Bentine's It's a Square World. Are You Being Served?, where he played the officious floorwalker Stephen Peacock, brought him to nationwide fame, and he spent the last years of his career as one of the central trio in Last of the Summer Wine.
Miss Brahms – Wendy Richard was first made famous by her interjections in Mike Sarne's novelty record Come Outside in 1962, but had worked steadily since as 'dolly bird' characters in The Likely Lads, Hugh and I and others, as well as doing a stint in soap opera The Newcomers. In Are You Being Served? she was Shirley Brahms, junior to Mrs Slocombe, lusted after by Mr Lucas and Mr Spooner in turn. She would of course go on to even greater fame as dowdy matriarch Pauline Fowler for many years in EastEnders.
Mr Lucas – Trevor Bannister had been under the impression that he would be the main star of the series when it was conceived, with his 'new boy' Mr Lucas originally seeming the most 'normal' character and someone the audience could identify with. Eventually Bannister decided the role was not taking him anywhere and he returned to his first love, the theatre. Bannister's television debut was in a the adapted serial The Secret Kingdom in 1960, and he had mainly appeared in dramas since, with only the occasional comedy role before Are You Being Served?
Mr Spooner – Mike Berry, erstwhile pop star of the 60s/70s, saw out the latter half of the series' run as young and amorous Mr Spooner, replacing Mr Lucas as the junior in Menswear. In the final episode of the series Spooner was sacked, but ended up getting a recording contract, mirroring his real career. Berry, who continues to perform as a singer, is the only actor from the main shop-floor cast of Are You Being Served? who is (happily) still with us.
Mr Grainger – Arthur Brough, who had a long career running a repertory company which gave early work to a host of future stars, was the sort of veteran character actor who would often be given a chance to shine in David Croft sitcoms. Such ensemble pieces enabled actors who might never be a star in their own right to come to public attention. As with Dad's Army, each role was carefully drawn to give viewers something to latch onto. The sometimes irascible Mr Grainger headed the menswear department at Grace Brothers, despite a tendency to nod off during working hours…
Mr Tebbs/Mr Goldberg/Mr Grossman/Mr Klein – When Brough left in 1978 due to ill health, it proved a struggle to find a permanent replacement. Where some programmes might strike out into pastures new, Are You Being Served? tried to find a similar actor who would perform the same function in the line-up. James Hayter bowed out of his role as Mr Tebbs after one season (he was the voice of Mr Kipling cakes in TV adverts, and they wanted exclusivity). Three other actors were tried, including Alfie Bass, for the rest of the run, some only lasting for a few episodes.
Mr Rumbold – Nicholas Smith made his television debut in an episode of Doctor Who in 1964. In the 70s he was simultaneously a semi-regular as PC Yates in Z Cars and Mr Rumbold in Are you Being Served? Smith's distinctive bald head and protruding ears, coupled with his height, made him hard to miss, and Mr Rumbold's baffled boss figure, announcing each new initiative from Grace Brothers' management, was a highlight of each episode.
Mr Mash – Larry Martyn, who appeared in Up Pompeii! and its Middle Eastern successor Whoops Baghdad, was the first of two Grace Brothers handymen whose unwelcome presence on the shop floor during business hours was often accompanied the latest animatronic sales gimmick, which usually went wrong. As it was the 70s, he was also the hot-headed union rep, looking out for his members' interests and fighting the class war.
Mr Harman – Mr Mash was succeeded by Arthur English as Mr Harman. English was a showbusiness veteran, known for his spiv characters in variety shows, with many appearances on radio. He started appearing in television sitcoms in the 60s, including for David Croft, and also starred in well-remembered ITV children's series The Ghosts of Motley Hall.
Young Mr Grace/Old Mr Grace – Harold Bennett had been one of those occasional characters in Dad's Army who would pop up and steal a scene from time to time, as the aged and put-upon Mr Bluett. As Young Mr Grace he wobbled into scenes to tell the workers they had "all done very well", supported by his faithful nurse, who made sure he didn't over-exert himself. When he retired, Young Mr Grace was succeeded by his brother Old Mr Grace, played by Kenneth Waller, who ironically seemed a much younger man.
Secretaries and other employees – Stephanie Gathercole, who made the odd appearance as Mr Rumbold's secretary, had immortality guaranteed as hers was the voice reading the goods available on each floor in the theme music. She was succeeded by other actresses as similar characters, including Candy Davis as Miss Belfridge, the longest-lasting of them all. Doremy Vernon was an occasional presence as the fearsome manageress when the action moved to the Grace Brothers staff canteen in some episodes.
Customers – Are You Being Served? made a feature of its customers, who were never major characters, but were an essential part of a show set in a department store: they were typically identified only by the product they were attempting to buy, and comedy came from the staff's attempts to serve them, often employing shop assistants' tricks, which spoke of Jeremy Lloyd's insider knowledge of the trade.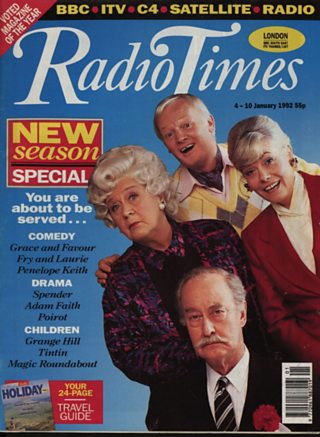 Grace Brothers staff at last appear on the cover of Radio Times for the launch of Grace and Favour in 1992
As with other 1970s sitcoms, a feature film version of Are You Being Served? was made, with most of the original characters still in situ. In 1992 there was a revival of some of the characters too in Grace and Favour, in which they were given the job of running a hotel. It ran for two series but was not a huge success. By this time, Wendy Richard was a fixture in EastEnders (which had started at the same time as the last series of Are You Being Served? was transmitting) and had to be temporarily written out in order to appear in the comedy.
Like The Benny Hill Show, Are You Being Served? was an unexpected hit in America, where audiences were unaccustomed to the grand old tradition of British double entendre comedy and lapped it up. In Britain, both shows were lambasted by some for being un-PC. Both suffered perhaps from going on longer than they needed to - it's hard to admit that a greatly loved institution had passed its sell-by date.
It will be interesting to see how this season of revamped comedies from the past is received. There have been a string of attempts to do this over the years, with shows brought back from the dead. Some like Dad's Army of course, are still going strong with never-ending repeats of the originals.
Some revivals have been successes, like the updated Still Open All Hours, but others – like the reworking of The Liver Birds by the late Carla Lane in 1996 – seemed ill-conceived. We shall see if the same happens to any of these new pilots, and the magic can be recaptured, or whether it is just a nostalgic experiment…