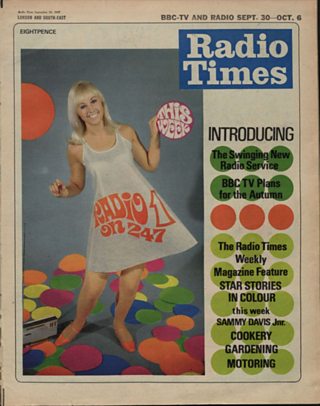 Swingin'! Radio Times heralds the launch of Radio 1 (and 2, 3 and 4) - and opens the new era of regular colour covers...
Forty-nine years ago, on 30 September 1967, the BBC launched Radio 1. It was not the first time the BBC had started a new service to cater to a specific audience, but unlike, say, the Third Programme, it was not begun for its own sake, but to replace the 'pirate' radio stations which had sprung up in the early 1960s, and which had been outlawed in August 1967.
Commercial radio in Britain was not to be sanctioned officially until 1973 with the launch of LBC in London, but calls for it dated back to the 1930s. Faced with the BBC's diet containing plenty of serious music and talks, occasionally leavened with lighter fare, many people sought something else to listen to, especially on Sundays when the Reithian ideal of sober contemplation meant that there was little of what could be classed as entertainment.
Radio Luxembourg was the first of a number of stations which grew up to feed this demand, and they were funded by advertising, which the BBC had rejected even before it became a public corporation in 1927. The original British Broadcasting Company was paid for by licences to receive transmissions and by a levy on radio sets sold. Despite it being a conglomerate of commercial businesses, the Post Office, who then oversaw broadcasting, decided not to fund the BBC by sponsored programmes – a model that remains to this day.
Although commercial broadcasting ceased during the War, with the continental stations used to disseminate propaganda by the Nazis, they began again afterwards, and were still popular. The BBC had started the Forces Programme in 1940, which carried a far greater proportion of popular material, and it eventually morphed into the Light Programme in 1945. However by the 1950s, with the advent of teenagers as a recognised demographic category, it was clear to many that this section of the population was not being catered for by the BBC.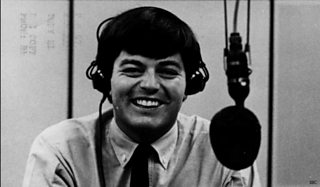 The first programme on Radio 1 (not counting the early morning Breakfast Special shared with Radio 2) was Tony Blackburn's breakfast show on 30 September 1967.
The few programmes playing rock and roll music, such as Saturday Club on radio, and Six-Five Special and Juke Box Jury on television (and their ITV competitors such as Oh Boy! and Thank Your Lucky Stars) failed to satisfy the youthful audience. Entrepreneurs realised that there was a loophole in the law which allowed them to set up radio stations outside British territorial waters. Thus the likes of Radio London and Radio Caroline were added to the ranks of the continental commercial stations (whose signals had notoriously variable reception).
These 'pirates' were able to play a diet of almost continuous pop music, interspersed and paid for by commercials and fully sponsored programmes, with no BBC or ITA to tell them what to do. Influenced by American radio stations, the style was fast and chatty, and far more eccentric styles were sanctioned than the BBC allowed. The new DJs were recruited from various sources, including some people who had experience in America and other parts of the world where broadcasting styles were less formal than the BBC's. Some could have worked for the BBC but preferred the freedom of the 'pirate' stations.
Though the 'pirates' were highly popular, their unregulated use of radio frequencies caused problems, and there were complaints from shipping and other maritime users. Long before the UK joined the EEC, there was a Europe-wide agreement that such stations needed to be regulated. The British government, in the person of Edward Short, the Postmaster General, stepped in with the Marine, &c, Broadcasting (Offences) Act in 1967. The act had the practical effect of making it illegal to run any part of the pirate operation from the UK, which made staffing, supplying and administering the stations impractical.
Because it was recognised how popular the 'pirates' had been, and to fend off growing complaints about the lack of coverage of popular music on BBC radio and television, as part of a review of its radio stations at this time, the BBC decided that a new service aimed at young people, and featuring large amounts of pop music, would be created.
As the existing BBC station names were to be discarded (though they in fact remained on the billings for a while after the official change-over to allow people to get used to the new names), it was decided to allocate the prominent name Radio 1 to the new service. Radio 2 would replace the Light Programme, Radio 3 took the place of Network Three (which incorporated the Third Programme, Music Programme and other services) and the old Home Service would become Radio 4.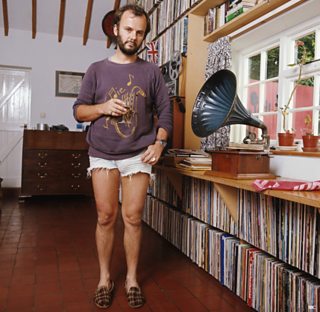 John Peel demonstrates that if you have a very large record collection, it can be hard to also afford the latest hi-fi equipment.
Because of the shortage of wavelengths however, and lack of money to create the new service, Radio 1 at first (and for a number of years as it turned out) was to share output with Radio 2 for part of each day, most prominently in the early evening. There was also a limit on the amount of recorded music (i.e. commercial records) that could be used, due to the 'needletime' agreements with the Musicians' Union.
One effect of this restriction though was that some programmes were able to get specially recorded versions of songs by the original bands, and so the legendary 'BBC Sessions' were born. These have become a sought-after source of alternative versions of material by many of the best acts of the period, with a rawer and more authentic sound than the original records.
Until the 'needletime' agreement ended in 1988, Radio 1 bolstered the schedule as well with news, features, and even comedy and drama from time to time, as well as a far greater degree of chat between the records than had been the norm on the 'pirates' – though of course there were no commercials to fill up the airtime on the BBC.
The original personnel of Radio 1 were a mixed bunch. As airtime was shared, as mentioned above, with Radio 2 for part of the day, the musical content was not all chart pop, there was also jazz, folk, blues, even easy listening, as the station was charged with encompassing all non-'serious' musical genres.
Disc Jockeys from the pirate stations were the most obvious imports to the BBC roster of presenters, and their anarchic style was the freshest element of the new service. Names such as Tony Blackburn, (who famously opened the service with Flowers in the Rain by the Move), Kenny Everett, John Peel, Alan Freeman and Emperor Rosko contrasted with more familiar or less outlandish or 'alternative' voices such as Jimmy Young, Pete Murray (the former host of Six-Five Special) and an import from Ireland who had been broadcasting for only a year on the Light Programme beforehand, Terry Wogan – the last three would become more identified with Radio 2 as time went on.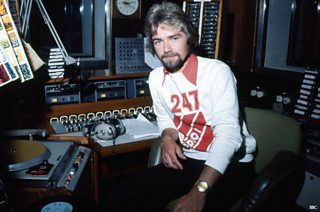 Noel Edmonds embraces corporate branding, before the great frequency change of November 23 1978...
Simon Dee, who had become one of the most popular 'pirate' DJs, was only given occasional shows, perhaps because since earlier in 1967 he had been hosting his own chat show Dee Time on BBC television. One other notable absence from the new service was any female DJs, and it would not be until 1970 that Anne Nightingale became the first woman to present a regular show. It would be some time before there was a second, Janice Long, in 1982, and female DJs have gradually become less of a novelty.
One sensibility that was carried over from the 'pirates' was the notion of publicising the new service, to an extent that the BBC had not indulged in before. Certainly, a lot of fuss was made at the launch, with a colourful Radio Times cover plugging Radio 1, and there was coverage on the television news. Another novelty for the BBC was the use of jingles – insisted on by the DJs who had experience of the way they helped establish the identity of pop stations.
One innovation that had immediate success when it was launched on 21 October 1968 was the Radio 1 Club, which was both an actual club and a programme. It was presented from around the country, but it had its 'base' at the BBC's Paris Studio on Lower Regent Street, London. In time this evolved into a national institution – the Radio 1 Roadshow, where the network would visit different parts of the country and stage live outdoor shows. These ended in 1999, and have eventually been succeeded by the Big Weekend. Radio 1 has also ventured abroad, such as its regular visits to the club scene on Ibiza.
Obviously the mainstay of Radio 1 soon became a succession of shows playing pop music, and it became identified with that genre alone. That said, it did retain specialist music shows, such as the heavier or progressive sounds of Sounds of the 70s, or the Friday Rock Show, as well as John Peel who was with the station from the start until his untimely death in 2004, a champion of new music whose like it is difficult to imagine emerging again.
Radio 1 has however always varied the music diet with other material, especially in the evenings once it got a frequency virtually all to itself in January 1979 (only the 5-6 am and post-midnight hours were then shared with Radio 2). It has featured comedy shows, from the early Kenny Everett shows (when he was not getting himself fired) through Eric Idle's post-Monty Python series Radio 5, to later series such as The Mary Whitehouse Experience and Lee and Herring's Fist of Fun.
The station has also been notable for its campaigns aimed at younger listeners, using its popularity to put over messages about drugs, health issues such as AIDS, and help with careers and the search for a job, especially when youth unemployment was very high. There have also been regular 'agony aunt/uncle' programmes like Stayin' Alive. Radio 1 has also had its own news programme, Newsbeat, since 1973, which like Newsround on television has presented a more accessible version of current events, though as the target age is older, the normal news agenda is covered.
The Radio 1 Roadshow rocks Eastbourne in 1977.
One programme however perhaps encapsulates Radio 1 more than any other, it is the Breakfast show, the highest-rated show on the network. It has been the ultimate accolade for some, and a bit of a disaster for others whose style as a presenter just does not work in that slot. From the early days with Tony Blackburn, succeeding generations have had their own favourite presenter, whether Noel Edmonds, Dave Lee Travis, Chris Evans, Chris Moyles or the present incumbent, Nick Grimshaw.
In channels with more generalised broadcasting, series come and go over time, but with this kind of radio, the only real change comes when one presenter is replaced by another. If ratings are good, or reasonable, it can be a brave move to change the presenter and risk losing listeners who are used to a familiar voice, unless it is the presenter who wishes to go, or there are other reasons to dispense with them.
One of the most controversial eras in the history of Radio 1 was when Matthew Bannister was appointed to take charge of the network. He saw that the DJs broadcasting were generally far older than the target audience, and decided to start trying to ease them out of their familiar and unchallenging jobs. One person who he saw as part of the answer was Chris Evans, then an independent radio DJ and television host, and Bannister appointed him to host the breakfast show.
After a period of upheaval when Radio 1 was often in the headlines, things quietened down, and in 1997 Chris Moyles was established as the new 'saviour of Radio 1', a title bestowed on successive new talents who came in when things were deemed to be looking difficult for the station.
In more recent time, digital broadcasting has led to innovations such as sister station 1Xtra and podcasting. The station has been a 24 hour network since 1991, the sharing of airspace with radio 2 having been phased out by 1982, and in 1994 Radio 1 became an FM only service, having only had dedicated FM coverage over the whole country since 1988.
Having had its fair share of ups and downs over the years, Radio 1 is often attacked for doing something that its commercial rivals also do – the same charge in some ways that is levelled at BBC One, and is the inevitable price of being a popular channel. It struggles sometimes to attract listeners in its stated target age range, with a good chunk of listeners having stuck with it even when they are not 'supposed to' – but the notion that people would evolve into listeners of more sophisticated matter perhaps owes more to paternalistic idealism than an understanding of human nature.
Radio 1 is now established as an essential part of the BBC's output. There were those who viewed it as an abomination when it began, a sign of a decline in the BBC's standards. It has however provided a lot of enjoyment to its listeners, and even done some good with its education and advice programmes, and at times by featuring innovative music rather than just the most popular chart material – though that has never stopped criticism that it does just that.
What are your thoughts, feelings, memories and criticisms of Radio 1? Is there still a place for it in the internet age of downloads and streaming? Over to you, pop-pickers...