The Sunday Post: Spike Milligan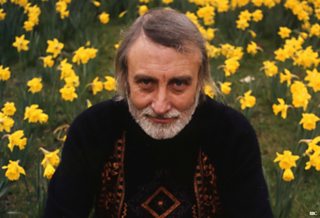 Comedy genius Spike Milligan, an Irish citizen since 1962, was awarded an honorary knighthood in 2000 despite his undiplomatic description of his Royal fan, Prince Charles.
Spike Milligan was one of the most celebrated comedians of the 20th Century. Through the Goon Show on BBC Radio in the 1950s in particular, his unique style of humour helped to change the face of British comedy and inspired generations that followed him, from comedians like Monty Python to musicians like the Beatles – even members of the Royal Family.
He was born Terence Alan Milligan in India in 1918, the son of a British Army officer of Irish extraction, Leo. In the 1930s the family returned to the United Kingdom, and young Terence found himself in the alien environment of Lewisham in South London. He found an escape from his humdrum life in a love of jazz, and became a skilled amateur trumpeter and vocalist, acquiring the nickname under which he would one day be hailed as a comic genius – Spike.
When World War Two broke out, Milligan was conscripted into the Royal Artillery, and soon found his musical and comedic skills in demand to entertain his fellow gunners. His unit was sent to North Africa, where Milligan met the first of a group of people who would play a massive part in his future career: Harry Secombe, one day to be Milligan's close friend and collaborator.
Milligan's war took him next to Italy, where he was wounded in the leg, but the real damage was done to his mental health. He was hospitalised with shell-shock, and, out of front-line combat, was able to concentrate on honing his entertainment skills.
He was demobbed in 1946, and found himself part of a new wave of talent who had come up through forces' shows. It was a struggle for the new entertainers to get a start in civilian life, but one venue that proved a lifeline was services social club, the Nuffield Centre. This had the equivalent of modern open-mic nights, where ex-servicemen could try out their material on a sympathetic audience of their comrades.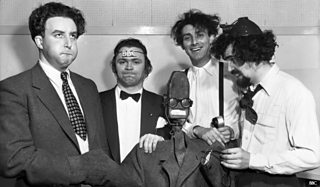 The original cast of Crazy People, aka The Goon Show - Sellers, Secombe, Milligan and Bentine - show all due respect to BBC property
The next step for many was the Windmill Theatre in Soho. Bought by a Mrs Laura Henderson in the 1930s, it was managed by the legendary Vivian Van Damm, who had turned the ailing theatre around by staging nude shows – only permitted on the basis that they were 'artistic', which meant the naked women on stage were not allowed to move.
Between the nude tableaux, the Windmill used comedians and other variety acts. While this was important exposure (if you'll excuse the pun) for up-and-coming comedians, it could be dispiriting, as the audience had not come to see them. Their acts were punctuated by the sound of punters scrambling over the seats to get a better view of the next display of flesh.
Dozens of comics got their break at the Windmill – as well as Milligan and Secombe, there were Jimmy Edwards, Benny Hill, Bob Monkhouse, Eric Sykes, Tony Hancock, and two comedians called Peter Sellers and Michael Bentine. Many also congregated at a pub run by Jimmy Grafton, a script writer who became Secombe's manager. Milligan, Secombe, Sellers and Bentine soon saw they had a sense of humour in common, and began to work on material, using a portable tape-recorder, a recent technical innovation, to make what amounted to demo tapes.
During the war the BBC Forces Programme had broadcast comedy shows based on the services' own entertainment efforts. In the post-war world, there was a demand for new shows, with the Forces Programme being replaced by the Light Programme, which created an additional market for variety and comedy.
Wartime hit It's That Man Again (ITMA) came to an abrupt end in 1949 when its star Tommy Handley died. Its replacements included Ray's a Laugh (with Ted Ray, in which Sellers also appeared), and Take It from Here, starring Jimmy Edwards and Dick Bentley.
Milligan began to perform in, and contribute scripts to, Hip-Hip-Hoo-Roy, a vehicle for comedian Derek Roy. Meanwhile, thanks to Grafton's showbusiness contacts, it was decided to make a pilot programme starring Peter Sellers (who had the highest profile) and his colleagues, entitled Sellers' Castle. It was never broadcast, but the BBC realised that they had potential, and eventually a different series was commissioned to showcase them, beginning in May 1951.
Although still relatively inexperienced, Milligan was clearly the natural writer of the group, and was paired with ex-commando Larry Stephens, with Grafton supervising. The producer appointed was Dennis Main Wilson, who would have a major influence on British comedy during his long career – producing Hancock's Half-Hour on radio, Till Death Us Do Part on television, and nurturing the career of John Sullivan.
As to the title of the new show, Milligan and co. called themselves The Goons, after a race of weird creatures in the Popeye cartoon strip, a word which was also applied to guards in German prisoner-of-war camps. The BBC however were keen to bill them as The Junior Crazy Gang (the original Crazy Gang were a collection of variety double acts that included Flanagan and Allen). They compromised with Crazy People, with 'Goon' included in the series' subtitle. After the success of the first series, the Goons got their own way.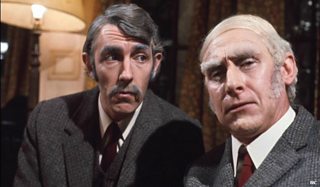 Spike appeared with Peter Cook (and Dudley Moore) in 1970 comedy play An Apple a Day, written by Spike's sometime collaborator John Antrobus
Early Goon Show episodes consisted of individual sketches, separated by musical items. As time went on, complete stories replaced the sketches. The regular musicians – harmonica player Max Geldray and the Ray Ellington Quartet – became involved in the action, supplying extra voices.
There was creative tension between Milligan and Bentine, and after two series Bentine decided to leave. He went on to his own series, including the groundbreaking It's a Square World on television. Jimmy Grafton also dropped out as series editor.
The writing of the Goon Show would continue to be a mixture of Milligan on his own, or collaborating with Larry Stephens, Eric Sykes, and others. Milligan first worked with Sykes on the crossover show Archie in Goonland, after which they, and Tony Hancock's writers Galton and Simpson, formed Associated London Scripts to manage their affairs.
However, all was not well with Milligan. The intense pressure of coming up with dozens of scripts exacerbated the mental health issues he had suffered from since the war, and he was eventually admitted to a psychiatric hospital. Other writers and performers rallied round until he was well enough to return.
Much has been written about the Goon Show and I don't propose to describe it in more detail here (maybe in a future blog…). Suffice to say that, while not everyone's cup of tea, it was hugely successful in its own terms, inspired generations of comedians to come, and became part of the cultural fabric of the nation…
When the Goon Show finally sputtered to an end in 1960, Secombe, Sellers and Milligan were stars. Sellers had begun a successful film career with I'm All Right Jack. Secombe, always a singer as well as a comedian, made records, had his own television series and appeared in shows like Pickwick and the film of Oliver!
Milligan's film appearances, however, were sporadic, and his stage performances could disintegrate into improvisation, such as in Son of Oblomov, which started out as a straight version of the Russian classic Oblomov. The troubled production inspired Milligan to improvise, to such an extent that people went to see what he would come up with on any given night, and ended with the show being renamed.
In 1963/4, Milligan, Sellers and Secombe voiced a puppet series called The Telegoons, based on the radio scripts, and there were instances of staging the Goon Show as a televised radio programme – one of these was for the BBC's 50th anniversary in 1972, called The Last Goon Show of All – which it was.
Milligan moved into prose writing, children's poetry, and television. He and Sellers had made several series for ITV while the Goon Show was running, and Milligan appeared in Six-Five Special on his own as well. Later one-offs included A Series of Unrelated Incidents at Current Market Value, and there was also the poetry and jazz anthology series Muses with Milligan, showing another side of him.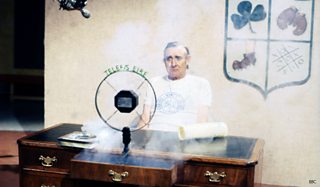 There were few sacred cows in Spike's comedy - his anarchic sketch series Q even had the odd go at his adoptive country
In 1968 Milligan appeared in The World of Beachcomber, based on a Daily Express column, and this led to him making a series of his own, Q.5, in 1969, the first of a succession of sketch shows (Oh In Colour, Q.6, Q.7, Q.8, Q.9 and There's a Lot of It About) in the 1970s and early 80s.
These series took a delight in their rejection of the norms of television production, and are perhaps the purest form of Milligan's humour. Famously, the Monty Python team, who had been offered a series by the BBC but were struggling to find the right tone, saw Q.5 and were both inspired by it, and dismayed that Milligan had achieved what they wanted to do.
Milligan's Q shows made a virtue of breaking the 'fourth wall'. Like Python, a sketch could just be abandoned when Milligan got bored, and the cast would sidle off reciting 'what are we going to do now?' Like many shows in the era of the 50s through to the 70s, there are occasionally racial jokes in Milligan's work that can make uncomfortable viewing now.
As time went on, Milligan divided his time between showbusiness and an increasing number of outside concerns, especially conservation. He was an inveterate letter writer, whether to complain to officialdom or to debate classical literature with Robert Graves, and a tireless campaigner for his chosen causes. His fragile mental health was always a concern however, and his personal assistant Norma Farnes, and other friends and colleagues, all helped him as much as they could through difficult times.
Milligan's writing for children brought him new audiences. He made a number of appearances on Jackanory, reading his own stories and those of collaborators like John Antrobus. In later years his poem On the Ning Nang Nong was voted the Nation's Favourite Comic Poem in a BBC poll.
Some had detected the influence of James Joyce and Lewis Carroll in The Goon Show, and there were echoes of Edward Lear in his poetry. Another literary success came from his wartime autobiographies, starting with Adolf Hitler – My Part in His Downfall.
As time went on, Milligan was seen less often – but his increasingly frail, yet still acerbic appearances were always cherished by his faithful fans. One of his last was acting in the BBC adaptation of Gormenghast. He died in 2002, the longest-lived and last surviving of the Goons. While not everything he did reached the level of brilliance of the Goon Show at its best, Spike Milligan's comic genius undoubtedly inspired many during his life and since, and his legacy will surely live on.
Share your memories of Spike Milligan, whether on the Goon Show or Q series, or his chat show and panel show appearances, below...