The Monday Post: Scottish Programmes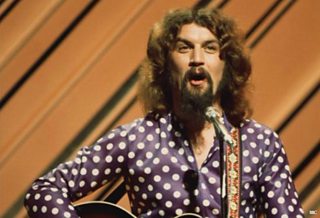 Billy Connolly pictured in the 1970s, attempting to deflect attention from his sometimes controversial comedy by use of a particularly garish shirt
As Wednesday, 25 January, is Burns Night, the annual celebration of the birth of Scotland's national poet Robert Burns (1759-1796), we're commemorating the day by examining all things Scottish on the BBC. Well, some of them anyway…
When the BBC began in 1922, all broadcasting was local, with separate establishments in the major population centres. The main Scottish broadcasting centre was in Glasgow, although Edinburgh, Aberdeen, and to some extent Dundee, had their own programmes as well.
As it became possible to network programmes, regional identity and independence lessened. Bringing homogeneity to the UK has been one of broadcasting's achievements – though it has not come without some corresponding sacrifices. Until 1939 however there was still a Scottish Regional Programme, and after the war there was a Scottish Home Service. When Radio 4 was set up in 1967 as part of the reorganisation of BBC radio services, Scotland instead got its own service, Radio Scotland, which was a mix of Radio 4 output and home-grown material.
BBC Scotland's television service began in 1957 when BBC regional television started in earnest throughout the UK. Scotland's identity was established both sides of the border with a range of programmes - perhaps most memorably at first with the Scottish traditional music series The White Heather Club. A similar series, The Kilt is My Delight, had started nationwide in 1956. New Year's Eve, or Hogmanay, for many years came courtesy of BBC Scotland, which provided BBC's networked celebrations - but since the end of the 1970s these were split between the nations again.
Scottish music has been represented by personality singers who have gained a UK-wide reputation, from Andy Stewart to Moira Anderson, Calum Kennedy and Isla St Clair (later better known for appearing on Larry Grayson's version of The Generation Game). In the rock genre there have of course been numerous performers who have been in the limelight, from Donovan and Gerry Rafferty to Lulu, The Proclaimers, Simple Minds, Deacon Blue and many more.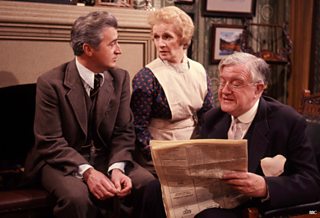 Dr Finlay (Bill Simpson), Janet (Barbara Mullen) and Dr Cameron (Andrew Cruickshank) check the result of the 3.30 at Ayr before embarking on some more 1920s/30s medical drama in Dr Finlay's Casebook (a book we never actually got to see)
In the field of drama, there have been many Scottish-based series, from Dr Finlay's Casebook to Monarch of the Glen, as well as serials and single plays. Some less well-known drama series from Scotland, or at least set there, have included two based around the oil industry, Oil Strike North and Roughnecks, the latter created by Kieran Prendiville, the former That's Life and Tomorrow's World presenter who went on to create Ballykissangel.
Classic fiction adaptations have perhaps been overshadowed by the influence of Dr Finlay's Casebook, which although starring many Scottish actors (though Janet, the housekeeper, was played by Barbara Mullen, who while of Irish descent was born in the United States) was, until its last series, recorded in London. It began in 1962, with many early episodes transmitted live. On television it ran until 1971, but it had an afterlife in a long-running radio adaptation with the same stars, Bill Simpson, Andrew Cruickshank playing the titular character and his partner in the practice, Dr Cameron.
Other notable adaptations of Scottish fiction have included adaptations of John Buchan's Huntingtower (in the 50s and 70s on television), among several other of his novels, and the well-remembered production of Sunset Song from 1971.
Roddy McMillan, a great Scottish actor, was the lead in the 1960s and 1970s versions of The Vital Spark, the comedy about a small steamship or 'Puffer' which plied the waters of the Clyde. McMillan also played the lead in private eye series The View from Daniel Pike, based on an episode of the anthology strand Menace, which then ran for two years. Among his many other roles was his own script The Bevellers, about workers in a glass factory, in the Play for Today strand.
Another well-known Scots character actor was Iain Cuthbertson, who became famous as a Soho-based Glasgow gangster in the ITV series Budgie. Cuthbertson then played someone on the right side of legality in Sutherland's Law, which ran for several series in the mid 1970s. It concerned the activities of a Procurator Fiscal, a Scottish law officer who has no equivalent in England, who can investigate the background to crimes, as well as prosecuting them in court.
The separate Scottish education system was examined in This Man Craig, about an idealistic secondary school teacher. Made in Scotland for showing on BBC2 at a time when the channel was not available there, it was given an opt-out broadcast on BBC1 Scotland as well.
The actor Maurice Roëves was the star of Scobie in September, first shown in Scotland in 1968 and repeated nationally the next year, and its sequel The Scobie Man, about an artist who gets caught up in nefarious goings-on. Roëves was also one of the stars of the brilliant four-part horror serial The Nightmare Man, in which a Scottish island, cut off by fog, is threatened by a serial killer – or is it an alien creature?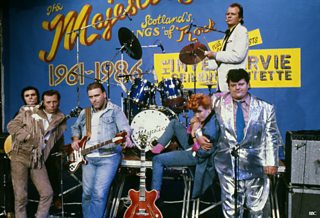 Tutti Frutti, John Byrne's celebrated 1987 drama starring Robbie Coltrane, Emma Thompson and Maurice Roëves. Byrne also designed album covers for Stealers Wheel and Gerry Rafferty, and Billy Connolly's 'banana boots'
In 1987, artist and writer John Byrne scored a major hit with Tutti Frutti, in which Roëves also appeared alongside Robbie Coltrane, Emma Thompson and Richard Wilson, a comedy drama about a Scottish rock and roll group that has seen better days. He followed it up with Your Cheatin' Heart, set in the little-known milieu of the Scottish country music scene.
Something of a similar feel to Byrne's work was noticeable in Donna Franceschild's Takin' Over the Asylum in 1994, in which Ken Stott played a disillusioned salesman who finds a release working as a DJ for the radio station of a psychiatric hospital. Among the impressive cast was a young David Tennant, who has gone one to be one of three Scots actors to play the lead role in Doctor Who – along with Sylvester McCoy and Peter Capaldi.
There have also been a number of interesting thriller serials from Scotland. For example, in the 60s there was The Dark Number by Eddie Boyd, a Glasgow-set thriller. In 1973 the controversial adaptation of Douglas Hurd and Andrew Osmond's novel Scotch on the Rocks looked at a violent attempt to secure Scottish independence. The late 70s saw the paranormal drama The Omega Factor, which again ran for only one series but became a favourite of cult tv fans.
Scottish comedy is a fruitful source of talent, with solo performers such as Jimmy Logan, Rikki Fulton, Stanley Baxter, Chic Murray, and of course Billy Connolly. Billy Connolly, though firstly a musician, and latterly a television presenter as well as a stand-up, has mostly acted on television in straight roles, from plays like The Elephant's Graveyard to the BBC Films production Mrs Brown. An early attempt at a sitcom featuring him, The Highland Queen, didn't make it past an unscreened pilot in 1976. Connolly never attempted the genre again, though he made a number of sketch comedy appearances in Not the Nine O'Clock News alongside future wife Pamela Stephenson, and with Kenny Everett.
Many of the other comedians have had their own series, and occasionally appeared in situation comedies. Of the latter genre, perhaps the best known (after The Vital Spark) is Rab C. Nesbitt, in which Gregor Fisher plays the dissolutely garrulous Glaswegian, who had first appeared in sketches in the series Naked Video (itself based on the radio series Naked Radio). Fisher also starred in the 1990s remake of The Vital Spark, called (after the lead character) The Tales of Para Handy.
Other influential sketch series have included Between the Lines, Scotch and Wry (a Hogmanay tradition for many years, but one episode was networked!) and A Kick Up the Eighties.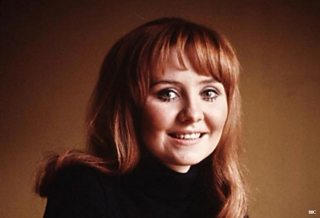 Lulu, born Marie Lawrie, was one of Scotland's biggest pop stars, and got her own BBC variety show in 1968, Lulu's Back in Town
One of the many personalities who came to prominence from the BBC current affairs series Tonight was the eccentric journalist and presenter Fyfe Robertson, whose distinctive accent was instantly recognisable, and made him a gift to impressionists. He continued in Tonight's successor 24 Hours, and rather than just concentrate on soft subjects he could approach any topic with his common sense approach. His later solo series Robbie allowed him more time to tackle subjects that interested him.
With the exception of Fyfe Robertson, I've concentrated in this piece on the many drama and comedy offerings from the BBC in Scotland, with a brief mention of music. Of course, there are many many programmes with either Scottish roots, Scottish productions, or employing the talents of Scottish actors, writers, musicians and others from all parts of the broadcasting spectrum - as there are with the other regions of the UK.
One of the great things about Genome (if we say so ourselves) is that it gives the ability to search through the whole career of performers and others, to look for mentions of a keyword or subject. Admittedly, searches for anything regionally based are slightly hampered at this stage of the project because we don't yet have the full range of BBC regional and national opt-outs. We do plan to add those in future, but the links in this brief overview show that it is possible to get quite a wide range of material on Scottish content (and the same applies to Welsh, Irish and English regional programmes) even at this comparatively early stage.