Howzat! A brief history of cricket on the BBC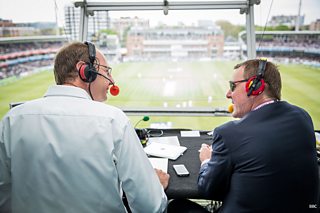 Jonathan Agnew and Phil Tufnell commentating on Test Match Special, which celebrated its 60th anniversary this summer
As the Ashes series begins in Brisbane, we look at some of the people who have brought cricket to BBC TV and radio.
From instructional radio programming and short match reports in the early years of the BBC, to live coverage throughout the day on both television and radio, the BBC listings show how much coverage of cricket has changed over the decades.
A quintessentially British sport, cricket traces its origins back hundreds of years. The sport was once banned for interfering with archery practice, according to a 1933 Radio Times article. But cricket has won in the long term - there are only 204 references to archery in BBC Genome, while cricket listings number thousands. The schedules are more interested in boundaries than in bullseyes...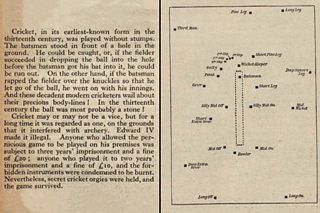 Left: A 1933 Radio Times article about Edward IV making cricket illegal. Right: In 1937 Radio Times printed a guide to fielding positions to help listeners follow the commentary
John Arlott was one of the original voices of cricket on BBC radio. He spent a number of years as a policeman in his native Hampshire before moving into broadcasting: a radio address to King George VI he made on behalf of the police on VE Day 1945 helped him make the transition.
Arlott's broadcasting career straddled his passions of poetry and cricket, which he often allowed to overlap. Cricket was the inspiration for this 1945 listing of poetry and prose, while his cricket commentaries were known for being articulate and rhythmical, but he wasn't unnecessarily florid with his language. Writing in The Nightwatchman magazine, journalist Simon Barnes described "reticence and understatement as aspects of Arlott's talents".

Test Match Special was given a strip across two pages of the Radio Times for its first broadcast
Arlott was one of the commentators on Test Match Special when it launched in 1957 on the Third Programme, and remained on the team until the centenary Ashes Test match of 1980. His retirement led to a number of tribute programmes, and in a 2003 edition of Desert Island Discs, long-time colleague Henry Blofeld recalled his experiences working with Arlott.
Blofeld's first listing on Test Match Special was in 1972, and apart from a couple of years spent at Sky, he was a crucial part of Test Match Special until the end of summer 2017. When "Blowers" started on TMS it was broadcast on Radio 3, but it has had a number of homes in its 60-year history. In the mid-90s the programme moved to Radio 4 long wave, and since 2002 it has been broadcast uninterrupted on digital station BBC 5 Live Sports Extra. Having reached "60 not out", it feels the responsible cricketing thing to do is to go for the century.
BBC Sport takes a look at some of Henry Blofeld's best broadcasting moments
Cricketer Rachael Heyhoe Flint - a contemporary of Blofeld's - was a champion for greater coverage of women's cricket in the second half of the 20th Century. She organised the first women's World Cup in 1973 (two years before the first men's equivalent) which received some coverage on Radio 2. In 1983 Just After Four looked at her "one-woman campaign to put women's cricket on the map" and alongside Brian Johnston she discussed cricket on Woman's Hour in 1993.
Heyhoe Flint was preceded by Marjorie Pollard, a hockey player who was an advocate for women's cricket in the early years of the BBC. A consummate sportswoman, she is believed to be the first person to play two different sports at The Oval in one year. In 1937 Pollard provided commentary for the first women's Test Match ever to be played in this country, two years after a special edition of Sports Talk in which she made the case for women's cricket.
Coverage of Women's cricket is now much more of a fixture on the BBC with Test Match Special covering every ball of the 2017 Women's Ashes. A BBC Radio 5 live programme in October 2017 debated whether 2017 had been women's cricket's greatest year. On-air, Ebony Rainford-Brent and Alison Mitchell are regularly heard in the BBC commentary box.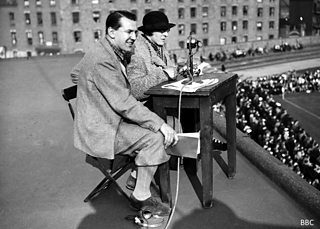 Marjorie Pollard (right), seen here broadcasting at a women's hockey match in 1938, was also a regular commentator for women's cricket
It is nearly 80 years since Test match cricket was first broadcast on BBC television, although an early listing gave little fanfare with just these few lines in Radio Times. It was an important time for sport on television, as Wimbledon also made its TV debut in 1937. Coverage was far removed from what we are now used to, there could be no highlight packages or replays interwoven into the analysis. In the post-war years live cricket became a regular feature on television with future radio stalwart Brian Johnston presenting a look back at 200 years of cricket before a test against India in 1946. Johnston, known affectionately as Johnners, became the BBC's first cricket correspondent in 1963. Test cricket was first shown in colour in 1968.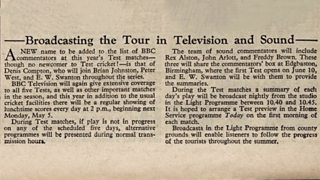 Brian Johnston spent much of his career as a television commentator before moving to Test Match Special.
Cricket gave the BBC television lots of schedule-filling content and home Test matches remained exclusively on the BBC until 1999, when Channel 4 won the rights. Channel 4 continued to show live cricket until the end of the 2005 Ashes victory over Australia. But after cricket was removed from the list of "crown jewels" sporting events reserved for terrestrial TV, Sky acquired the rights in 2006, from which point live test cricket has not been available on terrestrial TV. In the intervening years, the BBC has shown highlights from some World Cups and an away Ashes series in 2006/07.
As I approach stumps at the end of this blog, the story of cricket on the BBC is far from over. In recent seasons the BBC Sport website has broadcast live commentary of every match in county cricket. Since 2016 the BBC have shown match clips and highlights online, and live cricket will also return to BBC TV from 2020.