Tales out of school: Grange Hill, 40 years on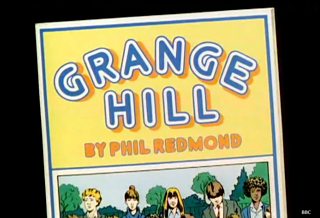 The original title sequence for Grange Hill was a pastiche of a children's comic, and memorably features the image of a sausage with a fork stuck in it: not a scene that made it into the actual show sadly
There's nothing like an anniversary to make you feel old, and on 8 February 2018 it is 40 years since the first episode of Grange Hill was broadcast.
Grange Hill was the first realistic, long-running drama about school, told from the perspective of the children. It was set in a comprehensive school, and so was closer to the actual experiences of most of its audience: many previous school stories had been set in public schools or grammar schools, probably because most writers tended to have had that kind of education. Where other schools were featured they were rarely examined in detail, or were a backdrop to stories that were not fundamentally about the experience of going to school - and that was always what Grange Hill was interested in.
School fiction goes back at least to Tom Brown's Schooldays, written by Thomas Hughes in the 19th Century. Other writers also drew on their own school experiences, notably Charles Dickens, especially in David Copperfield, Nicholas Nickleby and Hard Times. By the early 20th Century children's comic papers brought new generations of school story writers. Angela Brazil virtually invented the schoolgirl story (where hockey sticks were always jolly), and Enid Blyton and others followed. Stories about boys' schools included a long run of adaptations in Children's Hour of Anthony Buckeridge's prep school hero Jennings, and Frank Richards' Billy Bunter was featured in a BBC television series of the 1950s and 1960s.
While many of these stories had children as their ostensible heroes, some dramas focused more on teachers. In the late 1950s BBC TV had The Common Room (set in a Secondary Modern school), and Yorky, starring Wilfred Pickles as a village schoolmaster. In the mid 1960s This Man Craig examined life in a Scottish secondary school, while in the 70s there were plays like Headmaster (and its spin-off series) and Gotcha/Campion's Interview, a double bill Play for Today looking at aspects of education and how it failed some pupils.
Todd Carty played Tucker Jenkins (pictured, left, with Alan, played by George Armstrong, and Benny, played by Terry Sue-Patt) from the first episode of Grange Hill until 1982. After the spin-off Tucker's Luck he returned to the role in 2003 (pictured, right) and for the final episode in 2008
It was in this environment, reacting to the rise of comprehensive schools and flavoured by the cynicism of the mid-70s, that Grange Hill was born. Its creator and original writer Phil Redmond had previously written sitcom episodes and children's drama, mainly for ITV. They turned down the idea for Grange Hill, but BBC executive producer Anna Home was more receptive.
Grange Hill was a product of its times, and was a departure from the children's drama previously on offer: classic adaptations, fantasy or 'caper' adventure stories. Very little children's drama tackled the daily realities of their lives – except educational fare such as the schools' series Scene, which could be safely shown to children with a teacher on hand. Grange Hill was shown in a slot when parents would be busy preparing meals or coming home from work, and some were concerned that it portrayed bad behaviour and bad language at a time of day when children were watching unsupervised, and didn't condemn it unequivocally.
Occasionally the bad behaviour teetered over into actual crime – shoplifting, vandalism and theft. Bullying was a topic which it would have been unrealistic to ignore, and was embodied in characters such as Michael Doyle, Jackie Heron and Gripper Stebson. As the early characters – Tucker, Alan and Benny, Trisha Yates, Cathy Hargreaves, Suzanne Ross – were gradually replaced by successive generations of new pupils, more difficult topics were introduced. One of the most prominent stories was the heroin addiction of Zammo (Lee Macdonald), which tied in with the "Just Say No" anti-drugs campaign. Another poignant plotline in the 80s concerned troubled Danny Kendall and his thorny relationship with teacher Mr Bronson (Michael Sheard). In the early 90s there was the controversial depiction of the teenage pregnancy of Chrissy Mainwaring.
For all the focus on Grange Hill's pupils, as with Mr Bronson, there were also good roles for the actors playing teachers. Other memorable teachers included PE teacher Mr Baxter (Michael Cronin) and long-serving head teacher Mrs McCluskey (Gwynneth Powell).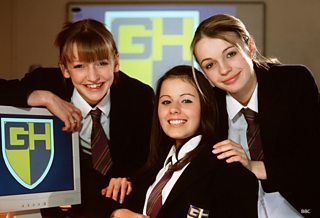 Grange Hill in the 2000s had changed with the times: Emma (Daniella Fray), Tanya (Kirsten Cassidy) and Annie (Lauren Bunney) hone their IT skills, a phrase that wouldn't have meant much to Grange Hill pupils in 1978
In later years, Grange Hill was targeted at a younger age range, in line with BBC policy for its children's programmes, when teenagers were no longer seen as part of the audience for children's programmes. Some of the innovations were controversial, with occasional fantasy sequences, and a toning down of the drama to suit a younger target audience. The location of the show became less defined following the outsourcing of production to Phil Redmond's own company, when recording switched to Liverpool.
Redmond had moved on to other projects after the first few years of Grange Hill, including the Channel 4 soap Brookside, and later Hollyoaks. He wanted to restore the original feel of Grange Hill, including bringing back the original title theme – a piece of library music called "Chicken Man". But after a few series it was decided to call it a day, and, with a cameo appearance by original cast member Todd Carty (as Tucker Jenkins, who had also been spun off into his own series Tucker's Luck in the early 80s), the final episode of Grange Hill was transmitted on 15 September 2008.