Carla's decades of comedy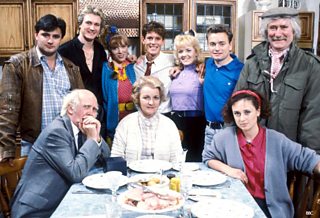 Family was at the very heart of popular sitcom Bread
It's a little more than 30 years since Liverpool's most well-known comedy jewel first came to our screens.
It followed the working class Boswell family struggling through the city's high unemployment and poor prospects in the late 1980s, painting a bleak yet concurrently warm and hopeful picture of life in one of Britain's major cities.
With curmudgeonly grandad living next door, single mother and devout Catholic Nellie was the centre of every event and the giver of every command in the house, which she shared with her five adult children: Joey, Jack, Adrian, Aveline and Billy. Each contributed a little each week to the housekeeping fund (collected in a ceramic chicken) through almost entirely illegal means, predominantly benefit fraud and the proceeds from stolen goods.
On the surface they appeared to be a thoroughly disreputable bunch, but the bond between the Boswells, their love for each other and sense of family values helped the show to become a hit with audiences. Debuting on Thursday 1st May 1986 at 9.30pm on BBC1, the sitcom returned for a further six series, totalling 74 episodes by the time we waved goodbye to the clan in November 1991.
However, neither families nor Liverpudlians were virgin territory for the show's writer-creator, Carla Lane. On 14 April, her first and perhaps most celebrated comedy marked its own anniversary of 47 years.
The Liver Birds was co-created and written by Lane, initially alongside friend and fellow Scouser Myra Taylor. Not just written by women, but also reputedly British television's first series to focus on two female characters.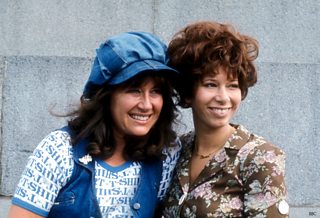 The Liver Birds was the first of many Lane comedies to focus on women
After the success of the pilot, a short first series followed quickly, in July of the same year. A second series began in 1971 and even after Myra Taylor chose to quit writing and return to life as a mother, the sitcom returned again and again, bowing out in 1978 with nine series and 80 episodes under its belt. Indeed, the enduring popularity and public fondness for the show was such that a revived 10th series of seven brand new episodes broadcast from 6 May 1996.
Last week also saw the 40th anniversary of Sid James's death, after collapsing on stage at the Sunderland Empire on 26 April 1976. The star was beloved for his roles in the Carry On films, Hancock's Half Hour, and a range of his own TV sitcoms – most famously Bless This House.
Running concurrently with The Liver Birds from 1971-6, the ITV sitcom was a huge hit for its star. Created by another writing duo, Vince Powell and Harry Driver, it featured Sid as the father of young adults Mike and Sally, and loving husband to Jean – naturally, none of whom he understood one bit, along with the changing world around him.
Brought to a premature end by James's death, the series saw a number of other writers brought on board after Powell and Driver moved on to other projects, including Carla Lane, initially with Taylor and later alone. In fact, the pair would be the most prolific contributors to the show: of its 65 episodes, Carla and Myra wrote 15 together, with Lane penning a further 10 by herself.
1974 sitcom No Strings perhaps bridged the gap between these early, more domestic and traditional comedies, and the relationship-focused series for which Carla Lane would become most well-known. It starred Rita Tushingham and Keith Barron as Leonora and Derek. When she takes the spare room in his flat, he's unaware of the impact she'll have on his life. The 1975 pilot Going, Going, Gone… Free?, about a woman approaching her decree absolute and looking ahead to a single life was Lane's next step, although it did not progress to a series.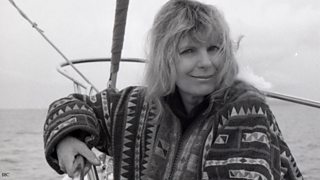 After her comedy successes, Carla Lane devoted her time to animal rights campaigning
1978, however, brought the hit Butterflies, which ran for four series. The sitcom offered an early role for Nicholas Lyndhurst and starred Wendy Craig as frustrated housewife Ria, ever toying with having an affair with sophisticated, attentive businessman Leonard. Lane brilliantly captured Ria's turmoil, torn between her loyalty to family and her nice but stultifyingly dull husband Ben (Geoffrey Palmer), and the bright future that may have been just around the corner.
The early 80s would bring Carla Lane in contact with an actress with whom she'd work on a number of sitcoms: The Good Life alumna Felicity Kendal. From 1981, Kendal starred in two series of Lane's Solo as Gemma Palmer, a woman still desperately in love with the boyfriend she's just thrown out for sleeping with one of her friends. It's a fascinating study of a woman's hatred of her own feelings, and efforts to deny them and stand up for herself as she thinks she should.
Writer and star reunited again from 1985, this time on BBC2, with two series of The Mistress. In this outing, Kendal took on the role of the other woman, florist Maxine. Audiences were initially shocked to see the Good Life sweetheart playing the mistress to Luke. She was seen regularly torn between her feelings for and enjoyment of her relationship with Luke, and the guilt and insecurity in having an affair with a married man.
Turning the tables on the genders, 1981 comedy The Last Song focused on newly single Leo Bannister (Geoffrey Palmer again). Awaiting a divorce from wife Alice, the last thing on his mind is women, but Liz – half his age – appears on the scene and quickly finds her way into his affections.
Here, Lane played not just with age-gap love, but examined very similar relationship turmoil to that in her other shows, albeit here from the other side of the partnership. Eventually Alice would cause Leo further angst by putting the brakes on divorce proceedings.
A second series saw Leo single once more, attempting to maintain amicable contact with his wife whilst improving his relationship with their daughters – one of whom was older than Liz!
Divorce was also explored in Leaving between 1984-5. In this particular series Carla Lane consciously broke further from traditional sitcom format into what would now be called a comedy drama: a more serious tone and subject matter, albeit still with laughs. It told the story of a married couple struggling against life in their joint quest for an amicable divorce.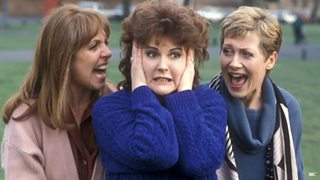 Later series Screaming failed to scale the heights of Lane's big hits
Also running for two series was I Woke Up One Morning, a mid-80s comedy about four recovering alcoholics who meet whilst receiving psychotherapy treatment in hospital; and Liverpool-set Luv (1993-4), which chartered similar territory to Butterflies: Sue Johnston was unsatisfied housewife Terese to successful businessman Harold, and mother to their three adopted children. Launching with a full 10-episode first series, the programme has been described as a much harsher exploration of the frustrated wife theme, and at times difficult to watch.
Finally, lasting just a single series each, we have 1992's Screaming and Searching (1995).
Screaming was again far more of a comedy drama than sitcom. It showed three old female school friends, now middle-aged, single, and sharing a house together - but none realises that they have all had liaisons in the past with the same man. Lane put the women's interrelationships under the spotlight, as well as how their dalliances with men affected each other.
Searching, meanwhile, was Lane's one and only original sitcom for ITV rather than the BBC, and remains her most recent new series to date. Further muddying the waters of sitcom and drama, star Prunella Scales dubbed it a "drama-doc-sit-trag". The single series was set at the Sunfield Voluntary Therapy Centre, an experimental institution aiming to assist young women with special psychological needs. Again, many of the womens' problems revolved around the men in their lives.
At some points one could be forgiven for reading misandry into Lane's work, particularly in the latter, more serial-drama titles. They can certainly be uncomfortable viewing in places, but the underlying current in these female-centric comedies is far more a study of the female psyche, of the complexities of relationships as experienced by women, and the pressures put upon them – both by themselves, and by society. The characterisation of individual male characters seems to lend less to notions of misandry.
With such a heavy record of female relationship-centric work, it's unsurprising that Lane is sometimes derided or dismissed as writing exclusively for and about women. It's clearly a topic that fascinated her, and a criticism that isn't entirely without basis in fact.
But from the early joys of The Liver Birds to the domestic disharmonies of Bless This House and Bread, she was always a writer capable of much more than she is at times given credit for, and perhaps long overdue a reappraisal. As we mark 30 years since Bread first graced our screens, and with a number of her other titles now available on DVD, it might be time to do just that.
Aaron Brown is editor of the British Comedy Guide
What are your thoughts on the comedy output of Carla Lane? Did you enjoy big hits like Bread or appreciate her later comedy dramas? Please let us know in the space below.