The Sunday Post: A Brush with fame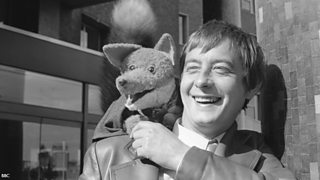 Derek Fowlds has been one of Basil's many human sidekicks over the decades
Actor Ivan Owen's main claim to renown was as the original voice of children's favourite Basil Brush.
Born in 1927, he studied at the London Academy of Music and Dramatic Art briefly and then worked in repertory theatre. Owen is first credited in Children's Television in June 1954, where he and Peter Hawkins provided the voices for puppet series Billy Bean and his Funny Machine. During the 1955 series, Owen made an appearance in person playing "other parts" in children's drama The Gordon Honour and some other small roles.
In 1957 Owen joined the voice cast of Toytown, making his first appearance in Playbox that year, hosted by Eamonn Andrews when he was also presenter of This is Your Life and What's My Line.
Playbox included an item called The Playbox Detective Agency, in which viewers were presented with a dramatised puzzle, from the 1958 series Owen was receiving star billing in follow-up The Six Clue Challenge as Inspector Bruce.
When he appeared in adult programmes he was still a minor player. Owen was also working extensively for ITV at this time, collaborating again with Peter Hawkins on The Adventures of Booty Mole, and voicing a dog called Fred Barker on Dog-Watch, Tuesday Rendezvous and the Five O'Clock Club during the early to mid-60s.
Birth of Basil
The final series of Playbox in 1963 did not feature Owen's live-action character, and he returned to the world of the jobbing actor, making appearances in Compact and Mr Pastry's Pet Shop for the BBC, and police drama Crime Sheet on ITV. But his future was to be in voice-work.
In 1962 Owen was cast in ITV series The Three Scampis, providing the voice for a character designed by Peter Firmin, an artist and art lecturer. The puppets in The Scampis were Basil Brush, a fox, and Spike McPike, a hedgehog, assisted by a human, Howard Williams.
The convention of Basil interacting with a person was to continue for the rest of his career. He made an immediate impact, his plummy accent reminiscent of comedian Terry-Thomas, with whom he shared similar dentition – a gap in his front teeth. The Three Scampis ran until 1965, after which Owen and Howard Williams made a single series of All at Sea, also for ITV. Owen had meantime also contributed voices to the obscure ITV puppet series Muskit and Dido.
Owen's next partner was to be popular magician and TV personality David Nixon, when an offer came to co-star in a new BBC series. In 1967, children's show Now for Nixon was aired, and for the first time he co-starred with Basil Brush. By this time Basil was receiving his own billing, and Ivan Owen elected to receive no credit, preserving the 'illusion' that Basil was his own man (or fox).
A few weeks after the end of that series came The Nixon Line, an early evening show that allowed slightly more sophisticated material. With Basil Brush now established as Nixon's sidekick, the series ran until March 1968. Both Nixon and Basil starred in a Show of the Week on BBC2 in July, but that was to be their last appearance together for some time.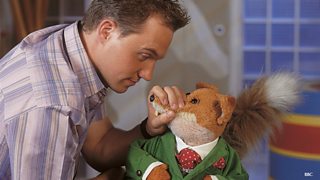 Basil's enduring popularity saw him on screen well into the noughties
Basil Brush started his own show in the traditional Crackerjack slot at five to five on a Friday afternoon. The first series of The Basil Brush Show debuted on 14th June 1968. Again scripted by George Martin, it was produced by Johnny Downes, and Basil was partnered by actor Rodney Bewes, late of The Likely Lads. In Basil's inimitable fashion he was addressed as 'Mr Rodney'. The first series also benefited from impressive musical acts, including Manfred Mann, The Alan Price Set and The Kinks.
The series performed well enough, and a second series followed in March 1969, although Rodney Bewes had bowed out to concentrate on his ITV sitcom Dear Mother… Love Albert and was replaced by another young actor, Derek Fowlds, later famous for roles in Yes Minister and Heartbeat – but for now known by Basil as 'Mr Derek'.
Fowlds became perhaps the best remembered of Basil's partners, interacting well with his furry friend through several series until he called it a day in 1973. They made guest appearances on It's Lulu, and landed a 'best of' show and a Christmas morning programme in 1970.
Basil also appeared in his own right with Val Doonican, the guest on Ask Aspel, and in a Cilla special filmed in Scandinavia. Special Christmas episodes also began to be featured from 1971 onwards, such as that year's Basil in Pantoland.
'Boom Boom!'

The format of The Basil Brush Show was a variety show, with musical and comedy guests, sketches and musical items involving Basil and his co-host. One of the best loved features of the show was the serial story at the end of every episode, with Basil's interruptions and jokes, clashing with his partner's attempts to get on with telling the story. There were catchphrases like the trademark "Boom Boom!" when Basil made a joke, and recurring references including Basil's dislike of puppets, though he got on well with clockwork puppy Ticker.
When Derek Fowlds left the series, he was replaced by Roy North. Like Fowlds, North had a great rapport with the fox, though his style was a little less droll. He also stayed with the programme for a number of years, making guest appearances alongside Basil on Seaside Special and an early edition of Multi-Coloured Swap Shop.
The show returned year after year, and indeed so did many of the jokes. George Martin was still faithfully providing scripts for Basil, but as time went on the material was getting familiar (but then the humour was rarely ground-breaking). While the music acts never quite lived up to the promise of the first series, there were some odd appearances by the likes of Charlie Drake plugging a single release, acts like Dennis Waterman, the New Seekers, the Electric Light Orchestra and even Abba showed up.

Though chiefly a television performer, in May 1975 Basil co-starred with Lord Charles and Lenny the Lion in a Radio 2 quiz Ask a Silly Question!, hosted by Wally Whyton. In 1977-78 Basil presented a Radio 3 series Holiday Special intended to get young people interested in serious music. In September 1977 Ivan Owen made a rare appearance on Radio 3 as himself, with his own choice of records in Man of Action.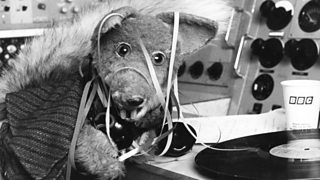 Basil even made a bid to make classical music more youth-friendly on Radio 3
Roy North called it a day as Basil's stooge after four series, and Howard Williams, who had been his first straight man back in the early 60s, came back. The resumed partnership lasted from 1977 to 1979, and as ever there was the usual Christmas special episode each year. These tended to be a departure from the usual format, with more music integrated into the show and a running theme.
Basil Brush's Magical Christmas in 1978 was especially poignant as it featured a visibly ill David Nixon, renewing his own acquaintance with the fox. Nixon had died from lung cancer by the time the episode was transmitted on 23rd December. The programme came close to not being shown, not for that reason, but because BBC television had been blacked out by a strike for several days in the run-up to Christmas, and programmes only resumed that day.
In 1979 Williams was replaced by the youthful Billy Boyle, an Irish actor in his mid-30s but with a very boyish personality on screen. His nationality led to a few dubious jokes, while there was never a buoyant rapport between Basil and Boyle. There had been a shake-up on the script front too, with George Martin leaving in 1977, and a team of writers under script editor Peter Robinson replaced him – not to any startling effect. The series soldiered on until December 1980, when the last Christmas special, Basil's Christmas Cruise went out with guests Michael Hordern, Dilys Watling, the Pasadena Roof Orchestra and Legs & Co.

There were rumours at the time that Ivan Owen wanted Basil to be given a peak-time show using slightly more adult material, and that the BBC was not interested. Basil's next appearance was on ITV schools programme Let's Read with Basil Brush, before he returned to the BBC in 1983 as part of the team on Crackerjack. On the air almost continuously since 1955, it had started to look really tired by the start of the 80s, and Basil was just one ploy to try to bolster viewing figures.
After that Basil's appearances are more sporadic, and spread between BBC and ITV, including shows like Fast Forward, former Crackerjack host Stu Francis's ITV series Crush a Grape and cookery show Hudson and Halls. There was one more starring role in Basil's Joke Machine for Border TV, where he was partnered by Doug Ridley.
But by the end of the 80s Basil was not making many appearances, and he became a fixture of the rising tide of nostalgia compilation shows. One late appearance was in Granada TV sketch series The Full Monty in 1993. Ivan Owen died in 2000, never having become a star in his own right, though he was instantly recognisable as one particular character voice…
In 2002, the character of Basil Brush was reborn in a Children's BBC sitcom, still called The Basil Brush Show. The voice was similar to Owen's characterisation, but it was now a very different era, and Basil no longer appealed to as wide a range of viewers as he had originally. The last original episode was transmitted at Christmas 2007, but repeats were a staple of the CBBC channel until 2011. In a hark-back to one of his 1970s guest appearances too, 2008 saw Basil presenting Basil's Swap Shop, with Barney Harwood as the latest in the long line of co-hosts.
Additional research by Simon Coward
What are your memories of this enduring character? Who do you think was Basil's best human sidekick? Tell us your thoughts in the space below.