The Sunday Post: Doctors and Nurses
We all love a good medical drama. They've been in rude health for years, and have peppered the television and radio listings for decades. Here's a glance at just some of the biggest shows telling of illness, recovery - and characters who set the pulse racing.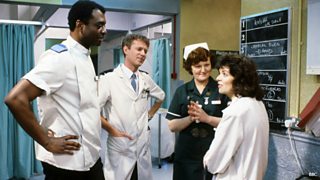 Casualty is undoubtedly the juggernaut of medical dramas, having been on air for close to 30 years. Set in the fast-moving emergency department of Holby City hospital, it has seen a long line of medical staff and stricken patients pass through its doors.
On a weekly basis fresh storylines are created, and viewers play at guessing which catastrophe is going to befall its roll call of characters. But the professional and personal lives of the medical staff are picked up week after week, including nurse Charlie Fairhead, who has been in the drama since its inception.
In 1999, a Casualty spin-off was created, called Holby City (pictured below). It was originally billed as a "nine-part spin-off" but has become a continuing drama. The action is based in the same hospital but across other wards.
Characters from Casualty occasionally turn up in Holby and vice versa, but the original series is now produced in Wales and Holby at BBC Elstree. The staff don't even repair to the same bar.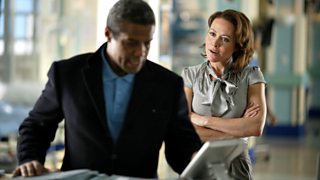 Connie Beauchamp started life in Holby and now runs the emergency department in Casualty
While Casualty and Holby City are linchpins of the Saturday and Tuesday evening schedules, Doctors is the weekday soap opera which has held sway over daytime audiences since 2000. It was also originally billed as a self-contained "series of medical dramas" but developed beyond that. The tangle of patients and medics' lives takes place in a Midlands GP surgery and tackles all manner of hard-hitting issues.
You have to hurtle back to the late 1960s to find a twice-weekly TV drama called The Doctors, also set in a general practice. The actors were put at the forefront of this show, with full-page colour portraits of them featured in the Radio Times.
An interesting note is that an actress called Lynda Marchal (pictured below) was among the regular cast. She's now better known as TV screenwriting heavyweight, Lynda La Plante. She also appeared in Rentaghost, but that's for a future post on stars before they were famous...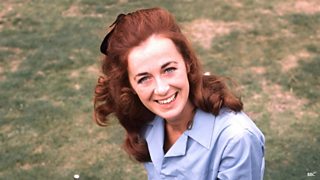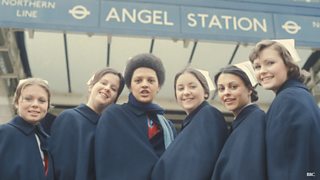 But it's not always doctors who are at the forefront of medical drama. Nurses - chiefly from the fairer sex - have made some compelling television over the years.
Angels (pictured above) ran from 1975-82 and featured a group of hospital nurses, including the likes of Pauline Quirke and Fiona Fullerton. It was directed by Julia Smith, who went on to cement her place in TV history as the co-creator of EastEnders.
This contemporary, gritty London setting for the perils of nursing was later replaced with a more gentle, Welsh backdrop for The District Nurse starring Nerys Hughes in a 1920s period setting. This series (1984-7) was also devised by Julia Smith and her EastEnders co-creator Tony Holland.
The format of this drama would much later be replicated in the East End of London in the 1950s and 60s with the phenomenally successful Call The Midwife, while recent daytime drama The Indian Doctor also has Wales as its setting.
Talking of the softer end of medical drama, the daddy of the bunch has to be Dr Finlay's Casebook (pictured below) which was a regular fixture on our screens from 1962-71. It was set in the practice of a small Scottish country town before the NHS was born and featured a handful of regulars including the dashing doctor and his doughty housekeeper. The stories were also heard on radio, while the TV drama was rebooted in the 1990s on ITV.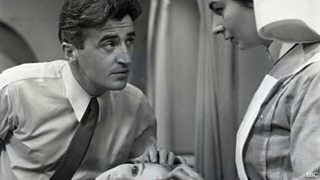 There have been some shows with a medical pedigree over the decades that have been quite removed from the premise of doctors treating patients.
A Very Peculiar Practice was about a university campus practice - but this was merely the setting for a show that veered in an entirely different direction. Starting in 1986 and penned by screenwriting giant Andrew Davies, the show's stars Peter Davison (pictured below) and Amanda Hillman were honoured with a Radio Times front cover.
With a scattering of nuns and a university filled with "manic, feuding intellectuals", this series was much less about medical issues and more about the lives of a series of larger than life characters.
Recent hit thriller Doctor Foster had plenty of scenes in a small town surgery, but it was all about the title character's seething rage over her husband's infidelity. Mind you, she did seem to get up to some mischief as a GP in her pursuit of the truth.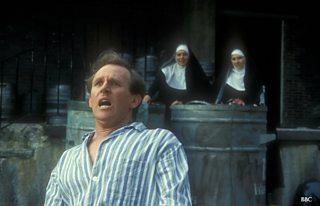 The reach of medical drama went beyond the confines of the UK down the years. Australia - and its flying doctor service - was introduced to the nation in the 1950s. How we all marvelled at a sparsely populated country where the medics might only be able to get you by plane.
The Flying Doctor, starring Australian actor Bill Kerr, took to the radio airwaves in 1958 and was later made for television. Confusingly - but much later - an Aussie-produced drama called The Flying Doctors came to our screens featuring a gaggle of former Neighbours actors including Peter O'Brien and Mark Little.
This is a quick jog around the history of medical drama on TV and radio. Do you have any favourites you would like to mention? Do you loathe them? Is the gore too much for you? Please leave us a comment in the space below.