The Sunday Post: Broadcasting Science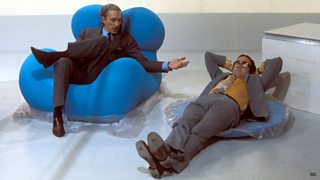 In Tomorrow's World, Raymond Baxter and James Burke see whether inflatable chairs are better with air in them or without
Since the BBC's beginnings there have been programmes tackling science subjects, from early talks and educational broadcasts to the popular series of the present day.
Some of the best remembered titles include Horizon, which began in 1964 in the early days of BBC2 and continues to this day, and Tomorrow's World, starting in 1965 and running for more than 35 years.
Radio science series include Science Now (Radio 4, 1974-1998); the World Service strand Science in Action (sometimes heard in the UK on Radio 5, and not to be confused with the 60s radio series and 80s schools television series of the same name), and Jim Al-Khalili's The Life Scientific which has been showcasing the work of individual scientists since 2011.
There are many things that can be said to come under the broad term of science without actually being presented as that, such as the output of the Natural History Unit and other wildlife programmes, not to mention scientific matters covered in the news.
Astronomy is another area of scientific research with a long BBC history, The Sky at Night the most obvious incarnation, but there were earlier astronomy programmes such as on 25 May 1937 when Dr R.L. Waterfield gave the first television talk on Mars (he had previously broadcast on radio, mostly in a series called – The Sky at Night).
Science, while an impossibly broad topic in one sense, can be broken down into more easily digestible areas. At school it is usually divided into physics, chemistry and biology, and these days computer science is high on the list too.
The BBC covered it when it was more of a novelty with series including The Computer Programme and its successor Making the Most of the Micro, which encouraged the uptake of early home computers. The BBC's 1980s computer series were often presented by Ian McNaught-Davis, whose early television appearances were mostly in his role as a climber, but he was also the boss of a computer company, making him a credible TV expert.
Many series touched on the subject of computers once it was publicly known such machines existed after the war, and the pioneering Alan Turing made some appearances on the BBC before his tragic suicide.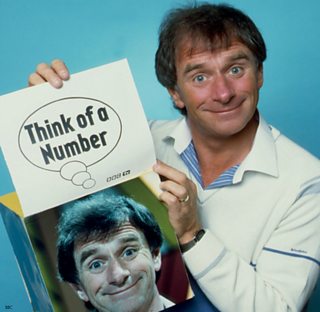 Johnny Ball publicises his new BBC series whose title escapes us for the moment
Presenters are an important factor in any successful factual series, and with science programmes it's vital to find someone who knows the facts but can convey them clearly. That said, it has been relatively rare for actual working scientists to become presenters.
Dr. Magnus Pyke, whose later fame came from appearances on ITV at first, and whose eccentric style was perhaps better suited to television, broadcast on BBC radio from the 1950s. His mixture of erudition and enthusiastic communication made his one of the country's best-known scientists in the 1970s, and not only in his own field of nutrition. In recent years the likes of Robert Winston and Brian Cox have likewise become public figures as popular scientists.
The BBC has sought to increase public awareness of scientific discoveries through the medium of drama. Series such as Microbes and Men, Marie Curie, Freud and Oppenheimer, and single dramas like the Horizon production Life Story, have educated as well as entertained. While there is a danger that the educational message may get lost beneath the dramatic veneer, at least the awareness of science must be increased by these productions. Getting a star like Jeff Goldblum, as with Life Story, helps the cause of course.
Children's programming has contributed as well – not only in schools broadcasts, but with shows like Johnny Ball's series beginning with Think of a Number, which began with maths and expanded into similar areas of science knowledge, and became very popular thanks to Ball's popular and engaging personality.
Another great communicator was James Burke, who came to attention through Tomorrow's World and the Apollo coverage, but then branched out into his series the Burke Special, before fronting authored series like Connections and The Real Thing.
A similar approach was seen in Jonathan Miller's The Body in Question, in which human anatomy and the history of medicine were explored. There have been many factual medical series of course, with Medicine Today being just one that took a broad approach to medical news, as part of the new BBC2's remit of providing niche programmes not covered on BBC1. A ground-breaking series in the 1950s was Your Life in Their Hands, in which specific medical procedures were both explained and shown in detail. Early series showed these via live outside broadcasts, though when the series was revived in later years procedures were filmed or video-taped.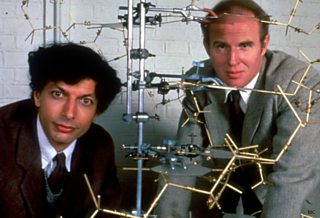 Jeff Goldblum and Tim Piggot-Smith, stars of Horizon's Life Story drama, who got some Meccano for Christmas
Another long-running strand aimed at educating children in particular is the Royal Institution Christmas Lectures. These have been going since the mid-19th century, but after a number of lectures had been broadcast in potted form from the studio, it was decided in the mid-60s to experiment with recording the whole series of lectures from the Royal Institution itself, and this has continued to the present, although for a time other channels took over the broadcasts from the BBC.
Despite the rise of series like Bang Goes the Theory on television and Jim Al-Khaili's The Life Scientific on Radio 4, and the continuing presence of Horizon, there seems to be less obvious coverage of science these days. Educational programmes in general have been slightly sidelined by the dominance of the internet as a source of information, and general interest programmes have become gimmickier.
Horizon, which began as a magazine programme and after a few years started to cover single issues, has a long and admirable history of covering a wide range of subjects, but it cannot be said to have the same influence it once did. Episodes such as its coverage of the early days of the AIDS epidemic, Killer in the Village, showed popular science at its best.
Tomorrow's World was a more topical strand, and kept the magazine format with a range of innovations examined across the spectrum of sciences. While Horizon examined subjects in greater depth, Tomorrow's World was more accessible and this was reflected in its early evening BBC1 transmission slot.
The presenting team changed over the years, beginning with Raymond Baxter, who had begun as a sports reporter for radio in the late 1940s.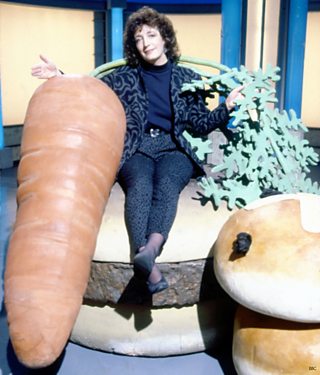 Judith Hann and some giant food - or is Judith just very small?
Having served in the RAF during World War Two, Baxter came to cover many broadcasts about aviation including television coverage of air shows, but he also hosted a lot of programming about cars and rallying.
His first broadcast brush with the world of science was in Scientific Research, a Home Service programme from the Cavendish Laboratory at Cambridge in 1952. On television, in 1954 Baxter presented The Quest for Knowledge showing the work of the National Physical Laboratory.
It was some four years before Baxter was engaged for his first prolonged science series, when he took over the series Eye on Research from Robert Reid. Each edition covered some aspect of research and outside broadcast and film cameras covered the chosen topic. There were several series made, and including a sequence of programmes on the tercentenary of the Royal Society in 1960.
By the mid 60s the BBC Science and Features Unit had been established, and they came up with the idea of a weekly science magazine show to present the latest innovations to solve some of the problems of modern life – Tomorrow's World.
After an initial run of a few weeks in the summer of 1965, the series returned in the autumn and continued thereafter. Baxter became a television personality as a result, and was a fixture on the show until 1977 when he fell out with its new editor, although he made guest appearances in later years.
It continued until 2003, with other presenters including James Burke, Michael Rodd, William Woollard, Kieran Prendiville, Judith Hann, Maggie Philbin and Peter Snow.
So what is the future of science broadcasting? BBC News makes efforts to cover science in its bulletins, but the format has its limitations. The Open University continues of course, and while it was always geared towards a strictly academic audience, the potential to be lured in by the random nature of one its programmes seems to have disappeared.
But with topics like climate change, threats to human health and the tantalising search for alien life always in the headlines, it doesn't look like there will be a shortage of science programme ideas for some time to come.
Has Horizon broadened your horizons? Tell us how you were inspired by BBC science coverage - from Tomorrow's World to Bang Goes the Theory. Extra points for solving (or is it proving?) Fermat's Last Theorem.