Advent Calendar Day 14: A Poem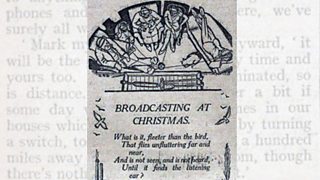 Today's calendar window opens up to reveal a poem. It featured in the 1926 Christmas edition of the Radio Times magazine and then again in 1927 as part of a collection of poems about broadcasting. "It is not a strange thing", the introduction to the collection claimed, "that men have
made poems about broadcasting for this new magic, which pours the music of the concert room into the stillness of the cottage and brings the song of nightingales into the heart of Town, is of the very stuff of poetry."
BROADCASTING AT CHRISTMAS
by Katharine Tynan

What is it, fleeter than the bird,
That flies unfluttering far and near,
And is not seen, and is not heard,
Until it finds the listening ear?

It is the multitudinous voice,
That brings the good news far and wide,
And bids good people to rejoice
In town and in the countryside.

Of old, the angels bore the great
Tidings of joy from the high skies,
But here's a messenger of late
Bears Christmas tidings as he flies!

And through the speech and violin
There is a lovelier message swells,
And they have broadcast ChristmasE'en,
The voices of the Christmas bells.
Ever enamoured with the magic of the wireless, here at BBC Genome we feel it's still magical. Do you agree?