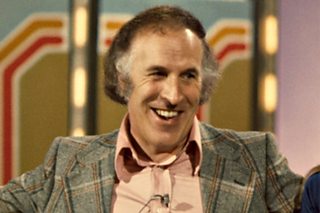 Veteran broadcaster and entertainer Sir Bruce Forsyth has died aged 89. The Genome blog looks back at some of his BBC appearances.
A brief look through the BBC's listings shows the scope of Sir Bruce Forsyth's career. He first appeared on television in 1939 in an edition of the series Come and Be Televised, which was broadcast from the annual RadiOlympia exhibition. At that time he was known as Bruce Johnson - his full name was Bruce Joseph Forsyth-Johnson and he was only 11 at the time.
He continued in show business, building a career as an all-round entertainer interrupted only by National Service in the RAF. His first actual BBC credit (the pre-war appearance was unbilled) was on television in Variety Parade in 1954, and it is through television appearances that he was best known. He also appeared on radio however, notably as a regular on Educating Archie in 1959.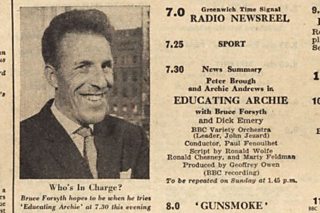 A 1959 listing from Radio Times for Educating Archie, with Bruce Forsyth.
Meanwhile, from 1958, he gained television stardom as the host of ITV's Sunday Night at the London Palladium. His BBC appearances were few through the 1960s - after his ITV success he was in demand for stage and cabaret work. For the BBC, he appeared in a one-off show built around his talents, and was a guest on the Morecambe and Wise Show.
In 1971 he starred in one of his best-remembered roles as the host of The Generation Game. The format was originally part of a Dutch variety show, but BBC executives saw that it could be popular for Saturday evenings, as it indeed proved to be. The show involved teams of related couples from different generations competing in games – most famously attempting to master skills after a brief demonstration, or taking part in comedy plays. The Generation Game gave rise to some of Sir Bruce's best-known catchphrases, such as "Nice to See You… to See You Nice", and "Didn't they do well?" He also wrote and sang the theme tune.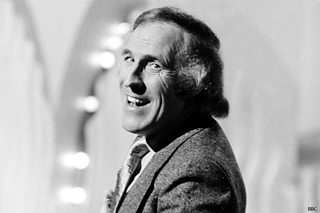 Sir Bruce's rapport with the contestants was one of the most important elements in the Generation Game, putting them at ease and getting the best out of them. However, after seven series he decided to move on, and spent the next part of his career at ITV on a succession of formats including game shows like Play Your Cards right. The Generation Game had another outing between 1990 and 1994 on the BBC.
He returned to the BBC for a well-received appearance as guest host of Have I Got News for You in 2003, and this was followed by him being approached to be the main presenter of a new celebrity based ballroom dancing show which began in 2004 – Strictly Come Dancing. Through Strictly, Sir Bruce became known to a whole new generation of viewers. He stepped down from the show after the 2013 series.
Sir Bruce Forsyth's career lasted longer than any other male entertainer on record, and he gave great pleasure to viewers and listeners for many years.