Flashback to the 1980s: Behind the scenes of BBC TV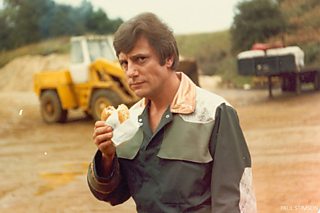 Paul Darrow enjoys lunch during the filming of series four of cult sci-fi series Blake's Seven. The drama, created by Terry Nation, ran from 1978 to 1981 on BBC One
Here at BBC Genome, we love to hear stories from those who worked behind-the-scenes on BBC productions. Paul Stimson is one of those. His work in the early 1980s for a car company hired by the BBC gave him an insider's view.
"I worked for a company that supplied vehicles and drivers for hire. Most of the time we were sub-contracted to the BBC," says Paul. Paul began work making deliveries and collecting props for BBC programmes.
He recalls that his first job was to deliver an important item for Noel Edmonds' Multi-Coloured Swap Shop. "I went all the way to Biddenden Pram Museum to pick up a wooden pram. I have no idea what they did with the pram!" Multi-Coloured Swap Shop was a children's show that filled three hours of a Saturday morning with phone-ins, celebrity guests, cartoons and music, based around the concept of children swapping their unwanted possessions.
Being central to the movement of props and sets meant Paul got a first-hand view of some of the era's iconic television shows in the making. During his time working with the BBC, many memorable shows were filmed - from sitcoms such as Terry and June to more serious dramas such as the 1982 production of Baal, starring David Bowie: "the only closed set I encountered during my BBC days," he says.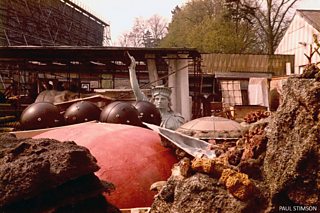 Television props stacked in a backlot at Pinewood studios, in the early 1980s
As a driver, Paul also remembers meeting some notable actors and presenters; from Sir Alec Guinness (while filming for Smiley's People), to Peter Davison (Dr Who), Kenny Everett, Dick Emery and the cast of sci-fi series Blake's Seven, including Paul Darrow (pictured at top) who played lead character Kerr Avon.
He recalls one occasion of working on both Doctor Who and Blake's Seven at once. "Peter Davison hadn't seen the set of Blake's Seven, so I took him round… so technically Doctor Who was on Blake's Seven!" Davison was first seen properly as the fifth Doctor on BBC One in January 1982 (after a glimpse in Tom Baker's final episode in March 1981) not long after Blake's Seven had drawn to a close at the end of its fourth series.
Paul was soon called on to do many different jobs for the BBC crews. "I would find myself on a job somewhere and the Assistant Producers recognised me and asked me to stay for the duration of the shoot - sometimes a couple of days."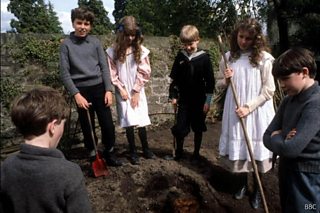 The young stars of the 1982 BBC dramatisation of E. Nesbit's novel, "The Story of the Treasure Seekers"
Paul describes helping in many different departments – including make-up, special effects and wardrobe. "When you were pulled onto a job, you were booked for the day. If they liked you, you'd get to know the crew and they'd ask you to do lots of different things."
Paul remembers providing the titular treasure for The Story of the Treasure Seekers, an adaptation of the E. Nesbit tale, starring Maurice Denham. Six children who are attempting to restore the family's fortunes resort to digging for treasure, but a prop was needed when this scene was shot on Wimbledon Common, says Paul: "I got a 2p piece and painted it with quick drying enamel paint."
Another highlight was providing an important wardrobe item to a classic spy drama: "During the filming of Smiley's People," he recollects, "I had to cut up a new pair of slippers for Beryl Reid with a razor blade and then dirty them in the mud. She told me that she got her character from her feet upwards, so it was important that the slippers felt real."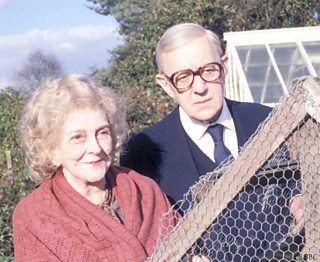 Beryl Reid (pictured here with Alec Guinness) sported very authentic footwear in the 1982 spy drama Smiley's People...