Advent Calendar Day 23: Watch Wogan on Christmas Day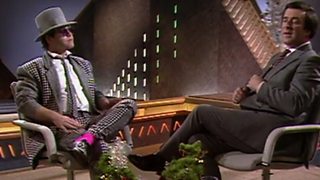 We're almost there! And what better way to get ready than by transporting yourself to 1984. The late Sir Terry Wogan's Christmas Day guests included Freddie Starr, Kiri Te Kanawa and Elton John, with a special satellite interview with Victoria Principal, best known for her role as Pamela Barnes in American soap opera Dallas.
You can watch the full programe here or, if you're in the middle of Christmas preparations, enjoy this short clip of Terry Wogan being offered an unusual role in Dallas...
Victoria Principal offers Terry Wogan a part of Dallas.
Don't forget you can find more BBC archive content by running a search on Genome and filtering the results by Programme Available. If you're feeling adventurous, just run an empty search and click on Programme Available, or click here. There are more than 11,000 programmes you can watch or listen to on those dark December nights...