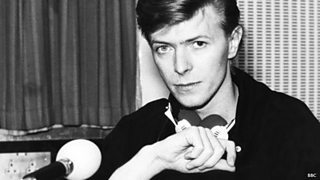 David Bowie presenting Star Special on Radio 1, 1979.
The death of rock legend David Bowie at the age of 69 came as a shock this morning to his legions of fans and admirers. It's one of those moments you know you will long remember, as the end of an era - like the deaths of Elvis Presley, John Lennon, Michael Jackson... Bowie's long career and vast influence will doubtless be celebrated and detailed at length in the coming weeks, but here are a few highlights from the Genome archive.
David Bowie's first BBC appearance, under his birth name, was as lead singer of Davy Jones and the King Bees on the early BBC2 music show The Beat Room on 27 July 1964. In November of that year he was on the BBC1 magazine programme Tonight, where he spoke for a society opposing prejudice against long-haired men, in an interview with Cliff Michelmore. The following March he fronted his new group, The Mannish Boys, in the BBC2 series Gadzooks! It's All Happening. With the rise of the Monkees and the prominence of another artist called, Davy Jones, Jones changed his name to David Bowie, and performed as a solo artist under his new name on Radio 1 show Top Gear, presented by John Peel and Tommy Vance, in December 1967.
Regular appearances on radio and television followed, as Bowie's career took off, including influential outings on Top of the Pops and The Old Grey Whistle Test. In 1975 he was the subject of the Omnibus episode Cracked Actor, easily the most repeated episode of that strand, and yet his huge celebrity did not prevent him hosting his own edition of Radio 1's Star Special in 1979, presenting his own choice of tracks.
He had renewed chart success in the early 80s, from Under Pressure, recorded with Queen, through the Let's Dance album, to his duet on Dancing in the Streets with Mick Jagger in 1985. He was also an actor, and his roles included the lead in Brecht's play Baal for the BBC in 1982.
Always an innovator with his regular changes of style and persona, Bowie's music became more experimental in later years, although he himself became more reclusive, and his enduring musical legacy gave him mythic status in his own lifetime. His death comes just days after the release of his already warmly received 25th studio album, Black Star.
RIP Mr Bowie.