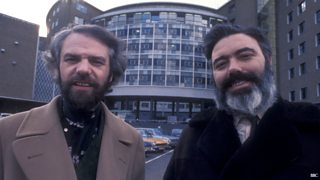 Alan Simpson (right) with writing partner Ray Galton outside Television Centre in 1970. Together they wrote Hancock's Half-Hour, Steptoe and Son, and hundreds of other scripts, changing the face of British comedy in the process
The comedy writer Alan Simpson has died at the age of 87. Genome takes another look back over his career, and the many outstanding shows he wrote with Ray Galton.
Collaborating from the 1940s to the 1970s, Alan Simpson and Ray Galton were responsible for some of the most popular comedy scripts ever produced for BBC radio and television. They wrote every episode of Hancock's Half Hour, and followed it with Steptoe and Son, which ran from 1962 to 1965, and 1970 to 1974.
Galton and Simpson teamed up when they were both recovering from TB in a sanatorium in Milford, Surrey, contributing scripts to the hospital radio service. After being discharged from hospital they turned professional, and as part of the writing team on the series Happy-Go-Lucky, came to the attention of up-and-coming comedian Tony Hancock, ending up writing material for his stage and radio acts.
This eventually led to the ground-breaking radio series Hancock's Half-Hour, where they refined Hancock's personality into the character of Anthony Aloysius St. John Hancock, whose exploits are constantly hampered by his associates, played by Sid James, Bill Kerr and (in later episodes) Hattie Jacques. Various additional roles were played Kenneth Williams, most notably the nasal-voiced 'Snide' character.
Galton and Simpson's scripts managed to get away from old-fashioned gag-based comedy to some sort of real characterisation, while also indulging in occasional flights of fantasy (literally, in the case of the often-repeated 'test-pilot' sequence). Perhaps the most famous Hancock radio episode however was Sunday Afternoon at Home, which illustrated the tedium of the British 1950s Sunday by daring to use long sequences featuring little or no dialogue.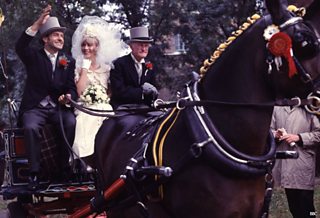 Alan Simpson and Ray Galton's Steptoe and Son was often downbeat for a comedy, but here in a 1965 episode Harold plans to escape from his father's clutches by getting married...
Hancock's Half-Hour successfully transferred to television in 1956, although only Sid James continued as a regular character. While omitting some of the whimsy of the show's radio version, the television Half-Hours showed Galton and Simpson fullly grasp the potential of the newer medium.
While Hancock's Half-Hour was not the first television sitcom, it was hugely influential and was one of the best-remembered shows of the 1950s. Hancock's regular costume of astrakhan-collared coat and homburg hat became instantly recognisable, and Galton and Simpson's skillful scripts allowed Hancock to practice his impeccable timing, and amazing range of facial expressions.
In 1961 Hancock decided to break the partnership with Sid James, and the last series Galton and Simpson wrote for him, just called Hancock (because they were no longer half-an-hour long), included some legendary examples of television comedy, such as the Blood Donor episode, and the first episode, Alone, in which Hancock performed solo for the whole 25 minutes.
A feature film, The Rebel, followed, written for Hancock by Galton and Simpson, but the comedian was restless and decided to end the partnership. Undaunted, Ray and Alan were commissioned to write a series of 10 one-off scripts under the title Comedy Playhouse. One of these, The Offer, became Steptoe and Son.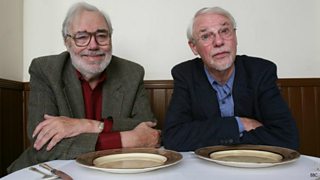 Alan Simpson and Ray Galton remained lifelong friends even after their writing partnership ended in 1978
Comedy Playhouse saw Galton and Simpson often writing for actors rather than comedians, which they relished (although they continued to provide stand-up material for friends like Frankie Howerd). There was a second series of Comedy Playhouse written by Galton and Simpson, after which other writers began to contribute to it. Steptoe and Son was the only one of Ray and Alan's episodes to be turned into a series, but it was to be a truly outstanding example of the sitcom genre.
Concerning father and son rag-and-bone men Albert and Harold Steptoe, who lived in Oil Drum Lane, Shepherd's Bush, Steptoe and Son ran for four series in the 1960s and four more, in colour, in the 1970s, plus two extended Christmas episodes. Not counting sketches and short episodes in Christmas Night with the Stars, there were 57 episodes in total, and two spin-off feature films.
Although there were occasional fanciful sequences (such as a Kung-Fu fight involving a gang of pensioners in a 1974 episode) the tone overall was downbeat, and without the studio audience's laughter many episodes could have been seen as tragedies, not comedies. Harold's social aspirations and attempts to escape from his clinging, devious father - while based on delusion - can be heart-rending.
Some episodes only involved the two Steptoes, others perhaps one or two other characters, but sometimes there were large casts if there was a wedding or a funeral. Notable episodes included The Lead Man Cometh (with a memorable appearance by Leonard Rossiter), The Desperate Hours (with Rossiter again, as an escaped convict), and Divided We Stand, where, tired of co-habiting with his father, Harold builds a wall throughout the house to split it in two.
When Steptoe and Son finally ended at Christmas 1974, Galton and Simpson continued writing together for another four years, including more playlets, for ITV's Galton and Simpson Playhouse. Alan Simpson gave up scriptwriting in 1978 to concentrate on his business interests, but Ray Galton continued to collaborate with colleagues like Johnny Speight and John Antrobus. Galton and Simpson however remained firm friends.
Unlike Ray Galton, Alan Simpson was also an occasional performer, contributing unobtrusive cameos in early episodes of Hancock's Half-Hour, as a man subjected to endless stories by the loquacious Hancock. Galton and Simpson were also partners with Eric Sykes and Spike Milligan in Associated London Scripts, which nurtured the career of many an aspiring comedy writer.
However, together with his partner, it is as a peerless writer of outstanding comedy scripts that Alan Simpson will always be remembered.