The Sunday Post: Missing - Believed Unscheduled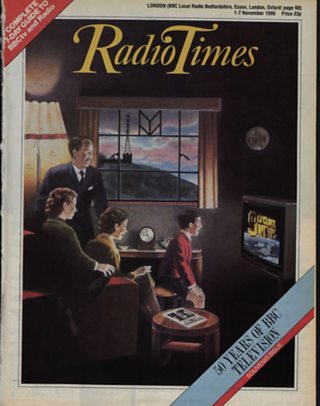 Radio Times publicises the TV50 season in 1986 - but not all the scheduled programmes were to go out as planned...
Here at Genome we face a lot of challenges with our extensive database. One of them is the days and weeks of schedules and individual programmes that do not currently appear on the website.
There are a number of issues behind these gaps in the record. For example, prior to the start of Radio Times in 1923, there were about nine months of BBC programmes since the Company (as it then was) was founded, which we have not yet been able to include. These will probably have to be pieced together from the BBC's records of its actual transmissions.
We also have some gaps where no issue of Radio Times was published for other reasons – there is a full list in the FAQs, but here are the details:
14 May 1926 was the first time Radio Times was not published. This was due to the General Strike, which saw almost all newspapers and periodicals stop publication for the duration.
21 and 28 February 1947 saw the next gaps, as the very severe winter led to a fuel crisis, which also saw the recently returned television service and the new-born Third Programme closed temporarily.
A printing dispute meant that the 8 September and 13, 20 and 27 October issues in 1950 did not come out. A similar dispute in 1956 meant that RT was printed in France in broadsheet newspaper format, though at least in that case the details are available.
There were no problems for some time after that, apart from a few occasions where national editions were published due to limitations on printing facilities. An issue was missed on 1 August 1981, the issue following the week of Royal Wedding of Charles and Diana – luckily missing the huge demand for that number. In 1983, printing disputes meant that issues from 2 and 9 April and 3 December did not appear.
As well as whole weeks being absent, there are also days where problems have arisen due to unforeseen circumstances, when planned programmes did not go out. These include momentous world events like 9/11 and the death of Princess Diana, which resulted in the schedules being abandoned or severely altered not just on the day the events occurred, but for days or even weeks afterward. Past events of a similar nature include the deaths of monarchs and the outbreak of wars.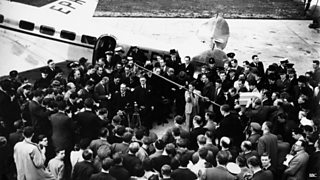 A television scoop - live coverage of Prime Minister Neville Chamberlain arriving at Heston Aerodrome with his 'piece of paper' - September 1938
For example, Radio Times was published as usual on 1 September 1939, only for it to be superseded by the outbreak of World War Two. An amended schedule was presented on the following Monday, 4 September, though the preceding weekend was incompletely presented as a result, with the replacement of the National and Regional Programmes by the Home Service, and the closure of the Television Service, on 1 September.
In another instance, the assassination of President Kennedy on 22 November 1963, the schedule was only slightly changed though there were some additional programmes, proving controversial when the scheduled episode of the Harry Worth comedy Here's Harry was transmitted despite the grim news.
There are also many individual programmes which were not transmitted for one reason or another – and unscheduled programmes that were broadcast in their place.
At the moment, we are confined to publishing what was scheduled in Radio Times, and then only what was listed in a single regional issue, usually the London or South-East of England area. The original Radio Times covered the whole country in one edition, but this gradually refined into smaller areas of the UK, before in recent years the number of regional editions was scaled back again. We're still working on the best way of displaying regional opt-outs.
We are also missing some television listings from the 1930s, when they were in a supplement or a special page in RT, and then not in every copy (because television was only visible in the London/South East of England area), so we have not always had the data available. But there are records of that information so it will appear on Genome in time.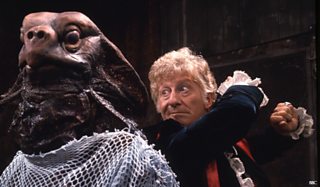 The Doctor tries Venusian Aikido on a Sea Devil in a 1972 adventure - repeated unexpectedly in 1974 (though not with this scene as it was just for the photo shoot!)
Finally, let's look at some specific examples of unscheduled programmes…
1936 - The BBC's television service was scheduled to begin on 2 November, but just after staff had been appointed in August, senior producer Cecil Madden was instructed to start work on programmes to go out that month. The RadiOlympia exhibition was having difficulty selling stands, and the BBC was asked to help out by organising a demonstration of television.
Although they only had a few days to prepare, the BBC team was able to mount a basic service of live programmes and film material for the duration of the show. None of these programmes was billed in Radio Times, nor were several weeks of experimental shows, including the first edition of long-running magazine Picture Page, which went out during October (notwithstanding the billing for 2 November saying that it was the first…)
September 1938 – Television outside broadcasts from Heston Aerodrome of the return of Prime Minister Neville Chamberlain from Berchtesgaden and Munich were speedily arranged. The second was especially historic as Chamberlain delivered his infamous 'piece of paper' speech. These were also the first occasions when a Prime Minister spoke on television, though they were also captured by radio and newsreel cameras.
1972 – As we detailed a couple of weeks back, the pilot episode of Are You Being Served? was unscheduled when it was first shown. Cancellation of some Olympic Games broadcasts necessitated programmes being quickly found to fill the gaps, and that included this Comedy Playhouse episode.
27 May 1974 – Due to cricket coverage being cancelled, an omnibus version of the Doctor Who story The Sea Devils, which had previously been transmitted at Christmas 1972, was given another airing.
7 November 1986 – As part of BBC2's TV50 season, celebrating the half-century of television, the first episode of Not Only… But Also was to be screened. However at the last minute clearances could not be obtained so an early Likely Lads and a 1962 edition of Points of View were substituted, separated by an Interlude, The Kitten dating from 1954.
There have been various occasions since when a programme or film has been deemed unsuitable for transmission at a particular time because of a news event which would make it in poor taste; also when a particularly famous star or personality has died, sometimes a special showing of one of their films or programmes is hurriedly repeated before it can be advertised in Radio Times.
Also, there are many occasions when because of an over-running sporting event, or an extended news bulletins, programmes have been cancelled or postponed. With some sporting events there are alternative schedules published, and obviously only one of these alternatives would actually have come to pass on the day in question.
We love creating the Genome database, and we look forward to being able to add even greater levels of detail in the future – though our first task is still to correct OCR errors which arose from scanning the Radio Times. Of course, we couldn't do it without the support of our dedicated band of crowd-sourcing editors – please continue to contribute, we greatly appreciate your efforts!