Dad's Army at 50 - You Have Been Watching...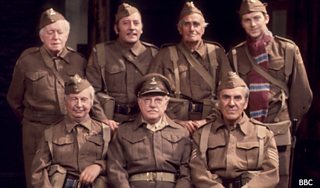 The cast of Dad's Army, pictured in 1973 - back row l-r Arnold Ridley, James Beck, John Laurie, Ian Lavender; front row l-r Clive Dunn, Arthur Lowe and John Le Mesurier
The first episode of Dad's Army was shown 50 years ago, on Wednesday 31 July 1968. The Radio Times billing for the new series said: "It's back to the 1940 days of gas masks, sandbags, and tin hats for this new comedy series about the Home Guard. The cast includes Arthur Lowe and John Le Mesurier." The series was also given a full page article detailing its concept, and the background on its three main stars, Lowe, Le Mesurier and Clive Dunn.
Dad's Army's ubiquitous presence on our screens – there has only been one year since the series ended in 1977 when at least one episode has not been shown (1987, since you ask) – means that it has become embedded in the culture of the United Kingdom. It could be argued that there's nothing to say about Dad's Army that hasn't been said already – but it would be invidious to allow the 50th anniversary of the first episode to go by without us marking the occasion in a suitably Genome manner…
Dad's Army was the first joint venture of writing team Jimmy Perry and David Croft, and it was to be followed by a string of other successful collaborations. Perry was an actor who ran a repertory company for many years after World War Two (during which he had been in the Home Guard and run a concert party in India; afterwards he would become a holiday camp entertainer – experiences he put to good use in his writing career). He had then broken into television in a small way, including playing parts in sitcoms produced by David Croft.
John Le Mesurier, Arthur Lowe and Clive Dunn in a scene from the first episode of Dad's Army, The Man and the Hour. Series 1 and 2 of the sitcom were recorded in black and white
Most of the cast of Dad's Army were seasoned troupers, with decades of experience. Arthur Lowe, who played Captain George Mainwaring, the commander of the Walmington-on-Sea Home Guard, became an actor after World War Two. His first BBC job was in a Third Programme play, The Fool's Saga, in 1949, and he first appeared on television in 1951 in a play, To Live in Peace, set in Italy.
Lowe made frequent BBC appearances through the 1950s and early 1960s, including the TV play So Many Children (alongside Thora Hird and a young Michael Caine), Maigret and Z Cars, as well as continuing to take part in radio plays. By then he had become a regular in Coronation Street, as Leonard Swindley, a lay preacher and manager of a clothing shop. Lowe appeared in the soap from its early days in 1960, until 1965, when, unusually, his character was put into two spin-off comedy series, Pardon the Expression and its sequel Turn Out the Lights. But Captain Mainwaring gave Lowe a second bite at fame, and became his greatest creation. Lowe has a brilliant line in physical comedy, delivers his lines with impeccable timing, and he brings a rare depth to a sitcom character.
Three of the stars of Dad's Army – John Le Mesurier, John Laurie and Arnold Ridley – actually had television experience dating back to the 1930s. The first two had acted (on one occasion Le Mesurier also stood in as the television announcer when the scheduled announcer fell ill), while Ridley was interviewed about his writing career. Arnold Ridley was then best known for the play The Ghost Train, but he later lost a great deal of money investing in one of his own plays. By the 1960s he was a jobbing actor, for example as Doughy Hood in The Archers. Ridley's character Private Charles Godfrey is remembered for needing to "be excused" regularly, for infallible politeness mixed with vagueness, and for his two sisters with whom he lived.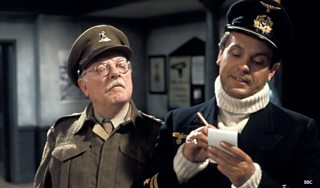 Perhaps the most famous episode was The Deadly Attachment from 1973 - in this rehearsal shot, Arthur Lowe has his natural hair colouring, before make-up was applied
John Le Mesurier was an established character actor by the late 1960s, appearing in straight plays as well as comedies, including Hancock's Half-Hour, and the ITV sitcom George and the Dragon with Sid James and Peggy Mount. He and Clive Dunn were old friends – they had appeared in BBC television children's series Happy Holidays in 1954, alongside Le Mesurier's then-wife Hattie Jacques – and they each agreed to take part in Dad's Army if the other did.
Clive Dunn began acting while he was a prisoner-of-war during World War Two, and started making radio and television appearances soon after the war ended. He was a comedian and actor, and like John Le Mesurier often appeared in children's programmes. These included The Adventures of Charlie Quick – a character name he would re-use in his later series Grandad. He worked with Michael Bentine on radio in Round the Bend and on television in It's a Square World, and had regular roles in ITV sitcom Bootsie and Snudge and BBC Two's The World of Beachcomber. Though he specialised in older characters, Dunn was one of the younger regulars in Dad's Army, and was thus able to perform Corporal Jones' frequent stunt sequences.
John Laurie can perhaps boast the earliest credit in Genome of any Dad's Army cast member, as he took part in a radio programme reading poems by Robert Burns in 1926. His distinctive features were seen in the Hitchcock film of The Thirty-Nine Steps and Laurence Olivier's Henry V. He was well known for his Shakespearean performances and verse readings, and turned up regularly on radio, television, theatre and film. Like Jimmy Perry, Laurie had served in the Home Guard, but had also seen active service in the First World War. His Dad's Army character, Private James Frazer, is usually portrayed as Walmington-on-Sea's undertaker, though in the first episode of the show he is said to run a philatelist's shop (but then philately will get you nowhere…)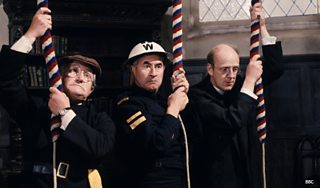 Other regular cast members included Edward Sinclair as the Verger, Bill Pertwee as Chief Warden Hodges, and Frank Williams as the Vicar
The platoon's spiv character, Joe Walker, was a role that Jimmy Perry had originally designed for himself, but David Croft persuaded him that it would be more diplomatic for someone else to play the part, so he couldn't be accused of giving himself all the best lines. James Beck was cast in the role, but he would sadly die during the making of the 1973 series, though he is seen in every episode, thanks to the end credits. These were shot during the making of the 1969 episode Battle School, and show the whole platoon advancing over a training ground (filmed at an actual army training area near Thetford in Norfolk). Jimmy Perry did make one cameo appearance in Dad's Army, as a music-hall comedian in the last episode of the first series.
Frank Pike, played by Ian Lavender, was based on Perry's own age when he was a member of the Home Guard, although the characterisation was an exaggerated "mother's boy" - his mother, Mavis Pike, was played by Janet Davies. Pike was also an important part of the back story of Sergeant Wilson, whom Pike calls "Uncle Arthur". Although it was never explicitly stated in the programme, it was implied, and Croft and Perry later confirmed, that Wilson was Pike's father, and Wilson, Pike and Mrs Pike constituted an effective family unit – the only one seen in the programme.
Casting is one of the dark arts of comedy, and things could have been very different with some of the other actors considered for these roles. For example, Jon Pertwee was approached to play Mainwaring – as it transpired the only Pertwee in the series was Jon's cousin Bill Pertwee, who played ARP Warden Hodges. Similarly, David Jason was one possible choice to play Jones - like Clive Dunn he was adept at "old man" characters, like the old prisoner Blanco he played in Porridge.
Dad's Army has a very British style of humour: it can feature slapstick one minute and subtle character comedy the next; it has an unrivalled roster of catchphrases, although they do not seem imposed on the characters but happen naturally. It is also a programme that is suitable for family viewing without being anodyne, and at the heart of it there is the superb comic technique and timing of a cast which managed to be the right people in the right place at the right time to create a comedy classic.