We're celebrating 60 years of the Eurovision Song Contest with a Special Anniversary Event!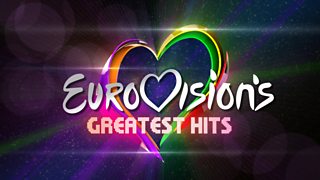 Today we have some VERY exciting news.
As part of the European Broadcasting Union's celebrations for the 60th anniversary of the Eurovision Song Contest, we'll be hosting a concert full of show-stopping performances from some of Eurovision's greatest acts of all time. 'Eurovision's Greatest Hits' is to be held at London's Eventim Apollo Hammersmith on Tuesday 31st March, and will be broadcast shortly after on BBC One and across Europe.
Hosted by our own Graham Norton and ESC 2013 host, Sweden's Petra Mede, the show will feature performances by classic and contemporary Eurovision acts and some surprise guests. Graham says: "I love Eurovision and am honoured to be co-hosting this special show. I cannot think of a better way to celebrate 60 years of the greatest song contest in the world!"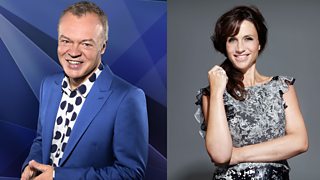 Graham and Petra: our fabulous co-hosts
Each day this week, we'll be revealing more acts, so don't forget to come back to find out who else will be joining the list! If you want join us in the audience at 'Eurovision's Greatest Hits', tickets will be available to purchase at 10.15am (GMT) / 11.15am (CET) on Friday 6 February 2015 right here at bbc.co.uk/eurovision for UK bookings, and on Eurovision.tv for international bookings.
So, without further ado, here are the first three acts to be announced.
Conchita Wurst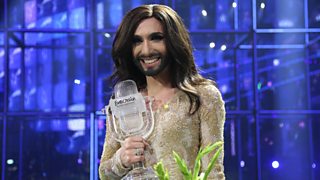 Conchita after winning Eurovision 2014
Winner of last year's contest 26 year old Conchita Wurst stormed the Eurovision stage in Copenhagen securing 290 points and a win for Austria with the powerful 'Rise Like A Phoenix'. Upon being awarded the trophy, Conchita held it aloft and proclaimed: "This night is dedicated to everyone who believes in a future of peace and freedom". Two days after her Eurovision performance, her song topped Russia's download chart. Recently, Conchita was the headline act during London's LGBT Pride Parade.
Herreys
'Diggiloo Diggiley' was 1984's winning song for Sweden and the three Herreys brothers (Per, Richard and Louis). Sweden's best selling pop act in the 80s Herreys gave the country its second ever victory, ten years after ABBA won in Brighton with 'Waterloo'. Last year they reunited to celebrate the 30th anniversary of their Eurovision win, and now, they're back again!
Natasha St-Pier
Natasha St-Pier came fourth in the 2001 competition held in Copenhagen with the song 'Je n'ai que mon âme' ('All I Have Is My Soul'), winning 142 points for France. The single charted in France for 26 weeks peaking at number two. Natasha has now released eight albums, and has sold over two million albums in France. More recently, Natasha has been a coach on The Voice of Belgium and was France's commentator for the Eurovision Song Contest in 2014.