Six acts, three songs, You Decide returns in 2019!
Today we can reveal exciting changes for our song selection show as a brand new location and format details are revealed for Eurovision: You Decide. Presented by Mel Giedroyc and Måns Zelmerlöw, BBC Music's Eurovision: You Decide will be broadcast live from MediaCity UK in Salford as the show comes to the North West of England for the very first time.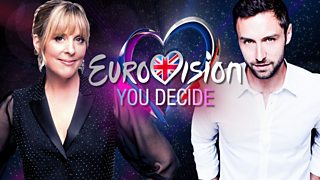 As well as a new home, there are also exciting format changes coming too, as from the hundreds of songs that have been submitted, three will be performed on the night by six different artists. The six acts will compete for the honour of representing the United Kingdom at the Grand Final of the Eurovision Song Contest 2019 in Tel Aviv, Israel.
In the exciting new format, each of the three songs will be performed in two musically different ways, by two different acts. There will be three rounds of 'song-offs', with six acts performing in total. Mel Balac, Creative Director for Entertainment BBC Studios and Executive Producer of Eurovision: You Decide said: "This year the three songs presented to the United Kingdom have been selected with the help of an international jury. Our exciting "euro-version" format will give fans the chance to compare and contrast these fantastic songs in a fresh, new way and deliver the United Kingdom the artist it deserves to fly the flag out in Tel Aviv in May."
Kate Phillips, Controller of Entertainment Commissioning at the BBC said: "Forget about a sing-off, next year it's all about the song-off as we once again try to marry a great singer with a great song, one which could finally get us on the left hand side of the leader board. We may be leaving the EU but we are still determined to win Eurovision again one day!"
As well as soon to be announced guest acts. BBC Radio 2's Ken Bruce will be broadcasting his show live from Salford on the morning of the show.
Eurovision: You Decide (1x90) will be broadcast on BBC Two in February 2019, as part of BBC Music's programming on the channel.
The Executive Producer for BBC Studios is Mel Balac and the Series Producer is Lee Smithurst.
Eurovision 2019: The Executive Producer for BBC Studios will be UK Head of Delegation, Andrew Cartmell and the Series Producer will be Lee Smithurst.The Commissioning Editor for the BBC is Rachel Ashdown. The contest will be held in Tel Aviv, Israel and the Grand Final will be broadcast live on BBC One and BBC Radio 2, with the semi-finals being broadcast on BBC Four.