James Newman is our UK Eurovision artist for 2020!
Today we are pleased to announce our Eurovision act, James Newman. He'll be representing the UK in Rotterdam in May with his song 'My Last Breath.' The track was played on BBC Radio 1 and 2 this morning and the video is available here on the official Eurovision YouTube channel.
James is a multi-platinum selling, Brit Award winning and Grammy nominated songwriter, having won a Brit for British Single of the Year for 'Waiting All Night' performed by Rudimental and Ella Eyre.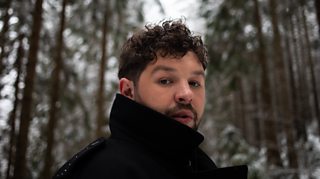 James grew up in Settle in the Yorkshire Dales with younger brother John Newman, who is also a successful recording artist. At 18, James moved to Newcastle to study a HND in Popular Music. A few years later success came knocking as James met his now friend and then work colleague Sophie, whose brother had just started a band called Rudimental. Which little did he know at the time, would be the key to James' breakthrough.
Through this connection, Rudimental met James' brother John, who with Rudimental wrote the UK Number 1 single 'Feel The Love'. After seeing the success of 'Feel The Love' James was spurred on to write something of his own after seeing his brother's success.
It wasn't long before James wrote 'Waiting All Night', which he sent to Rudimental and became a Number 1 hit in the UK. It was James' first success as a songwriter and it also earned him a Brit Award in 2014 for 'British Single of the Year'. He went from working 50 hours a week in a restaurant to having a Number 1 single and landing a publishing deal in the same week.
James' life changed overnight. From the success of 'Waiting All Night' he was able to become a full time songwriter. It wasn't long before he was able to write another UK Number 1 single, this time for Calvin Harris ft. John Newman called 'Blame'. The song topped the charts in several countries including The Netherlands, Sweden, Norway and Mexico.
James has worked with many famous artists over the years including friend Ed Sheeran, who recorded the vocals on his track 'Lay It All On Me' which was certified platinum in both the UK and the US. As well as UK success, James has also been Grammy nominated twice, co-writing 'Coping' from Toni Braxton's album Sex & Cigarettes and 'Let 'Em Talk' from Kesha's album Rainbow.
James has always wanted to be an artist in his own right and after writing so many hits for other artists is now to launch his own solo material. James has already been a featured vocalist on many successful songs – his biggest hit came in 2018 when he collaborated with acclaimed Dutch DJ Armin Van Buuren. Their song 'Therapy' was a big hit in Europe and reached number 4 on the Dutch Top 40 chart.
It was during discussions with BMG about an artist deal when James was asked about Eurovision and thought it was the perfect opportunity to reach a European audience, where he is aware that acts like Dua Lipa and Rag 'N' Bone Man first had their own success.
James says when he started writing songs for Eurovision 2020 some of the biggest songwriters in the world that he's previously worked with were keen to get involved and have been a big support. He recorded 'My Last Breath' in Scotland while he was staying on a loch with fellow songwriters, Ed Drewett, Iain James and Adam Argyle. He knew My Last Breath was 'the one' after first recording it, as he loved the simplicity of the song and feels like it "gets you straight away".
About the songwriters
Ed Drewett: British singer songwriter Ed is best known for his contributions and collaborations with acts such as One Direction, Jonas Blue, Little Mix, Olly Murs and Craig David. His first big success came with the UK Number 1 single 'All Time Low' by The Wanted in 2010. The follow up single 'Glad You Came' which Ed also co-wrote has sold 4 million copies worldwide and reached Number 3 in the US Billboard charts. His other notable hits include UK Number 1 single for Little Mix (Black Magic), the worldwide smashes 'Best Song Ever', 'Steal My Girl' and 'History' by One Direction and most recently the hit singles 'Rise' & 'Mama' for Jonas Blue.
Iain James: British singer, songwriter and vocal producer Iain James has had hits with some of the biggest UK and international artists; including Anne-Marie, One Direction, Why Don't We, The Vamps, Leona Lewis, EXO and Olly Murs. He co-wrote the UK Number 1 Little Mix singles 'Wings' and 'Shout Out To My Ex', and the singles 'DNA' and 'Hair ft. Sean Paul', as well as songs spanning three of their Top 5 albums. His most notable song is 'Read All About It' originally by Professor Green, and the latter Emeli Sande version which was performed at the 2012 Olympics and became a multi-platinum selling record around the world. Iain is no stranger to Eurovision - he was one of the co-writers of the Azerbaijan's winning Eurovision entry, 'Running Scared' By Ell & Nikki in 2011.
Adam Argyle: Adam's former life as a country singer/songwriter put him in good stead to transition into being a writer and producer for other artists. A respected lyric, melody writer and multi-instrumentalist - he found early success writing and producing for Spice Girl Melanie C on her solo albums, as well as Newton Faulkner and a long running collaboration with Olly Murs over numerous albums. He's also written songs with 5 Seconds Of Summer, Dua Lipa, James Bay, Ava Max and James Arthur.