I'm pleased to announce the premiere of our UK act and song will be in a Red Button / iPlayer exclusive Monday 3rd March at 7.30pm.
If Eurovision's participating countries somehow took it in turns to win the competition, the UK wouldn't be due another victory until at least the year 2037. A nonsensical idea, but it helps to set the gap since our last win into some sort of perspective. Having won the Contest five times, we still rank joint second on the leader board of victories and despite some memorable misfires, we still have the highest cumulative points total of any country. But even the most casual viewer will be aware that over the last decade our fortunes have waned somewhat.
 With 9 million UK viewers watching last year's show and a very active online fan base, the contest is as popular as ever. There's certainly no shortage of ideas out there as to what needs to be done.
It's clear that people genuinely care about it and I do too. Yes, in the grand scheme of things it might all seem rather trivial to some, but when it comes to the night itself, we all want to be proud of our UK entry and then see the score displayed next to the Union Jack notch up a healthy total.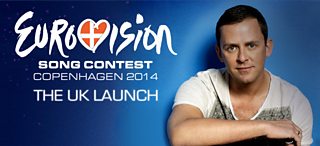 I was lucky enough to be alongside Terry Wogan in the commentary box at the Point Theatre in Dublin, when Katrina's performance of 'Love Shine A Light' earned us ten sets of "douze points" and ultimate victory, in 1997. It created an instant feel-good factor and put Britain at the top.
 That's why my small team and I, who produce the nine hours of Eurovision-related programming, happily took up the challenge of finding our 2014 entry last Autumn. It's up to participating broadcasters how they go about selecting their entries. Some countries use selection shows and we've done this in the past, but this year we began by taking a dispassionate look at recent winners. We discovered that simply by and large they've been very good songs that have deserved to win.
It's clear there's a disconnect between what kind of songs and artists are now winning Eurovision, versus the stereotype that many people – including much of the music industry - still hold in their minds. Yes, novelty songs and acts do still turn up in the show, provide great entertainment and make good press – but they don't tend to win. So, early on in plans for 2014, we took the view that we needed a bespoke, contemporary song, written specifically to suit the conditions of the competition – rather than trying to get lucky with a pre-existing track from an artist.
Although Eurovision is a song contest, it's not a pre-recorded, post-produced and auto-tuned song contest. It's a live vocal performance song contest and we all know what can go wrong there. The choice of song is inextricably linked to the ability of its singer. And the process of finding a song that's right for the competition and marrying it with an artist who can perform it live, perfectly, to millions of TV viewers and in front of a live arena audience is definitely an art, rather than a science.
In trying to practice that art, we all listened to a great many potential songs and looked at footage of a great many artists performing live. Nothing was quite right until we looked at a resource right under our nose: BBC Introducing. This is the gateway for undiscovered and unsigned music makers to upload their best tracks and get them heard and featured by the BBC. Some of the artists who've received BBC Introducing support at the start of their careers include Florence and The Machine, Ed Sheeran, Rizzle Kicks and Jake Bugg.
It was a real treat to discover the work of artists highlighted by BBC Introducing and what most excited us was the quality of singer-song writing. We carefully approached a few artists who stood out to us and once they understood what we were trying to achieve, they embraced the idea of writing a song for the competition from scratch. Knowing that they'd be the one who'd have to go out there and sell it, they could write specifically to exploit their talents.
The end result is that we now have a powerful and impressive song that we hope will do us proud in Copenhagen. We're keen to introduce the song and artist to everyone as soon as possible, so it will be premiered on BBC Red button next Monday (3rd March) evening at 7.30pm and available to catch up on BBC iPlayer.
Guy Freeman, Executive Producer, BBC Eurovision
Tune in and hear the song in full. Monday 3rd March 7.30pm on BBC Red Button, followed by iPlayer.