We're opening our song submission for Eurovision 2019!
Today we can confirm our participation in the 64th Eurovision Song Contest held in Tel Aviv, Israel next May; by opening the public song submissions to find the UK's entry.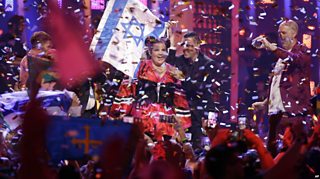 As last year, all public entries will be shortlisted by a representative panel of official UK Eurovision Fan Club (OGAE UK) members. While entries are also being sought from leading professional songwriters, with guidance from songwriter, publisher and new Music Consultant for the BBC, Greig Watts.
A final shortlist of songs, from either route of entry, will be showcased to the UK public, who will have the chance to vote for their favourite in Eurovision: You Decide on BBC Two. More details about the show will be announced later this year!
Greig Watts says: "The Eurovision Song Contest just gets bigger and better and more exciting for me each year, and I'm sure Israel will deliver another amazing contest. I'm so happy to be involved this year for the UK; it really is a dream come true, and I'm looking forward to working with the team to get the strongest possible song and result we can for the UK, like we do on the world music stage. There's no guaranteed song-writing formula for Eurovision as each year something different wins. I'm looking for melodic songs with impact for the arena as well as on TV. Songs that instantly hit you and never leave your brain!"
How to submit your song
To register your interest in representing the UK in the Eurovision Song Contest 2019, please email the title of your song and the name of your composer(s) to the following email address: BBCEurovisionSubmissions@bbc.co.uk
Within 72 hours of sending the email you will receive instructions on how to upload AN ENTRY to the BBC Eurovision portal. This should be MP3 only. Please do not attach your MP3 to the email. The following Terms and Conditions apply.
Terms and conditions
The song must adhere to the EBU competition rules
The song must not exceed three minute duration
The song must not have been publicly released before 1st September 2018; it should not have been performed in public or officially published on any media including but not limited to radio, TV and the Internet
The song cannot be a cover or sample another artist's work
The song must be original with regards to songwriting and musical instrumentation
Composers and song writers may only submit one entry
The BBC reserves the right to use a performer of its choice for any song submitted for consideration
Employees of the BBC and EBU or their close relatives or anyone connected with the contest are not eligible to enter
The right is reserved to cancel the contest at any stage or amend any of the terms or details if necessary
The BBC, its sub-contractors, subsidiaries and/or agencies cannot accept any responsibility whatsoever for any failure in the postal system, any technical failure or malfunction or any other problem which may result in an entry not properly registered
These terms are governed by the law of England and Wales
The closing date for submissions is Friday October 26th, 2018