E20 series 3: First behind-the-scenes pics
Good news for fans of EastEnders' award-winning spin-off E20. Filming of series 3, in which newcomers Faith, Donnie and Ava crash into the world of Walford, has recently wrapped - and we couldn't resist celebrating with a selection of exclusive behind-the-scenes snaps and an introductory video.
Market forces

Samuell Benta and Modupe Adeyeye strike a pose in Bridge Street, as Donnie and Faith prepare to shake up Walford.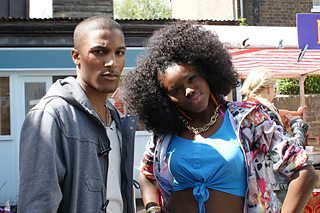 Hostel environment

They say there's no place like home... and this is certainly no place like home! As Sophie Colquhon (Ava) watches the crew set up a scene, it looks like the make-up team have been working overtime on those fake cuts and bruises. Donnie looked a bit dented too.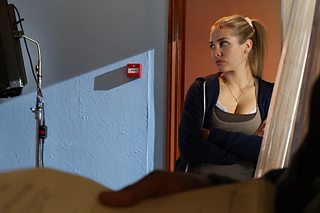 Miss fit?

Fatboy appears to have the edge in the fashion stakes as Modupe and Ricky rehearse a scene. But that's 'cos we haven't revealed her amazing shoes! Trust us, Faith really knows how to accessorize...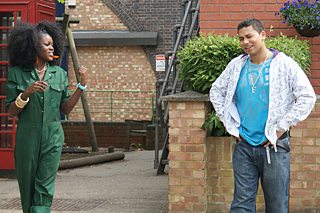 Family fued?

You can tell by the body language that Faith and gran Grace are set to clash. Ellen Thomas is one of several familiar faces to cross over into E20 this series.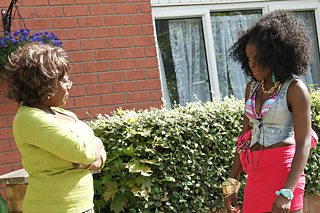 Sweeping changes

Sophie and Samuell brush up on their dialogue. Rumours of a big-budget Quidditch sequence in Series 3 may prove to be a little premature, however...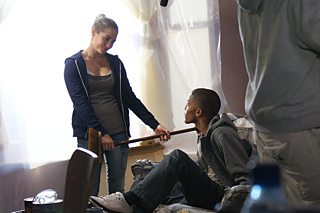 Dancing on the street

Although there won't be the same kind of movin' and a groovin' as we saw in series 2, Samuell's keen to show Ricky his moves. Looks 'Flawless' to us...
Look out for loads more pics on the E20 website and our Facebook page in the run-up to the series launch in September.
Head on over to the website now to find out more about series 3 and watch Ricky 'Fatboy' Norwood introduce the new cast in a special video.